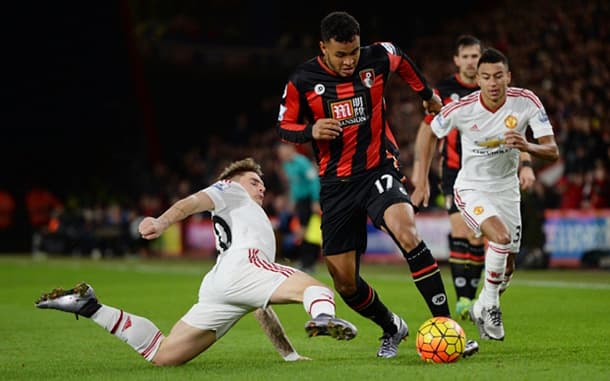 Bournemouth v Manchester Utd – 3rd November – 12:30 GMT
After an awful week for football, which saw England legend Glenn Hoddle collapse on the set of BT Sport, an elderly Brighton fan collapse minutes before their home game with Brighton and later pass away, and the awful helicopter crash in Leicester that killed the club's owner Vichai Srivaddhanaprabha plus four others, it's good to return to some Premier League action. It's appropriate therefore that it starts with a potential corker on the South Coast when Manchester Utd travel to the Vitality Stadium to take on Bournemouth.
Interestingly, the day begins with Eddie Howe's Bournemouth in the top six – an incredible achievement for the Cherries – with this very much being the original 'gatecrash' as the other five are the so-called 'big boys'. Ironically, only Utd, of the media's big six, are missing, with Bournemouth currently three points ahead.
But this is no one-off or false position. Howe's men are there by right and their blistering start to the season means they should be taken seriously by all, especially Mourinho's men whose top six 'place' they currently occupy.
For their part, United have, of late, started to look more like their old selves and the win that kickstarted their revival – the 3-2 comeback win against Newcastle – has been followed up with a terrific performance at Stamford Bridge that so nearly ended in victory and last week's attritional 2-1 home win over Everton.
TOP TIP! – Man Utd to win 2-1 @ 9.50 / Martial as anytime goalscoreraw @ 2.75
Get the best odds for Bournemouth v Man Utd and our other featured games with our selected bookmakers below.
Arguably though, this trip to Bournemouth will be every bit as tough as the trip to Stamford Bridge and Mourinho will know. He'll also know exactly how Howe's men will approach the game. There'll be no fire and brimstone from the Cherries, as is often the case with the Premier League's smaller clubs, but instead a cultured, measured passing game that has become Howe's stock-in-trade.
But, alongside that refined passing style, one aspect Bournemouth's game that has dramatically improved this season is their defending. Last season, keeper Asmir Begovic kept just six clean sheets, but he has already kept four so far this campaign. And it hasn't come at the expense of goals at the other end either, which is doubly impressive, because only four teams have scored more than their 19 goals.
United's problem hasn't necessarily been scoring goals – although they're nowhere near as free-scoring as the United faithful would like (they have scored 17 to date) – but rather the fact that they have conceded as many goals as they have scored; something most un-United like, and which Mourinho is yet to address. Even with arguably the world's best keeper, David de Gea, in goal, United have managed to keep just one clean sheet.
So, it's fair to assume there will be goals at the Vitality, and with this fixture having a history of early goals anyone betting on a goal in the opening 20-25 minutes could well be onto a winner.
There is an argument here for a home win – although Howe's men will need to improve on their midweek performance level in their Carabao Cup win over Norwich – and there is no doubt Howe's men will make United work, but it's always hard to see past Mourinho's men when you look at the quality available in their squad. Even on an off day, they have enough individual excellence in their side to win games, and for that reason, we can see them edging past the Cherries.
As suggested above, we think there will be goals and we also think Bournemouth will score but can see United having just too much for their hosts. We see a 2-1 win for United (9.50 with Bet365), with Martial – who has been on fire of late – a good bet for an anytime goalscorer (2.75 with 888sport).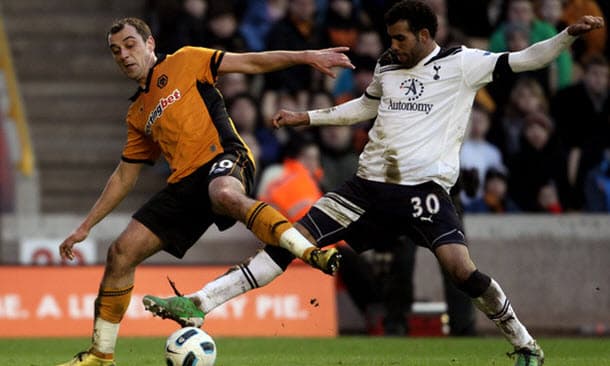 Wolves v Tottenham – 3rd November – 20:00 GMT
TOP TIP! – Christian Eriksen as anytime goalscorer @ 4.20 / Spurs to win 2-0 @ 11.50
Tottenham's good start to the season came to a juddering halt on Monday night amid the NFL line markings and churned-up Wembley pitch, as they fell to their third defeat of the campaign against Manchester City.
The whole evening, for the reasons stated, had more than an element of farce about it, but there was no doubting City were deserved winners and, despite a spirited second half, the temporary residents of Wembley were well beaten.
All in all, it's been an odd and unsatisfactory opening couple of months for the north London club whose on/off move to their new stadium has started to have a negative impact on events on the pitch. Despite statistically registering their best start to the season, most agree that Spurs have yet to find anything like the form of last season – some of their squad still suffering World Cup hangovers.
A trip to Molineux offers a tough challenge for the north Londoners, and with Wolves having suffered back-to-back defeats, the boys from the Black Country will be doubly eager to get their Premier League season back on track.
These consecutive defeats shouldn't detract from that Wolves' start to the Premier League season has been a good one, especially for a promoted side, but their lack of firepower is starting to be a big concern for manager Nuno Espírito Santo. They currently average less than a goal a game.
Part of the problem for Wolves is that the way they play no longer has the surprise factor, neither has the fact they have a squad packed full of international talent, and teams have simply worked them out. Opponents have identified that if they are able to edge their noses ahead against Wolves, they struggle to get back into games, showing little likelihood of being able to come back from a losing position.
Recent defeats, by West Ham and Brighton, have ended with a nil to their name and it's something that really has to be addressed if they are to not get sucked into the lower half of the table. Mexican striker, Raúl Jiménez – on loan from Benfica – has taken his time to acclimatise to English football, with just two goals to his name so far, and Wolves definitely need more from him.
Given Wolves' travails in front of goal and the fact that, not unsurprisingly, Spurs appear to enjoy playing on the road, we can see the visitors edging this one but it will be tight, and it may not be beautiful.
Roared on by a raucous Molineux, this will not be for the faint-hearted and Spurs will need to defend better than they did for the goal against Manchester City but with Toby Alderweireld getting back to something like his best we can see the visitors withstanding an early barrage before controlling the game.
Wolves', for the reasons discussed earlier, will be keen to start the game on the front foot, if only to not let Spurs get the initiative and an early goal, but in their six away matches so far this season Spurs have scored 11 times – an impressive stat.
Other plusses for Tottenham are the return from injury of both Christian Eriksen and Dele Alli, both of whom came off the bench and featured in their strong second half against City. While neither may be fit enough for a start at Molineux, both are likely to be involved at some stage – and late on with some tiring Wolves legs, this could be to some considerable effect.
Although Eriksen has scored just once this season – in the Champions League against Inter – he's the one that makes Spurs tick and his return from injury has undoubtedly come at a good time for him. With Alli signing an extended Spurs contract this week, together the pair will help ease the frustrations of the Tottenham faithful.
Interestingly, although we're far from certain that Eriksen will start at Molineux, we have a hunch that he'll not remain on one goal for the season for long, so don't be surprised if he pops up at Molineux with a goal. This certainly looks like a value punt at 4.20 with 188bet.
As far as the outcome goes, we see Wolves struggles in front of goal as a key factor and a 2-0 away win at 11.50 with 888sport looks particularly enticing.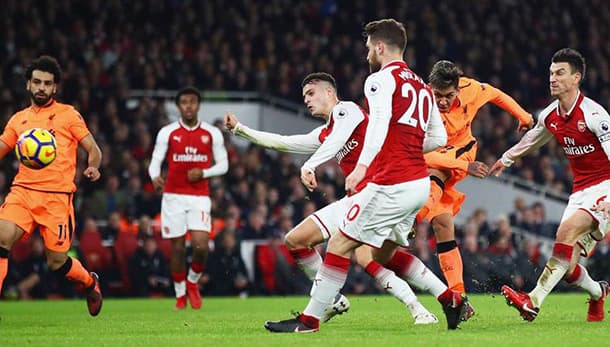 Arsenal v Liverpool – 3rd November – 17:30 GMT
TOP TIP! – Arsenal and Liverpool to draw 2-2 @ 12.50 / Özil anytime goalscorer @ 5.50
Arsenal's winning run ended at Selhurst Park last weekend when two Palace penalties salvaged a point for Roy Hodgson's men. That shouldn't detract though from the fine run Unai Emery's men have been on.
Seven straight Premier League wins is a fantastic record in anyone's book, but they actually achieved it without ever consistently hitting top gear. Make no mistake, some of the football – particularly against Leicester last time out at the Emirates – has been sensational, but they have yet to put together a solid 90 minutes. In fact, they have yet to deliver a quality first-half!
Oddly, most of the swashbuckling has been done in the second half of games and regularly the opening 45, like against Palace, sees them struggle to find any rhythm. Against Liverpool, they can ill afford to wait 45 minutes before hitting their straps.
The Reds meanwhile just keep churning out the wins and will be in no way daunted by a trip to north London. They won at Wembley against Tottenham and know, if they are serious about their title challenge, they need to do precisely the same in Islington.
For the Gunners, this is their biggest test since their opening two games against Man City and Chelsea – both of which they lost – and will be a good guide to the progress they have made under Emery since those tentative opening exchanges.
We envisage it being an open game, with Liverpool's high-energy high press making it difficult for Arsenal to play out from the back – but if they can play around the high press then there could be joy, especially if they can get Mesut Özil in between the Red lines. Arsenal fans will be daunted by Liverpool's goals-against column, which reads '4', but we can still see Emery's set-up causing Jurgen Klopp's men problems.
So much so, we fancy a draw with 2-2 certainly worthy of consideration, especially at a juicy 12.50 with 188bet, and how about Özil to chip in with one of the goals (5.50 with Bet365).
Feel free to us know what you think of our tips. Click the button below and Share on Facebook or Twitter and tell us if you agree or disagree with our selections!
Arsenal
Bournemouth
liverpool
Manchester United
Mourinho
Premier League
tottenham
Wolves