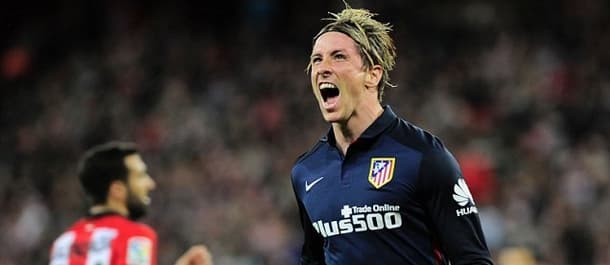 Atletico Madrid requires Barcelona to drop Spanish Primera Division points against teams positioned lower than 11th on the ladder to have a shot at the title but the Mattressers can keep Barca honest by beating Malaga to nil on Saturday.
Barcelona won both of its Spanish Primera Division matches against Atletico Madrid so, in the event of both Barca and the Mattressers finishing the season level on points, the title would end up at Camp Nou. Goal difference will not play a part in determining the Spanish Primera Division winner so all that matters to Atletico is collecting three points from each of its remaining four games, starting with a home victory over ninth-placed Malaga this weekend.
According to one's Spanish Primera Division collateral form analysis, Atletico Madrid enjoys a 15-2-2 edge over Malaga and that is in spite of the Mattressers suffering a shock 0-1 loss to the Anchovies in December's reverse fixture. However, Atletico did have Gabi sent off in the 56th minute of its Spanish Primera Division away match against Malaga and the Anchovies scored their winning goal very late on.
Grinding out wins to nil is Atletico Madrid's forte so one is drawn to BetVictor's odds of 1.95 about the Mattressers defeating Malaga and keeping a clean sheet as well. Atletico has won 25 of its 34 Spanish Primera Division games and shut outs have featured in 19 of its three-point matches. Malaga is ninth on the Spanish Primera Division ladder but it is a low-scoring side for its overall ranking – the Anchovies are averaging less than one goal per game, which is a remarkable statistic for a top-half team in such a high-scoring league.
Malaga has visited four of the Spanish Primera Division top six and the Anchovies failed to score on each of those trips so the odds are stacked against them breaching Atletico Madrid's defence, which is the best in the competition.
Paddy Power's odds of 1.80 about Barcelona beating Gijon to nil in another one of Saturday's Spanish Primera Division matches are too good to pass up given the huge gulf in quality between the sides and the strong possibility that the relegation-threatened team may not be focused fully.
If one was Gijon manager Abelardo, a Barcelona legend who won numerous honours with Barca in the late 1990s, then one would not put any effort into Saturday's Spanish Primera Division game because it is highly unlikely that it will determine his side's top-flight fate. Next up for Gijon are winnable Spanish Primera Division matches at home to Eibar and away to Getafe before a home date with Villarreal in the final round. One would not be at all surprised if Gijon lost at Barca without so much of a whimper let alone a goal.
Barcelona holds a 16-1-2 Spanish Primera Division collateral form advantage over Gijon and Barca have kept clean sheets in 14 of their 34 divisional games, not that you would know it from the panning that their defence gets from the media. Gijon has netted just 11 goals in its 17 Spanish Primera Division away matches, firing blanks on nine occasions.
Real Madrid thrashed Vallecano 10-2 in December's Spanish Primera Division game between the city rivals and one thinks that the Meringues are likely to beat the Red Sashes in yet another entertaining match when they clash on Saturday.
William Hill is listing odds of 2.20 about Real Madrid's Spanish Primera Division championship push continuing with an exciting road victory in which it does not keep a clean sheet. Real has shut out only three Spanish Primera Division team on its travels and none of them has scored as regularly as Vallecano, which is fighting for its life again because its defence is the worst in the tournament. Vallecano has conceded 66 goals in its 34 Spanish Primera Division games.
Finally, here are one's Spanish Primera Division collateral form analysis results for each of this weekend's 10 matches. The asterisk signifies the head-to-head winner.
Las Palmas 10-2-7* versus Espanyol
Vallecano 0-1-18* versus Real Madrid
Atletico Madrid 15-2-2* versus Malaga
Barcelona 16*-1-2 versus Gijon
Eibar 11-1-7* versus Deportivo
Levante 5*-1-13 versus Athletic
Sevilla 10-3-6* versus Betis
Getafe 8*-1-10 versus Valencia
Villarreal 10*-2-7 versus Sociedad
Celta 9*-4-6 versus Granada
Tips Summary
Atletico Madrid to beat Malaga to Nil
Saturday 23rd April, 17:15 GMT
Odds: 1.95
Barcelona to beat Gijon to Nil
Saturday 23rd April, 19:30 GMT
Odds: 1.8
Real Madrid to Win and Both Teams to Score
Saturday 23rd April, 15:00 GMT
Odds: 2.2
Atletico Madrid
Barcelona
La Liga
Primera Division
Real Madrid