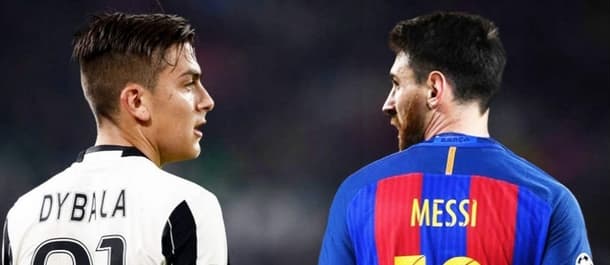 Barcelona has lost one prong of its trident and it has been drawn in the same UEFA Champions League section as the team that eliminated it from last season's competition yet bookmakers have posted them at odds on to win Group D.
That does not make any sense so one is looking for a way to oppose Barcelona in UEFA Champions League Group D and side with Juventus, the team that defeated Barca 3-0 on aggregate in last term's quarter-finals – 3-0 at home and 0-0 on the road. Juventus made it all the way to last season's UEFA Champions League final and one's opinion is that bookmakers are incorrect to have such a big gap between Juve and Barcelona in their Group D winner market this term.
Lionel Messi, Luis Suarez, the now departed Neymar and the rest of Barcelona's players failed to score in two matches against Juventus in April and one would not want to take short odds about Barca turning the tables on Juve without Paris Saint-Germain's record signing. With UEFA Champions League Group D comprising Barcelona, Juventus, Olympiacos and Sporting it would be a surprise if the sides from the Spanish Primera Division and Italian Serie A did not reach the knockout stage but there is value in backing Juve/Barca to be the straight forecast at odds of 3.25Bet €100 to win €3259/4Bet £100 to win £325+225Bet $100 to win $3252.25Bet HK$100 to win HK$3252.25Bet Rp100 to win Rp325-0.4444Bet RM100 to win RM325 with SkyBet.
Barcelona is expected to claim three points from its UEFA Champions League Group D opener at home to Juventus so, in effect, Juve/Barca straight forecast backers have a free shot of being on a wager that could firm considerably.
Liverpool is entertaining to watch but the defensive woes of the Reds means that they rate as bad odds-on favourites to win UEFA Champions League E ahead of Maribor, Sevilla and Spartak Moskva. This statistic is not particularly important but Liverpool has not kept a clean sheet in any of its last nine UEFA Champions League games since December 2009. What is significant, however, is that Liverpool lost 1-3 to Sevilla in the 2016 final of the UEFA Europa League.
Sevilla, which joined Juventus in getting out of the UEFA Champions League group stage last season, is available at odds of 2.90Bet €100 to win €29019/10Bet £100 to win £290+190Bet $100 to win $2901.90Bet HK$100 to win HK$2901.90Bet Rp100 to win Rp290-0.5263Bet RM100 to win RM290 to take out Group E but, with one not fearful of Maribor and Spartak Moskva, the smarter play is to back the Sevilla/Liverpool straight forecast at odds of 4.33Bet €100 to win €433333/100Bet £100 to win £433+333Bet $100 to win $4333.33Bet HK$100 to win HK$4333.33Bet Rp100 to win Rp433-0.3003Bet RM100 to win RM433 . Maribor is one of the UEFA Champions League minnows and Spartak is 10th on the Russian Premier League following seven rounds of matches in which it has really struggled.
The first round of UEFA Champions League Group E matches see Sevilla visit Liverpool so, as is the case with Juventus in Group D, the White and Reds could shorten quickly.
Group G is, according to the bookmaking fraternity, the most even of the eight UEFA Champions League groups. Leipzig's pressing may cause problems for Monaco's weakened team in Germany in the opening batch of games and the Red Bulls have the ideal set of fixtures in terms of how they are scheduled – home to Monaco, away to Besiktas, home to Porto, away to Porto, away to Monaco and home to Besiktas. Leipzig has the potential to be the UEFA Champions League Group G favourite at some point between September and December so one is going to speculate on the Red Bulls at odds of 4.00Bet €100 to win €4003/1Bet £100 to win £400+300Bet $100 to win $4003.00Bet HK$100 to win HK$4003.00Bet Rp100 to win Rp400-0.3333Bet RM100 to win RM400 .
Tips Summary
Juventus/Barcelona straight forecast
Champions League group D
Odds: 3.25Bet €100 to win €3259/4Bet £100 to win £325+225Bet $100 to win $3252.25Bet HK$100 to win HK$3252.25Bet Rp100 to win Rp325-0.4444Bet RM100 to win RM325
Sevilla/Liverpool straight forecast
Champions League group E
Odds: 4.33Bet €100 to win €433333/100Bet £100 to win £433+333Bet $100 to win $4333.33Bet HK$100 to win HK$4333.33Bet Rp100 to win Rp433-0.3003Bet RM100 to win RM433
RB Leipzig to win Champions League group G
Odds: 4.00Bet €100 to win €4003/1Bet £100 to win £400+300Bet $100 to win $4003.00Bet HK$100 to win HK$4003.00Bet Rp100 to win Rp400-0.3333Bet RM100 to win RM400
Barcelona
Champions League
Juventus