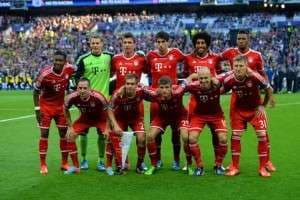 Back UEFA Champions League title holder Bayern Munchen to defeat Arsenal to nil in the second leg of the tie between the German Bundesliga and English Premier League sides.
Bayern Munchen leads Arsenal 2-0 following the first leg at the Emirates Stadium in which the Gunners gave as good as they received until Wojciech Szczesny was sent off in the 37th minute. After that, Bayern passed Arsenal to death, dominating possession and territory in such a way that it looked like men against boys rather than a match between European heavyweights. Now Arsenal has to not only beat Bayern Munchen in its own backyard but also score at least two more goals than its host. That is mission impossible.
Arsenal diehards will point to their team's 2-0 away victory over Bayern Munchen 12 months ago but FC Hollywood had three away goals up their sleeve rather than the two that they have this time so the equation was different. And Bayern appears to have improved under Pep Guardiola, which is a scary thought for its UEFA Champions League rivals.
Bayern Munchen has won its last 24 meaningful matches in a row. One does not count Bayern's 2-3 home loss to Manchester City in UEFA Champions League Group D because FC Hollywood had booked its last-16 berth before the Citizens arrived in Munich and, barring a massive defeat, they were going to finish top of the section. Bayern was not at the races.
One may say the same about Arsenal if it does not score an early goal against Bayern Munchen at the Allianz Arena. If Bayern Munchen open the scoring then Arsenal, with the significant matter of a huge English Premier League derby versus Tottenham at White Hart Lane on Sunday to consider, may throw in the towel. Bayern is long odds on in betting on scoring the first goal and winning the game, yet it is odds against in betting on taking out the match to nil. Bayern is available at odds of 2.25 with Sky Bet to defeat Arsenal and keep a clean sheet in the process of doing so.
Surely Manchester City is more likely to keep throwing the kitchen sink at Barcelona than Arsenal is to do likewise at Bayern Munchen, particularly coming off its shock 1-2 home loss to English FA Cup champion Wigan in the quarter-finals of the world's oldest knockout tournament. Manchester City has goals in it and, even if Barcelona bags one, Manuel Pellegrini's side will believe that it has a chance of scoring the three goals necessary to make progress.
Both teams to score in the UEFA Champions League second leg between Barcelona and Manchester City is trading at odds of 1.61 with Betfair's sportsbook. That looks like the pick of the Camp Nou bets. Barcelona has scored in 20 of its 21 home games across all competitions – the exception was its 0-0 draw against Atletico Madrid in the Supercopa de Espana after it had drawn the first leg 1-1 on the road – while Manchester City has scored in 16 of its 20 away matches.
Finally, the second leg of the UEFA Champions League tie between Atletico Madrid and Milan could play out similarly to the first leg, with a punt on the Vicente Calderon second half being higher scoring than the first half appealing at odds of 2.15 with BetVictor. It is odds on with some firms.
Atletico Madrid defeated Milan 1-0 at the San Siro courtesy of an 83rd-minute Diego Costa goal. Both sides were cagey throughout the UEFA Champions League first leg and, while Atletico enjoys an advantage, it is a precarious one. And given how Atletico boss Diego Simeone approaches most big games – safety first – one should not expect the home side to force the issue. Atletico is likely to let Milan dictate the pace, which could mean that nothing much happens until after the players have eaten their half-time oranges.
Given the way in which one thinks that the UEFA Champions League second leg between Atletico Madrid and Milan could unfold, other possible bets include a 0-0 draw at half time at odds of 3.30 with Bwin and Atletico to take out the match after an even first half at odds of 4.75 with BetVictor.