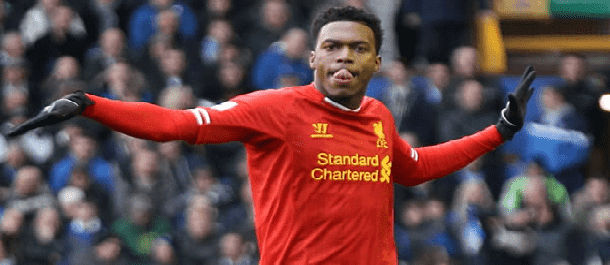 A Liverpool striker won the English Premier League Golden Boot last season and one thinks that an Anfield attacker warrants betting support in this season's competition.
Luis Suarez became the second Liverpool forward – Michael Owen was the first – to win the English Premier League Golden Boot when he scored 31 goals last term. Suarez achieved his impressive tally – the highest since Alan Shearer netted 34 goals for Blackburn 19 seasons earlier – despite missing several matches through suspension.
All up, Suarez started 33 of Liverpool's 38 English Premier League games, not once appearing as a substitute. What that means is that Suarez averaged 0.94 goals per match started.
It is relatively common knowledge that Suarez's Liverpool colleague, Daniel Sturridge, finished runner-up in last term's English Premier League Golden Boot race. What is relatively uncommon knowledge is that Sturridge played many fewer games than Suarez, starting 26 times and coming on as a substitute on three occasions. Sturridge may have finished 10 goals behind Suarez but, in terms of goals per match started, there was not a lot between the teammates.
Sturridge averaged 0.81 goals per English Premier League game that he started last season. Of the 10 highest scorers only Suarez and Manchester City's Sergio Aguero (0.85) had better means than Sturridge and, with Suarez gone and City still having more international strikers on its books than any team needs, one is interested in backing Sturridge at odds of 7.00 with BetVictor and Boylesports to win this term's English Premier League Golden Boot.
Naturally, there are dangers to Sturridge in the English Premier League Golden Boot race but one can think of any number of reasons to support the Liverpool striker over the other players listed in the betting top 10 – Robin van Persie, Aguero, Diego Costa, Alexis Sanchez, Wayne Rooney, Edin Dzeko, Olivier Giroud, Loic Remy and Romelu Lukaku.
It remains to be seen how Manchester United manager Louis van Gaal uses Van Persie and Rooney and, until that becomes clear, backing either player for individual honours does not make sense. Neither Aguero nor Dzeko won the Manchester City English Premier League Golden Boot last season – that honour went to Yaya Toure – so no Citizens star appeals as a sound betting proposition. Alexis Sanchez may take time to settle in to the English Premier League and Arsenal's new signing is not an out-and-out goal scorer anyway. Giroud, who is trading at odds of 21.00 with several bookmakers, including Bet365 and William Hill, is a more appealing Arsenal prospect but, when all is said and done, his figures last term were 16 goals from 36 English Premier League starts. Surely Remy will struggle to score heavily as the spearhead of a Queens Park Rangers team set to be nearer the bottom of the English Premier League ladder than the top, while Lukaku's playing future remains up in the air (It's looking highly likely he will be an Everton player before the season starts)
Often it pays not to look beyond the obvious and the obvious English Premier League Golden Boot pick is Sturridge, with Liverpool boss Brendan Rodgers signing several midfielders to lay on chances – Lazar Markovic has really caught one's eye – and loaning striker Divock Origi back to Lille.
Sturridge was on fire at the beginning of last season when Suarez was sitting in the stands due to his ban – the England forward scored in each of Liverpool's first five matches across all competitions – so one hopes that he gets off to a flier this term and bookmakers promote him to English Premier League Golden Boot favouritism quickly.
Tips Summary
Daniel Sturridge to be Premier League Top Scorer
16th August
Odds: 7.00
Where to Bet: BetVictor, Boylesports
Aguero
Alexis Sanchez
betting
Diego Costa
Edin Dzeko
golden boot
liverpool
Loic Remy
Olivier Giroud
Robin Van Persie
Romelu Lukaku
sturridge
Suarez
Tips
Wayne Rooney