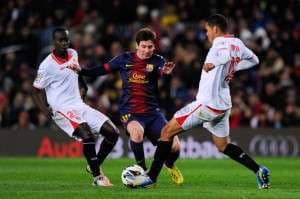 Backing both teams to score in the Spanish Primera Division match between Sevilla and Barcelona looks like the best way to make a profit out of the 23rd round of games in La Liga.
It is probably too early to say that Barcelona's season is in danger of going off the rails but certainly the pressure is on Barca to perform over the next few weeks. Barcelona cannot afford to drop many more Spanish Primera Division points and its UEFA Champions League date with Manchester City will take place shortly. Barcelona's heroes could become zeroes if everything does not go to plan.
Sevilla ought to provide a reasonable test for Barcelona on Sunday. Sevilla is seventh on the Spanish Primera Division ladder and it was desperately unlucky not to escape from the Camp Nou with a draw in September. Sevilla fought back from 0-2 down to level the match at 2-2 in injury time only for Alexis Sanchez to score an even later winner for Barcelona.
One is not betting on the raw result of the Spanish Primera Division game between Sevilla and Barcelona but on neither side keeping a clean sheet. Sevilla has scored in all bar one of its 10 league home matches, keeping only two clean sheets. Barcelona has found the back of the net in eight of its 11 top-flight away games and given up at least one goal five times, including on four of its last five road trips.
Sevilla and Barcelona are two of the Spanish Primera Division's most entertaining teams to watch – Sevilla's matches are averaging 3.55 goals and Barcelona's games are averaging 3.41 goals – so the statistical case is strong to support taking up Ladbrokes on its offer of odds of 1.62 that both sides get on the scoresheet in Spain's south.
A Spanish Primera Division match that may not be so exciting to watch is the 23rd round's curtain raiser between Espanyol and Granada. Espanyol, the team that seems destined to be in Barcelona's shadow forever, is plugging along in the middle of the competition, scraping together sufficient points at home to make up for its shortcomings on the road. Granada lies two points and four rungs below Espanyol on the ladder, somehow winning four of its 10 away games in spite of just managing a division-low seven road goals. It beggars belief.
BetVictor is offering odds of 1.70 that Espanyol and Granada go under two and a half goals. Half of Espanyol's 22 Spanish Primera Division matches have gone under two and a half goals and the Budgies are likely to get a helping hand in making it over the .500 mark from Granada, whose league games are the competition's most uneventful to watch. Twelve of Granada's 22 matches have gone under two and a half goals and its games are averaging a league-low 2.23 goals.
Finally, Sociedad's Spanish Primera Division home form is so impressive that it is worth backing at odds of 1.50 with Ladbrokes to bounce back from its 0-4 loss at Atletico Madrid with a victory over Levante.
Sociedad got off to what one can describe only as a dreadful start but its Spanish Primera Division campaign has been back on track for a few months now, assisted in no small manner by its string of home victories. Sociedad has won each of its last six league home matches and by handsome margins, too. Sociedad's recent half-a-dozen victims have been Almeria (3-0), Osasuna (5-0), Celta (4-3), Betis (5-1), Bilbao (2-0) and Elche (4-0). Yes, only Bilbao resides in the top eight currently but a cumulative score of 23-4 is hard to criticise, regardless of the level of opposition.
Levante could not beat Sociedad when they met at the home of the former earlier this term so the Valencia-based side is going to find life very tough on the road in San Sebastian.