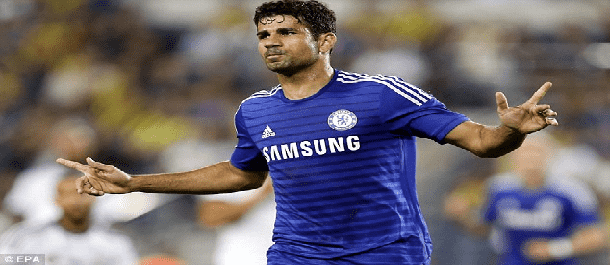 Chelsea coach Jose Mourinho has addressed the issue that was the main reason why the Blues did not take out the English Premier League in his first season back at Stamford Bridge.
Yes, Chelsea was the English Premier League's third highest scorer with 71 goals in its 38 matches. But Chelsea scored 30 and 31 goals fewer than Liverpool and Manchester City respectively, which goes a long way to explaining why the Blues finished two points behind the Reds and four points behind the Citizens in spite of many other positives.
A midfielder, Eden Hazard, was Chelsea's top goal scorer – 14 in the English Premier League and 17 across all five competitions in which the Blues participated – and that tells one everything that one needs to know about where Mourinho's men went wrong throughout last season.
Diego Costa, the Brazil-born Spain international whose goals fired Atletico Madrid to Spanish Primera Division glory last term, has joined Chelsea for mega bucks and, if he produces anything close to the form that made him one of the hottest players on the planet last season, the Blues are going to take a lot of stopping in the English Premier League.
For Chelsea has all the other ingredients already. Chelsea's defence was the English Premier League's most miserly unit, conceding only 27 goals in its 38 games – 10 fewer than the next best, Manchester City. And Chelsea performed as well as any team in the big matches. Chelsea accrued 39 points from its 18 games against fellow top-10 sides – Manchester City matched the tally of the Blues but no other team got close – and, remember, Mourinho masterminded home and away defeats over both Liverpool and the Citizens. Really, when thinks about it, Chelsea should have won the title at a canter.
More players have departed Chelsea than arrived during the English summer but the Blues starting line-up looks stronger for the changes and, provided that injuries do not curse the Stamford Bridge side's campaign, that is all that matters.
One thinks that Manchester City will be competitive but that the Citizens are unlikely to be much better this term than they were last term. Liverpool is likely to regress after Luis Suarez quit Anfield to join Barcelona. As for Arsenal, Everton, Manchester United and Tottenham, well, they could not finish above Chelsea last season so one does not rate their chances of achieving that feat this time around.
Chelsea is available at odds of 2.90Bet €100 to win €29019/10Bet £100 to win £290+190Bet $100 to win $2901.90Bet HK$100 to win HK$2901.90Bet Rp100 to win Rp290-0.5263Bet RM100 to win RM290 with Bwin, Coral and Paddy Power to win the English Premier League for the third time since the division was re-badged in 1992. Chelsea is the best bet if one is after a set-and-forget wager on the title but there is a case for backing Manchester United before a ball is kicked with a view to laying the Red Devils later (as we covered here) because of what the fixture computer has served up.
Manchester United has the softest early schedule of the English Premier League heavyweights, with three of its first five matches versus the newly promoted teams. As it stands currently – remember that rescheduling does occur from time to time – Manchester United's first eight games will be Swansea (home), Sunderland (away), Burnley (away), Queens Park Rangers (home), Leicester (away), West Ham (home), Everton (home) and West Bromwich (away). It is as if new Manchester United manager Louis van Gaal did the draw.
With regards to English Premier League exotics, four options stand out from the rest – Chelsea-Manchester City straight forecast at odds of 6.00Bet €100 to win €6005/1Bet £100 to win £600+500Bet $100 to win $6005.00Bet HK$100 to win HK$6005.00Bet Rp100 to win Rp600-0.2000Bet RM100 to win RM600 with Bet365, Manchester City to be the highest scoring side at odds of 2.62Bet €100 to win €26281/50Bet £100 to win £262+162Bet $100 to win $2621.62Bet HK$100 to win HK$2621.62Bet Rp100 to win Rp262-0.6173Bet RM100 to win RM262 with Paddy Power, Stoke to be the best midlands team at odds of 2.25Bet €100 to win €2255/4Bet £100 to win £225+125Bet $100 to win $2251.25Bet HK$100 to win HK$2251.25Bet Rp100 to win Rp225-0.8000Bet RM100 to win RM225 with Bet365 and Newcastle to be the best north-east side at odds of 1.75Bet €100 to win €1753/4Bet £100 to win £175-133Bet $100 to win $1750.75Bet HK$100 to win HK$175-1.33Bet Rp100 to win Rp1750.7500Bet RM100 to win RM175 with Bwin. The Chelsea and Manchester City selections speak for themselves. Stoke looks set for another decent campaign, whereas one holds fears for Aston Villa, Leicester and West Bromwich. Newcastle should be too good for Hull and Sunderland in its three-way regional heat.
Tips Summary
Chelsea to win the league
16 August
Odds: 2.90Bet €100 to win €29019/10Bet £100 to win £290+190Bet $100 to win $2901.90Bet HK$100 to win HK$2901.90Bet Rp100 to win Rp290-0.5263Bet RM100 to win RM290
Where to Bet: Bwin, Coral and Paddy Power
Chelsea/Manchester City straight forecast – 6.00Bet €100 to win €6005/1Bet £100 to win £600+500Bet $100 to win $6005.00Bet HK$100 to win HK$6005.00Bet Rp100 to win Rp600-0.2000Bet RM100 to win RM600
Manchester City highest scoring team – 2.62Bet €100 to win €26281/50Bet £100 to win £262+162Bet $100 to win $2621.62Bet HK$100 to win HK$2621.62Bet Rp100 to win Rp262-0.6173Bet RM100 to win RM262
Stoke to be top midlands team – 2.25Bet €100 to win €2255/4Bet £100 to win £225+125Bet $100 to win $2251.25Bet HK$100 to win HK$2251.25Bet Rp100 to win Rp225-0.8000Bet RM100 to win RM225
Newcastle to be top north-east team – 1.75Bet €100 to win €1753/4Bet £100 to win £175-133Bet $100 to win $1750.75Bet HK$100 to win HK$175-1.33Bet Rp100 to win Rp1750.7500Bet RM100 to win RM175
Where to Bet: Bet365, Paddy Power, Bwin
betting
Chelsea
Diego Costa
Eden Hazard
Man City
Mourinho
Newcastle
odds
Premier League
Stoke