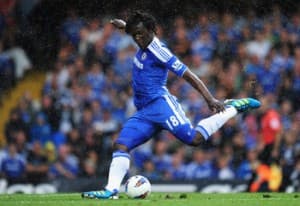 First of all, if you haven't already read our season bets for the EPL, then you should do so now. Now to this weekend..
Whoever in the English Premier League marketing department decided to sanction Liverpool versus Stoke as the opening match of the season needs shooting. Thankfully, there is a better game, both to watch and on which to have a punt.
Unoriginal it may but surely there is good value in backing English Premier League title contender Chelsea to not only beat newly promoted Hull but also crush the Tigers without conceding a goal in a one-sided Stamford Bridge romp.
The home records of Jose Mourinho-managed teams have, quite rightly, attracted a few headlines in the lead up to the new English Premier League season. To cut a long story short, forget the patriarch of The Simpsons – Mourinho is the greatest Homer since a Greek guy wrote the Iliad and the Odyssey. Mourinho's sides do not lose home matches.
Chelsea has a habit of drawing favourable English Premier League openers and, while one could argue that they may be better times to catch a team such as Hull than in the first round, a home game against a low-scoring promoted side is a million times more preferable than, say, a trip to a Swansea team that is rock-hard fit because of its UEFA Europa League matches. Manchester United boss David Moyes is right when he says that the Red Devils have been handed a difficult start.
The early odds of nearly 2.00 about Chelsea beating Hull to nil have evaporated but the Blues, whose fans will welcome back Mourinho to Stamford Bridge with deafening noise for 90 minutes, are still trading at 1.85 with 188Bet to win with a clean sheet versus a fairly limited Tigers side.
Obviously, the key to the highlighted bet is Hull failing to score. Remarkably, none of the other teams that finished in the top 12 of last term's English Championship scored fewer than Hull's tally of 61 league goals. Hull's goal difference of plus nine was the worst of the top six sides and its most potent marksman, Robert Koren, did not reach double figures.
Steve Bruce did a terrific job to return Hull to the English Premier League following three seasons out of the top flight and his record is such that even his enemies would concede that the Tigers will not give up their place among the elite easily provided that he remains in charge. But Hull is not in the same class as Chelsea and things could get ugly if the Blues click into gear on Mourinho's special day.
Of course, one can increase one's potential dividend by backing Chelsea to win by specific to-nil scores. Shop around and one can back Chelsea to win 1-0, 2-0, 3-0, 4-0 or 5-0 at dutched odds of around 1.90 with 188Bet again. Ditching 5-0 turns one's bet into an odds-against play and, if one fancies Chelsea to run riot, 1-0 can come out of any combination and make a big difference given that it is trading at odds of around 8.50.
The first weekend of the English Premier League season is probably not the time to get greedy so stick with the simple win-to-nil play at a shade of odds on. Handicap betting is more appealing than score betting in this instance, with bookmakers offering odds of around 1.62 that Chelsea beats Hull by two or more goals, while there is 2.40 available at Ladbrokes about the Blues defeating the Tigers by at least a three-goal margin. All things considered, though, the win-to-nil option still stands out as the best one.
The English Premier League fixture computer has spat out a really tough opening round. Neither Liverpool nor Arsenal appeals at short home odds. Tottenham would be interesting if it had the services of Gareth Bale for its derby clash against Crystal Palace but the Wales star is not available as his transfer saga rolls on and on and on. Manchester City fall into almost the same category as Chelsea – it has a home game versus a Newcastle team that could struggle to stay up – but the Citizens do not have the Mourinho factor having elected to employ Manuel Pellegrini instead.