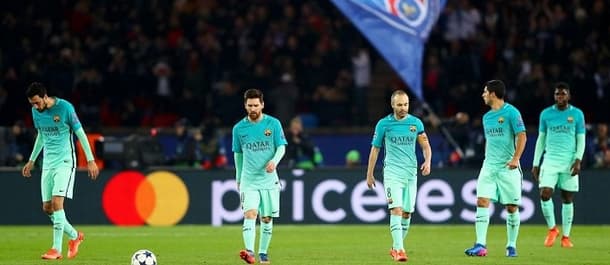 There were 14 goals in the first legs of the UEFA Champions League ties between Arsenal and Bayern Munchen, Barcelona and Paris Saint-Germain and Napoli and Real Madrid and betting on goals is the way to tackle the return matches.
Barcelona's chance of reaching the UEFA Champions League quarter-finals are slim following its 0-4 loss at Paris Saint-Germain but one thinks that Barca will make their last-16 clash interesting by taking the game to PSG in Spain.
In the Spanish Primera Division, Barcelona is the very best first-half team having registered numbers of 9-3-1 at home and 15-9-2 overall. Four goals down, Barcelona has no choice other than to throw the kitchen sink at Paris Saint-Germain and one thinks that PSG's tactics, at least in the first third of the UEFA Champions League game, will be more about preserving its aggregate lead than trying to snatch an away goal that would leave Barca needing to score a minimum of six goals in normal time to stay in the tournament. Some bookmakers are betting on the time of the first Barcelona goal and inviting punters to bet at odds on that Barca opens their account before the 31-minute goal. One would rather take odds against about Barcelona leading at that stage. The wager that appeals is Barcelona to lead Paris Saint-Germain after 30 minutes on Wednesday, an exotic option that is available at odds of 2.50Bet €100 to win €2503/2Bet £100 to win £250+150Bet $100 to win $2501.50Bet HK$100 to win HK$2501.50Bet Rp100 to win Rp250-0.6667Bet RM100 to win RM250 with Coral.
Paris Saint-Germain has conceded goals in five of its seven UEFA Champions League matches this season and failed to keep a clean sheet in any of its last five away games in the competition dating back to this time last year. Paris Saint-Germain's lead over Barcelona is such that, in all likelihood, it will not require an away goal to qualify for the UEFA Champions League last eight and, therefore, it may bring a defensive mindset to Spain for the biggest match of its campaign against one of the world's hottest attacks.
Barcelona has led at the 30-minute mark in each of its three UEFA Champions League home games this term and seven of its 13 Spanish Primera Division matches at Camp Nou, including the last six on the bounce. Barcelona defeated Paris Saint-Germain 2-0 on the most recent occasion that the sides met in Spain, Neymar scoring in the 14th and 34th minutes.
Napoli has struggled to keep clean sheets versus the good teams that it has encountered across various tournaments this season and that, combined with Real Madrid's knack of bagging early goals, leads one to pick the Meringues to score their first goal of Tuesday's UEFA Champions League game before Bet365's line of 42:00 minutes at odds of 1.83Bet €100 to win €18383/100Bet £100 to win £183-120Bet $100 to win $1830.83Bet HK$100 to win HK$183-1.20Bet Rp100 to win Rp1830.8300Bet RM100 to win RM183 .
One clean sheet is all that Napoli's defence has to show for its nine UEFA Champions League matches and it came at home to a Dynamo Kviv side that had given up the ghost in Group B. Napoli has played 12 Italian Serie A games against teams ranked in the top 10 and it has managed just one clean sheet, posting it in its 3-0 home win over Internazionale.
Real Madrid has scored in each of its 32 Spanish Primera Division and UEFA Champions League matches this term, with the Meringues beating the 42:00 buzzer for their first goal in 23 of them, including six out of seven in Europe. Real took 18 minutes to score versus Napoli in Spain a fortnight ago, Karim Benzema equalising Lorenzo Insigne's goal.
Finally, one likes the idea of backing Arsenal to score the first goal of its UEFA Champions League game against Bayern Munchen on Tuesday as the Gunners try their best to make amends for losing last month's first leg by four goals.
Philipp Lahm is suspended for Bayern Munchen and the German Bundesliga champion is not as tough a proposition without its veteran captain. Bayern's away form versus strong sides does not read well – the Reds are 1-2-3 in their six road matches versus teams in either the German Bundesliga top six or the UEFA Champions League – and the onus is on Arsenal to take the Emirates Stadium game by the scruff of its neck.
Marathonbet is offering odds of 2.22Bet €100 to win €22261/50Bet £100 to win £222+122Bet $100 to win $2221.22Bet HK$100 to win HK$2221.22Bet Rp100 to win Rp222-0.8197Bet RM100 to win RM222 about Arsenal breaking the deadlock against Bayern Munchen as they attempt to pull off a UEFA Champions League miracle and that is too big.
Tips Summary
Barcelona to be leading by 30 minutes
Wednesday 8th March, 19:45 GMT
Odds: 2.50Bet €100 to win €2503/2Bet £100 to win £250+150Bet $100 to win $2501.50Bet HK$100 to win HK$2501.50Bet Rp100 to win Rp250-0.6667Bet RM100 to win RM250
Real Madrid to score before 42 minutes
Tuesday 7th March, 19:45 GMT
Odds: 1.83Bet €100 to win €18383/100Bet £100 to win £183-120Bet $100 to win $1830.83Bet HK$100 to win HK$183-1.20Bet Rp100 to win Rp1830.8300Bet RM100 to win RM183
Arsenal to score the first goal
Tuesday 7th March, 19:45 GMT
Odds: 2.22Bet €100 to win €22261/50Bet £100 to win £222+122Bet $100 to win $2221.22Bet HK$100 to win HK$2221.22Bet Rp100 to win Rp222-0.8197Bet RM100 to win RM222
Arsenal
Barcelona
Bayern Munich
Champions League
Napoli
PSG
Real Madrid