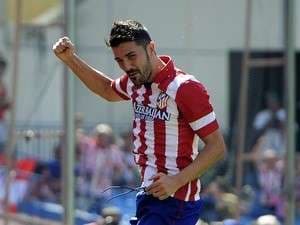 It will not be the most relaxing way to enjoy the Spanish Primera Division blockbuster between Atletico Madrid and Barcelona but betting on there being under two and a half goals at the Vicente Calderon is the clear value play.
Given the huge gap in quality between the Spanish Primera Division's top three teams – Atletico Madrid, Barcelona and Real Madrid – and the other 17 sides that compete, in the loosest possible sense of the word, in the top flight, it would be folly to read much into the unfiltered over/under statistics for the three championship contenders because they win many matches, particularly at home, comfortably.
So the fact that Atletico Madrid's Spanish Primera Division games are averaging 3.22 goals with 11 of the Mattressmen's 18 matches going over two and a half goals is not all that enlightening. Neither is the fact that Barcelona's Spanish Primera Division games are averaging 3.61 goals with 13 of Barca's 18 matches going over two and a half goals.
But the fact that Atletico Madrid and Barcelona have played out two low-scoring draws already this term ought to matter if one is interested in a value bet. Atletico and Barcelona drew 1-1 at the Vicente Calderon in the first leg of their Spanish Supercopa tie and the second leg at the Camp Nou ended 0-0, which meant that Barca won on away goals.
Bet365 is offering odds of 2.40 that Atletico Madrid and Barcelona go under two and a half goals when they meet on Saturday in a game that both teams are likely to approach cautiously. Defeat for Atletico and the Mattressmen's chance of winning their first Spanish Primera Division title since 1996 goes up in smoke. Defeat for Barcelona would not only boost the likelihood of Atletico staying the distance but also provide renewed hope to third-placed Real Madrid.
That the match underdog, Atletico Madrid, has built its recent successes on defensive solidity is the clincher. It is always good to have a defence-minded home side when one is betting on under two and a half goals. Expect Atletico to defend deep and Barcelona to dominate possession. Only if Barcelona establish a lead that requires chasing is Diego Simeone likely to instruct his Atletico team to throw caution to the wind. Simeone is a smart operator who knows that throwing the kitchen sink at Barcelona is a risky strategy that, 99 times out of 100, ends in tears.
Away from the Spanish Primera Division game that has got the football world licking its lips, there are good cases for backing over two and a half goals in the matches between Bilbao and Almeria and Getafe and Rayo Vallecano.
Bilbao is one of only three Spanish Primera Division sides not to feature in 0-0 draw this season and, also, it is one of only three teams yet to lose at home. Bilbao will rightly fancy its chance of making it eight wins from 10 home games but Almeria, which has won three of its last four league matches on the road, has been good for at least one goal in seven of its nine away games. BetVictor is offering odds of 1.78 that Bilbao and Almeria combine for more than two and a half goals, odds that seem more than big enough to accept.
Getafe and Rayo Vallecano are the other two Spanish Primera Division sides that have yet to take part in a 0-0 draw this term. Thirteen of Rayo Vallecano's 18 matches have gone over two and a half goals and, while Getafe's over/under tally stands at 7-11, only five of its games have had fewer than two goals so there have been near misses for over punters.
Real Madrid will, as ever, prove popular with punters who like to include hot favourites in multiple bets but it is worth noting that the Meringues are up against an Espanyol team that has drawn each of its last two matches versus them. Real Madrid is available at odds of 1.40 with Coral but surely there are better bets for one to strike.