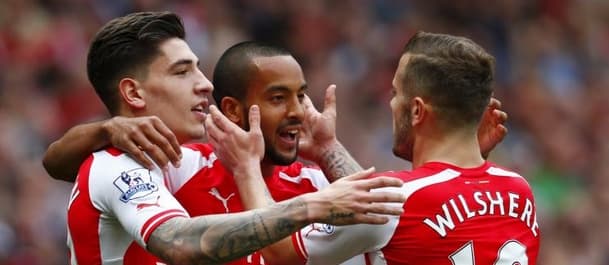 One point is all that West Bromwich has earned from its six English Premier League matches versus teams on the top half of the ladder and Arsenal is shaping up as a serious title contender so one thinks that the Baggies are likely to cop another hiding from the Gunners in their Saturday showdown.
Arsenal wrapped up last season's English Premier League with a 4-1 home victory over West Bromwich to make it seven wins and two draws for the Gunners in their last nine top-flight meetings with the Baggies. Theo Walcott bagged a first-half hat-trick and Arsenal led 4-0 before it deigned to allow Gareth McAuley to score for West Bromwich after the break.
West Bromwich and Arsenal have had seven common English Premier League opponents and one's view of those collateral form lines is that none of them favour the Baggies. English Premier League champions have to go to place such as West Bromwich and come away with three points and, according to the statistical pointers in which one places most faith, Arsenal is a betting proposition at odds of 1.50 with Ladbrokes.
For the record, the only English Premier League point that West Bromwich has collected from its six games against sides positioned 10th or higher came virtue of its 0-0 home draw with Southampton in which the Saints bossed possession and dominated most of the most meaningful match statistics.
Under two and a half goals is an option that leaps off the English Premier League coupon in relation to Saturday's early game between Watford and Manchester United, with Marathonbet enable punters to get set at odds of 1.70.
Only the English Premier League matches of Stoke have had fewer goals than those of Watford and Manchester United. Watford's 12 English Premier League games have featured 23 goals, with eight of those matches going under two and a half goals, including four of its home fixtures. There have been 25 goals in Manchester United's 12 English Premier League matches, with six of them going under two and a half goals. Manchester United has not conceded a goal in any of its last five games across all competitions and caution is the middle name of Red Devils boss Louis van Gaal. Watford has fired blanks in each of its two English Premier League matches versus genuine heavyweights – Arsenal and Manchester City – so there is a fair chance that Manchester United may need to score three or more goals to defeat one's selection.
Finally, keep an eye out for odds about over 10 and a half corner kicks in Saturday's English Premier League game between Manchester City and Liverpool – Bet365 and other bookmakers will come to the party before the weekend.
Manchester City and Liverpool are ranked second and first respectively for English Premier League corner kicks for, with the Citizens having had 87 corners and the Reds having had 93. Seven of Manchester City's 12 English Premier League matches have gone over 10 and a half corner kicks, while eight of Liverpool's 12 divisional games have exceeded that line. Only one of the 24 English Premier League matches that Manchester City and Liverpool have played has had fewer than eight corner kicks so, even if punters who strike this wager end up on the losing side, they are likely to have a good run for their money with eight corners appearing to be the minimum. Last term's corresponding English Premier League fixture had 13 corner kicks – six to Manchester City and seven to Liverpool – so that is another small positive.
Tips Summary
Arsenal to beat West Brom
21st November 15:00 GMT
Odds: 1.50
Watford v Manchester United Under 2.5 goals
21st November 12:45 GMT
Odds: 1.44
Manchester City v Liverpool Over 10.5 corners
21st November 17:30 GMT
Odds: TBC
Arsenal
liverpool
manchester city
Manchester United
Theo walcott
watford
West Bromwich