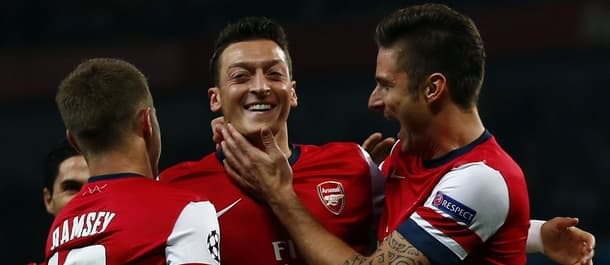 Betting on the early rounds of any football competition is fraught with danger and the English Premier League is no exception to the general rule as its 24th season begins.
The best bet on the card is Arsenal to beat West Ham at the Emirates Stadium. Arsenal has been the big mover in English Premier League title betting before the big kick off, with punters latching on to the Gunners following a series of good friendly results. One thinks that Arsenal will not overtake Chelsea and Manchester City on the ladder but the Gunners should get off to a winning start as they entertain a West Ham team that looks set for a long, hard campaign.
To say that West Ham has been unimpressive its UEFA Europa League matches against the minnows of Andorra's Lusitanos, Malta's Birkirkara and Romania's Astra would be an early contender for the understatement of the season. One cannot imagine Arsenal requiring a penalty shoot-out competition to get the better of Birkirkara over two legs and one is not a fan of West Ham boss Slaven Bilic. Fleet Street journalists will love Bilic because he is a walking headline but he was underwhelming in his management gigs with Besiktas and Lokomotiv Moskva and he has started badly with West Ham.
West Ham may field a second-string side versus Astra on Thursday but fulfilling a UEFA Europa League fixture in Romania three days before an English Premier League derby against Arsenal at the Emirates Stadium is far from the ideal preparation and one can understand why Bilic is thoroughly sick and tired of the European tournament.
Arsenal has won each of its last 10 derbies versus West Ham – the last nine of those local arguments taking place in the English Premier League – so the head-to-head form backs up one's headline selection. Arsenal is available at odds of 1.30Bet €100 to win €1303/10Bet £100 to win £130-333Bet $100 to win $1300.30Bet HK$100 to win HK$130-3.33Bet Rp100 to win Rp1300.3000Bet RM100 to win RM130 with several bookmakers, including Betfred and Totesport, to defeat West Ham and PaddyPower's odds of 1.83Bet €100 to win €18383/100Bet £100 to win £183-120Bet $100 to win $1830.83Bet HK$100 to win HK$183-1.20Bet Rp100 to win Rp1830.8300Bet RM100 to win RM183 about the Gunners covering a one-goal handicap appeals also. Arsenal has beaten West Ham by two or more goals in each of the last three Emirates Stadium meetings of the sides.
Chelsea crushed Swansea home and away in last term's English Premier League and one cannot see anything other than a straightforward Blues victory over the Swans at Stamford Bridge when the teams clash in Saturday's late match.
There is a school of thought that Swansea was very fortunate not only to finish last season's English Premier League in eighth place but also to avoid featuring in the relegation battle – only three teams averaged fewer shots than the Swans, while just five sides conceded more attempts than Garry Monk's outfit. One online number cruncher has opined that Swansea should have ended in 16th position based on his analysis of its shooting data and historical trends. One may not go that far but certainly one does agree that Swansea is likely to slide down the ladder over the next nine months.
Chelsea is trading at odds of 1.36Bet €100 to win €1369/25Bet £100 to win £136-278Bet $100 to win $1360.36Bet HK$100 to win HK$136-2.78Bet Rp100 to win Rp1360.3600Bet RM100 to win RM136 with many bookmakers, including BetVictor and Winner, to accrue maximum points from its English Premier League opener. Chelsea is available at odds of 2.20Bet €100 to win €2206/5Bet £100 to win £220+120Bet $100 to win $2201.20Bet HK$100 to win HK$2201.20Bet Rp100 to win Rp220-0.8333Bet RM100 to win RM220 with BetVictor to win to nil and, perhaps more interestingly, dutching 1-0 and 2-0 home wins with various bookmakers generates a bet at odds of 3.50Bet €100 to win €3505/2Bet £100 to win £350+250Bet $100 to win $3502.50Bet HK$100 to win HK$3502.50Bet Rp100 to win Rp350-0.4000Bet RM100 to win RM350.
Finally, surely Stoke is a ridiculous price to register an English Premier League home win over Liverpool on Sunday.
Only eight points separated Stoke and Liverpool at the end of last term's English Premier League, the home numbers of the Potters were two wins better than the away numbers of the Reds and the corresponding fixture resulted in a 6-1 victory for the home team. Liverpool's reputation is the only reason why Stoke is trading at odds of 3.50Bet €100 to win €3505/2Bet £100 to win £350+250Bet $100 to win $3502.50Bet HK$100 to win HK$3502.50Bet Rp100 to win Rp350-0.4000Bet RM100 to win RM350 with BetVictor to win, while there is value in the double-chance and draw-no-bet odds as well. Bet365's offer of odds of 1.75Bet €100 to win €1753/4Bet £100 to win £175-133Bet $100 to win $1750.75Bet HK$100 to win HK$175-1.33Bet Rp100 to win Rp1750.7500Bet RM100 to win RM175 about Stoke not losing at home to Liverpool is far too big.
Tips Summary
Arsenal to beat West Ham / Arsenal -1
9th August 13:30 GMT
Odds: 1.30Bet €100 to win €1303/10Bet £100 to win £130-333Bet $100 to win $1300.30Bet HK$100 to win HK$130-3.33Bet Rp100 to win Rp1300.3000Bet RM100 to win RM130 / 1.83Bet €100 to win €18383/100Bet £100 to win £183-120Bet $100 to win $1830.83Bet HK$100 to win HK$183-1.20Bet Rp100 to win Rp1830.8300Bet RM100 to win RM183
Where to Bet: Betfred, Totesport, PaddyPower
Chelsea to beat Swansea / 1-0, 2-0 Dutched
8th August 17:30 GMT
Odds: 1.36Bet €100 to win €1369/25Bet £100 to win £136-278Bet $100 to win $1360.36Bet HK$100 to win HK$136-2.78Bet Rp100 to win Rp1360.3600Bet RM100 to win RM136 / 3.50Bet €100 to win €3505/2Bet £100 to win £350+250Bet $100 to win $3502.50Bet HK$100 to win HK$3502.50Bet Rp100 to win Rp350-0.4000Bet RM100 to win RM350
Where to Bet: BetVictor, Winner
Stoke to beat Liverpool / Stoke Win/Draw
9th August 16:00 GMT
Odds: 3.50Bet €100 to win €3505/2Bet £100 to win £350+250Bet $100 to win $3502.50Bet HK$100 to win HK$3502.50Bet Rp100 to win Rp350-0.4000Bet RM100 to win RM350 / 1.75Bet €100 to win €1753/4Bet £100 to win £175-133Bet $100 to win $1750.75Bet HK$100 to win HK$175-1.33Bet Rp100 to win Rp1750.7500Bet RM100 to win RM175
Where to Bet: BetVictor, Bet365
Arsenal
Birkirkara
Chelsea
Emirates Stadium
English Premier League
liverpool
Lusitanos
Stamford Bridge
Stoke