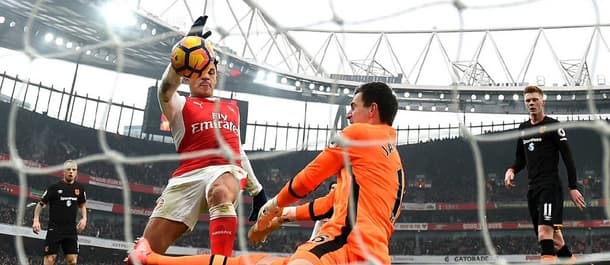 It promised to be the most competitive Premier League in years, with Jose Mourinho taking charge at Manchester United and Pep Guardiola taking the reins across town at City. Jurgen Klopp would have his first full season in charge of Liverpool, and Antonio Conte was brought into Chelsea after impressing at the Euros with Italy. On top of that, last season's shock Champions Leicester were defending their title, while Arsenal and Spurs – 2nd and 3rd last term – were also expected to be in the thick of the title race.
In reality, Conte's Chelsea have turned the race into little more than a procession, and the Blues have a ten-point lead at the top with just 12 games to go. No one side looks remotely like catching up, and Chelsea look to be in no mood to let the title slip from their grasp. Having backed the Pensioners to win the Premier League way back at the start of the season, and having tipped Leicester to finish in the bottom half, we're in a strong position to look at supplementing the bets. One market which catches the eye – and one which should remain competitive until the end of the season – is the title betting without Chelsea (effectively betting on who will take 2nd place).
The Premier League table as it stands is incredibly tight, with just five points separating Spurs in 2nd and Manchester United in 6th. The price that stands out most however, is the 9.5 on offer with Paddy Power about Arsenal finishing runner-up yet again.
The bookies have made Manchester City 2.2 favourites for this market, with Spurs quoted at 3.75 to finish best of the rest. That's a sizable difference in odds considering that the Gunners are within three points of both clubs and have played a game less than Spurs.
Manchester City continue to have struggles at the back, and it's clear at this stage that Pep Guardiola's priority is the Champions League over the Premier League. The Citizens do look to have a fairly generous run-in, although they are still to play Liverpool at home and have to visit Arsenal and Chelsea. Progress in the Champions League is bound to be a distraction if they go deeper into the tournament.
Spurs have no such European worries after being dumped out of Champions and Europa Leagues this season, and they occupy second spot at the moment. They too look to have a fairly 'winnable' run of fixtures, but a three-game run against Arsenal, West Ham, and Manchester United at the business end is a tough finish before a final day match away at relegation-threatened Hull. It's also hard to forget last season's capitulation when they 'finished third in a two-horse race', allowing arch rivals Arsenal to snatch 2nd place behind Leicester.
Manchester United are the same 9.5 odds as Arsenal, but are two points further back in 6th and have a Europa League campaign to contend with. They are yet to visit the Gunners and Spurs, with tricky fixtures against Chelsea, Everton, Southampton and West Brom also to come. Mourinho already has one trophy in the bag after the Red Devils won the EFL Cup last week, and if they go further in the Europa League it could impact on domestic performances.
Liverpool – once looking like a shoo-in for 2nd – have fallen away quite dramatically over the last month or two. They're still 5th with 49 points, but one win in the last seven games is worrying. The Reds are 13.0 to nick second, but backing them requires a leap of faith that they will turn it around. Have the players run out of steam after playing Klopp's high intensity brand of football all season? Liverpool face Arsenal, Manchester City and Everton in the next four games, which could make or break their season. On the plus side, at least they have no FA Cup or European distractions, so they can concentrate on the Premier League from here on in.
Arsene Wenger's long-standing Arsenal career looks to be coming to an end this summer, with the Frenchman recently saying he will manage next season whether at Arsenal or "somewhere else". The Gunners are almost certainly out of the Champions League after suffering a humiliating 5-1 thrashing at Bayern Munich, and even the most ardent fans won't expect them to turn it around. That just leaves the FA Cup and the league to play for, and Wenger will be desperate to go out on some kind of high. Once the Champions League adventure is over for another year, his players will be expected to focus on domestic matters – a familiar tale for Arsenal fans. However, they rarely fail to produce in those late season charges into the top four, and might put in that little bit of extra effort to see Wenger off on a good note.
The Gunners face most of their 'tough' games at home during the run in, and if they get a positive result at Anfield on Saturday the odds could drop significantly.
Tips Summary
Arsenal to win the Premier League (betting without Chelsea)
Season 2016/17
Odds: 9.5
Arsenal
liverpool
manchester city
Manchester United
Premier League
tottenham