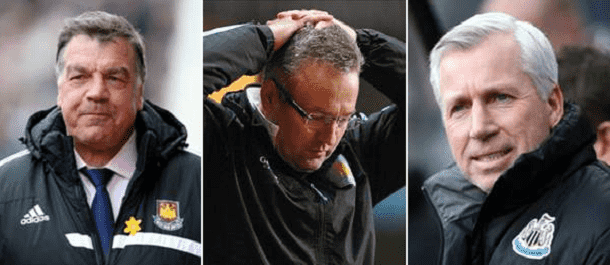 The English Premier League season kicks off in the middle of August and, while it is no fun to see anyone lose their job, betting on the first manager to leave their post seems fair enough given the money that they receive on the way out.
Several English Premier League coaches are going nowhere in the near future, with the most secure boss being Manchester United manager Louis van Gaal. The English media has fallen in love with Van Gaal already and Manchester United has the softest schedule in the first few months of the big teams.
West Bromwich boss Alan Irvine is the favourite to be the first English Premier League manager to leave their post, with BetVictor offering odds of 5.00. Irvine looks like an accident waiting to happen – he failed at Preston and Sheffield Wednesday – but he is new so he will have a honeymoon period and West Bromwich chairman Jeremy Peace, who is at loggerheads with Baggies fans, believes in him. Peace is a proud man and he will not remove Irvine – and lose face – unless he has absolutely no alternative.
Harry Redknapp is next in the betting on the first English Premier League manager to leave their post and, again, one thinks that he is bit a too high up the list. However, one is interested in the three bosses who are each trading at odds of 7.00 with BetVictor – Sam Allardyce of West Ham, Paul Lambert of Aston Villa and Alan Pardew of Newcastle.
West Ham supporters do not like Allardyce and the football that Allardyce-managed sides play. Allardyce survived a push from West Ham fans to have him replaced last season because Hammers owners, particularly David Gold and David Sullivan, stood by him. However, one should not overlook the fact that West Ham lost five of its last six English Premier League matches and the Hammers cannot afford to drop out of the division with a move to the Olympic Stadium not far away.
Without wishing to be unkind, the move from Norwich to Aston Villa has not really worked out for either Paul Lambert or the Villans. Aston Villa finished Lambert's first English Premier League campaign in 15th position and last term it ended in the same spot, taking only four points from its last nine games. Roy Keane has joined Aston Villa as its assistant manager, providing Villans officials with a ready-made replacement should they get rid of Lambert.
Newcastle finished last season's English Premier League in 10th place and, for most Magpies supporters, that was not good enough. From the outside looking in one cannot really fathom why Newcastle fans got so upset about ending the term on the top half of the ladder, particularly in light of the fact that their side's best player, Yohan Cabaye, left to join Paris Saint-Germain in January. But the reality is that Pardew is under enormous pressure, not helped by the fact that Newcastle ended last season with nine losses out of 10.
One could dutch Allardyce, Lambert and Pardew and get odds of 2.33 that one of the first English Premier League manager to leave their post. If one wanted to eliminate one and get odds of 3.50 then Allardyce would be the one to leave out. If one wanted to back only one then Lambert would be the best bet simply because Keane is waiting in the wings.
Anyone who backs Van Gaal at odds of 34.00 with BetVictor to be the first English Premier League manager to leave their post should seek an appointment with a psychiatrist. It took 18 months for Manchester United to turf out David Moyes and that looked like a marriage made in heaven from day one.
Tips Summary
Allardyce, Lambert, Pardew first manager sacked
Odds: All 7.00 (2.33 dutched)
Where to Bet: BetVictor
Allardyce
Bet Victor
Lambert
Pardew
Premier League
Sack