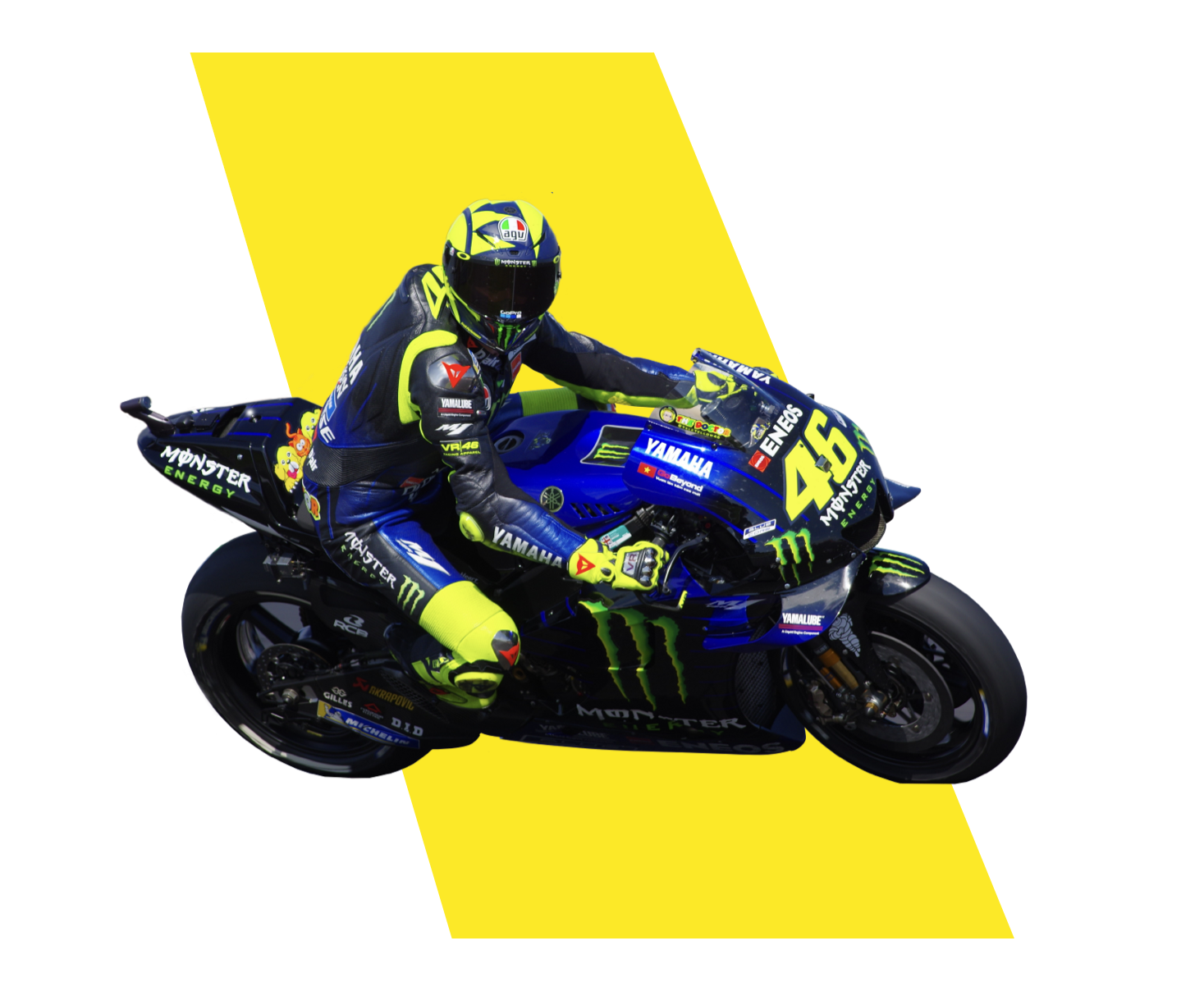 British MotoGP 2019
Welcome to our guide to the British MotoGP 2019! Whether you're planning to watch at home or head to the track, the 2019 British MotoGP is set to be one of the biggest events on the motorcycle racing calendar.
On this page, we outline everything you'll need to enjoy this year's event at Silverstone, including everything from the schedule and ticket prices to current MotoGP standings and information on how to bet on the races.
Best MotoGP Betting Sites
British MotoGP Free Bets and Offers
Our recommended bookmakers have a range of free bet offers for new customers. For instance, some betting sites offer you a flat bonus amount that you can use to bet on anything you like, including the British MotoGP.
Others may offer you a guarantee that you'll get your money back in the form of site credit even if you lose your first bet. In some cases, you may even be able to get special offers specifically for the MotoGP racing, like boosted odds on favoured riders.
British MotoGP Schedule
The British MotoGP 2019 races will take place on Sunday, 25 August. But the festivities begin on Thursday 22 August, with the Day of Champions, featuring live music and a variety of stunt displays.
The race-related action begins on Friday, as MotoGP, Moto2 and Moto3 racers will go through their free practice sessions. Saturday begins with more practice, after which qualifying sessions will be held in all three disciplines.
The three types of motorbike racing on display have subtle differences, primarily in the restrictions that are placed on the bikes and riders in each class. The Moto3 class restricts bikes to single-cylinder 250 cc four-stroke engines, and requires a minimum total weight between the motorcycle and the rider of 326 lb. Typically, riders at this level must be at least 16 years old, but cannot be older than 28.
The Moto2 class requires all riders to use the same engines, a 765 cc displacement with three cylinders supplied by Triumph. While there are no chassis limitations, only steel brake discs may be used on motorcycles racing at the Moto2 level.
The MotoGP motorcycles, on the other hand, have few restrictions. There's no particular engine configuration required, though the number of cylinders in an engine determines the minimum permitted weight for the bike. Other rules dictate the aerodynamics of the bikes and the electronic components that can be used, all of which are designed to provide an even playing field for each team.
British MotoGP 2019 Venue
The 2019 GoPro British Grand Prix will be held at Silverstone Circuit, which is known as the home of British motor racing. Located near the Northamptonshire villages of Silverstone and Whittlebury, the 3.652-mile track has hosted the British motorcycle Grand Prix event since 2010.
That wasn't always the case. Beginning in 1949, the Isle of Man TT was the only Grand Prix event in Britain, and was considered the most prestigious race on tour. That ended after the 1972 race, when Gilberto Parlotti was killed during the competition. World Champion Giacomo Agostini said he would never race there again, and after 1976, the race was off the calendar.
That's when Silverstone stepped in. In 1977, it hosted the first ever British MotoGP event. While Donington Park took over hosting duties in 1987, Silverstone once again became the host track in 2010, and has done so ever since. However, there was no race in 2018, as weather conditions forced its cancellation.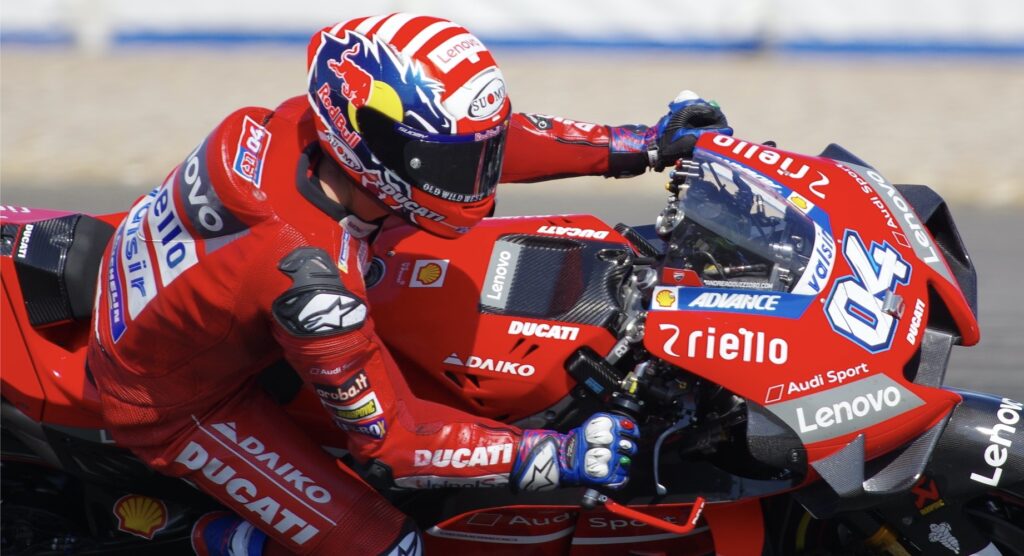 MotoGP 2019 Standings
Heading into the British MotoGP 2019, the season has been dominated by one rider: Spain's Marc Marquez. The five-time MotoGP world champion, who rides for Honda, is almost guaranteed to win his fourth straight title.
Not only has he won six of the first 11 races of the season, he has finished no lower than second in any race except for the Grand Prix of the Americas, which he failed to finish following a crash caused by problems with his engine brake.
Following behind Marquez are two Italian Ducati riders in Andrea Dovizioso and Danilo Petrucci. But given Marquez's massive points lead, there is little chance that anyone will stop him from grabbing another world championship.
| Rider | Bike | Points |
| --- | --- | --- |
| Marc Marquez | Honda | 230 |
| Andrea Dovizioso | Ducati | 172 |
| Danilo Petrucci | Ducati | 136 |
| Alex Rins | Suzuki | 124 |
| Valentino Rossi | Yamaha | 103 |
| Maverick Vinales | Yamaha | 102 |
| Fabio Quartararo | Yamaha | 92 |
British MotoGP Results and History
The British MotoGP has been held since 1977, after it replaced the Isle of Man event. In both the early years and today, the races have been held annually at Silverstone, though it was hosted in Donington from 1988 through 2009.
Historically, the most successful rider of all-time at the British MotoGP has been Valentino Rossi. He won six MotoGP races beginning in 2000, with his final win coming in 2015. He also had previously won one race each in the 250 cc and 125 cc classes, giving him eight total wins during Grand Prix weekends at Silverstone.
Since 2012, the current schedule of Moto3, Moto2, and MotoGP races has taken place annually at Silverstone, with the exception of 2018, when the races were cancelled due to poor weather conditions.
Recent British MotoGP Winners
| Year | Moto3 | Moto2 | MotoGP |
| --- | --- | --- | --- |
| 2017 | Aron Canet | Takaaki Nakagami | Andrea Dovizioso |
| 2016 | Brad Binder | Thomas Luthi | Maverick Vinales |
| 2015 | Danny Kent | Johann Zarco | Valentino Rossi |
| 2014 | Alex Rins | Esteve Rabat | Marc Marquez |
| 2013 | Luis Salom | Scott Redding | Jorge Lorenzo |
| 2012 | Maverick Vinales | Pol Espargaro | Jorge Lorenzo |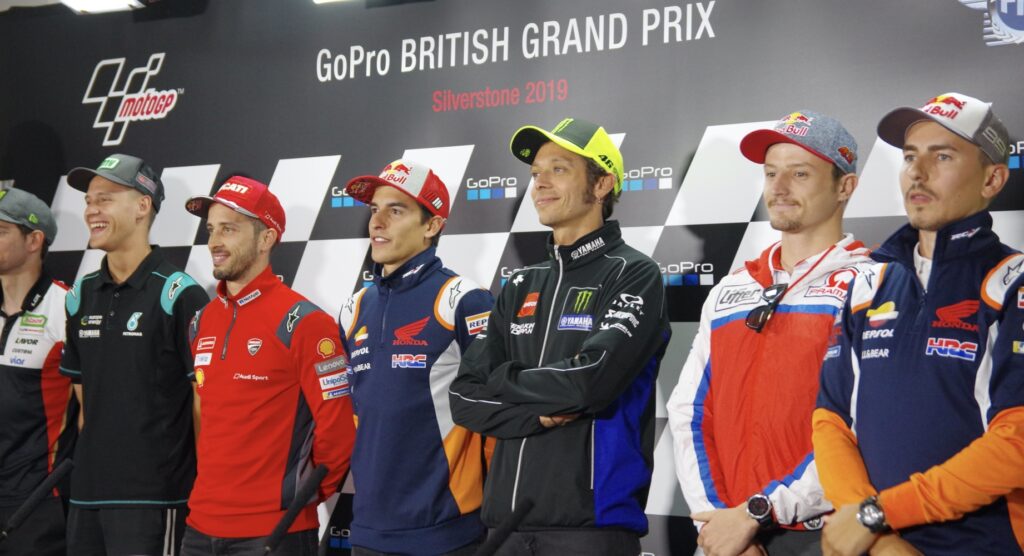 MotoGP Odds and Tips
While odds for the British MotoGP 2019 won't be released until the final days before the event begins, there's little doubt as to who the favourite will be. Marc Marquez has been dominating the MotoGP standings all year long, and will be fancied to pick up his second career win at Silverstone.
That doesn't necessarily mean you should bet on him to win the race. If Marquez is made an overwhelming favourite, it may be better to put your money on Andrea Dovizioso. Not only is Dovizioso coming off an upset win over Marquez in Austria, but he also won last year's British MotoGP race.
One could argue that it is actually Dovizioso who is the man to beat at Silverstone, though you should still be able to get fairly generous odds on the Italian considering Marquez's overall performance this season.
Beyond betting on who will win the race, many bookmakers also offer markets that allow you to bet on a rider reaching the podium (a top three finish), or sometimes who will grab the pole position in qualifying.
How to Bet on Motorcycle Racing
Motorcycle racing is a fairly easy sport to bet on, as the primary market – the outright race winner – is self-explanatory. You'll simply be betting on who you think will win the race: get it right, and you'll get paid out at the listed odds.
You may also be able to find other markets at some bookmakers, including podium betting, a popular market which requires your chosen rider to finish in a top three position in order to pay out.
Live betting is also offered for some MotoGP events, allowing you to bet based on what you see happening during a race. You may also place futures bets on who you believe will win the overall MotoGP World Championship.
British MotoGP 2019 Tickets
Tickets for the British MotoGP 2019 can be purchased through the Silverstone website, which has a dedicated page for the event.
General admission tickets start at £15 on Friday, with full weekend passes available for £90. Grandstand tickets are more expensive: three-day weekend passes for the most desirable platinum grandstands like Luffield, Woodcote, and the National Pits Straight cost £155.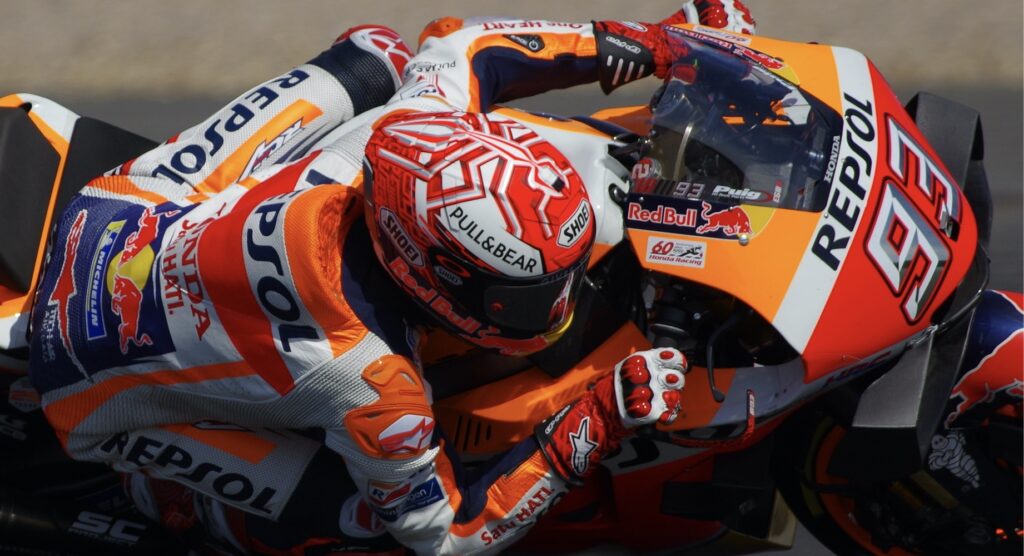 Motorcycle Racing Glossary
If you're unfamiliar with MotoGP racing, here's a breakdown of some of the most important terms used:
Apex – The tightest point on a corner.
Braking Marker – A point, often a physical object, chosen by a rider to determine where they should break as they enter a corner.
Chicane – An area on the track with two consecutive corners that turn in opposite directions.
Displacement – The capacity of a motorcycle's engine, usually stated in cubic centimetres (cc).
Fairing – The outer, protective part of a racing motorcycle's body, which serves to protect the rider and the bike components.
FIM – The governing body for motorcycle racing. Its full name is the Federation Internationale de Motorcyclisme.
GP – Short for Grand Prix, this refers to a racing event that includes MotoGP, Moto2, and Moto3 races.
Grid – The layout of the riders for the start of a race, where each rider is positioned based on their order of qualifying.
Pole Position – The first starting position on the grid, which is given to the top qualifier.
Qualifying – The process which takes place the day before the race, in which riders are ranked based on their fasted lap in qualifying.
Ride Through – A penalty given to a rider that requires them to ride through the pit lane.
Slipstream – A tactic in which a rider follows another on a straight in order to use the flow of air around the lead motorcycle to build speed and overtake it.
Wild Card – A rider who is participating in a race on a one-off basis, as opposed to riders who race on a tour for the entire season.
MotoGP FAQs
Where is Silverstone?
Silverstone Circuit is located near the villages of Silverstone and Whittlebury in Northamptonshire, England.
Can I get free bets on MotoGP?
Yes, many bookmakers offer a variety of free bet offers for new signups. You can use most of these offers to bet on MotoGP races, including the British MotoGP 2019.
Who is favourite to win the MotoGP World Championship 2019?
The overwhelming favourite to win the 2019 MotoGP World Championship is Marc Marquez, who has a commanding points lead over Andrea Dovizioso and the rest of the field. Bookmakers are offering very short odds – in the range of 1/50 on Marquez.
Where is the best place to sit at Silverstone?
Some of the best views for the British MotoGP 2019 can be found in the Luffield grandstand, which is close to the track and near the start/finish line. Similarly, the Woodcote grandstands are also considered to be among the best seats on the track.