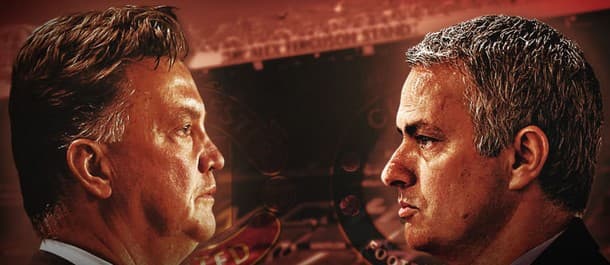 They are two of the most decorated, talented, and successful coaches in world football. They are also described as two of the most arrogant and self-serving men in the game, and they currently occupy two of the best managerial positions in the Premier League. The similarities between Louis Van Gaal and Jose Mourinho are there for all to see, but their careers are also intertwined, and have been ever since the Dutch maestro took on the self-proclaimed 'Special One' as a coach when he joined Barcelona in 1997.
They have both endured fractious relationships with previous clubs, and both are now incumbent at teams which expect to win trophies. Van Gaal failed to deliver on that remit last season, although he did lead Manchester United back to the Champions League; while Mourinho brought Premier League success to Stamford Bridge, but is yet to deliver another Champions League trophy to Roman Abramovic – thought to be the Russian Oligarch's top priority.
If one thing is certain in football, it's that no manager's job is safe indefinitely. Eventually one of the two will be ousted for one reason or another, but who will go first and why? Let's dig a little deeper into each man's history to find the answers.
How Van Gaal Shaped European Football
Van Gaal has been credited with having a huge impact on European football, which dates back to his three years in charge of Barcelona from 1997-2000. It's remarkable to discover that during the last year of his tenure, the current managers of Barcelona, Manchester United, Bayern Munich, Chelsea, Ajax, PSV Eindhoven and Southampton were all either playing or working at the Nou Camp, and the likes of Pep Guardiola, Frank de Boer, Phillip Cocu, and of course, Jose Mourinho, have all spoken of Van Gaal's influence.
The links between Barcelona and Ajax were already long-standing thanks to Johan Cruyff's introduction of high-pressing possession-based football, but Van Gaal added a pragmatism which saw him collect the Spanish title in each of his first two seasons with the Catalan club. His third year there ended badly, and after falling out with star player, Brazilian Rivaldo, he was heavily criticized in the Spanish press by countryman Cruyff. During those years though, Van Gaal can be credited with assisting in the development of Mourinho as a manager – allowing his coach to prepare tactics, scout opposition clubs, and even take charge of the team in less-important games.
Problems, Pressures and the Premier League
Fast forward fifteen years and the two are now in direct opposition as managers of Manchester United and Chelsea. Those jobs come with indescribable amounts of pressure, and with two men who have courted controversy throughout their careers, there is a feeling that it is just a matter of time before one or the other implodes.
Mourinho has had one such episode already this season over the farcical criticism of Chelsea club doctor, Eva Carneiro. The medic is yet to return to work after Mourinho downgraded her role at the club after the handling of Eden Hazard during the 2-2 draw with Swansea at Stamford Bridge in August. Chelsea were already down to 10 men after goalkeeper Courtois had been sent off, when the medical team tended to Eden Hazard after he was tripped in the dying moments. That reduced Chelsea temporarily to nine men, with Mourinho claiming that his medical staff were 'impulsive and naive' and didn't 'understand the game'. That it happened is not necessarily surprising – Mourinho has consistently found himself in hot water throughout a career which has seen him last no longer than three years at any of his clubs – but what is more surprising is his unwillingness to back down, which has perpetuated the problem.
Van Gaal has also shown signs of the pressure since his arrival in Manchester, which is barely a shock considering this is the man who once dropped his trousers in the dressing room to prove to Bayern striker Luca Toni that he had the 'balls' that the Italian lacked. Having spent almost £250 million since taking the hot seat at Old Trafford, Van Gaal cracked under the strain last season when he was accused by Sam Allardyce (of all people) of playing a 'long-ball' game. In response, the Dutch coach produced a dossier of diagrams and statistics in a press conference to show that in fact, his side did not play such a direct style. It was an unnecessary reply and he was betrayed by the face of the Manchester United press officer, who sat beside him with a look of bewilderment.
Will the Clubs Pull the Trigger?
Ultimately though, like any football manager, they will be judged this season on results. Jose Mourinho returned the title to Chelsea last year, after a very impressive campaign which saw them head the table for the majority of the season. That will have bought him a certain amount of grace, but the Blues have had a poor start this term, already losing two of the first four games – including a crushing 3-0 defeat to Manchester City. Roman Abramovic showed Mourinho the exit door in his first stint at Chelsea, and a poor showing in both League and Champions League could see the writing on the wall once again.
Manchester United have invested heavily since Sir Alex Ferguson's retirement, but Van Gaal is yet to convince many a Red Devils fan. He has spent astronomical amounts of money on transfers, but his record over one season is actually incredibly similar to that of David Moyes, who was universally regarded as a failure. United made their way into the Champions League places last year, which may have saved Van Gaal's bacon, but after such heavy investment he will be expected to deliver a trophy of some description before next summer.
What 'They' Say
Two men who have been in the public eye for so long and have spawned thousands of column inches are almost bound to divide opinion, and in the case of Van Gaal and Mourinho it seems that they polarize opinion among players and coaches every bit as much as they do among the fans. Just for fun, here are some of the best quotes from former colleagues regarding the two:
"Van Gaal really has Alzheimer's if he writes stuff like that. You wonder whether he has one or two screws loose".
– Dutch legend Johan Cruyff on Van Gaal.
"A pompous arse…I was glad when I could avoid him".
– Swedish striker Zlatan Ibrahimovic on Van Gaal.
"He has been very important to my career. Along with Pep Guardiola, I can say he is the best coach I ever had".
– Dutch playmaker Arjen Robben on Van Gaal.
"For better or for worse, we had no relationship, there was no dialogue. I was not happy but always gave my all and respected my colleagues".
– Former Chelsea player, Juan Mata on Mourinho.
"He is a very special person to me. As a coach he is incredible, number one".
– Former Inter Milan and Holland star Wesley Sneijder on Mourinho.
"He's the f****** boss, the f****** man. Off the pitch he has won. He has won for the whole year. I'll give him his own off-the-pitch Champions League".
– An astonishing tirade from Pep Guardiola in response to Mourinho's comments prior to a Champions League semi-final in 2011.
Who Goes First?
From a betting perspective there's no out-and-out Van Gaal versus Mourinho market, and more's the pity because it would be an enticing one. The bookies always have a 'next manager to leave his post' market for the Premier League, such is the cutthroat nature of England's top flight, but Dick Advocaat is the clear 3.25Bet €100 to win €3259/4Bet £100 to win £325+225Bet $100 to win $3252.25Bet HK$100 to win HK$3252.25Bet Rp100 to win Rp325-0.4444Bet RM100 to win RM325 favourite with Ladbrokes for that particular honour with his threadbare squad at Sunderland.
Louis Van Gaal can be backed at 41.00Bet €100 to win €410040/1Bet £100 to win £4100+4000Bet $100 to win $410040.00Bet HK$100 to win HK$410040.00Bet Rp100 to win Rp4100-0.0250Bet RM100 to win RM4100 with William Hill, but Jose Mourinho is as short as 9.00Bet €100 to win €9008/1Bet £100 to win £900+800Bet $100 to win $9008.00Bet HK$100 to win HK$9008.00Bet Rp100 to win Rp900-0.1250Bet RM100 to win RM900 with the likes of Skybet and BoyleSports.
Either way, it's a ridiculous notion that one of them will be the first to go this season, and surely one of the teams in the relegation battle will hit the panic button much sooner than Chelsea or Manchester United. Those odds might be indicative of who will be first to leave, however, and Jose Mourinho is now in his third year in this stint as Chelsea boss. He's achieved a great deal in the game already, so what might be next for the man who has already won titles at the top level in England and Spain, and won the Champions League with Italian and Portuguese clubs?
He's made no secret of his desire to one day manage the Portuguese national team, and international honours are practically the only thing missing from his CV. Paddy Power offer odds on Jose's next job, and the price on Portugal is a very tempting 5.50Bet €100 to win €5509/2Bet £100 to win £550+450Bet $100 to win $5504.50Bet HK$100 to win HK$5504.50Bet Rp100 to win Rp550-0.2222Bet RM100 to win RM550 .
There are no hiding places in the Premier League, and Manchester City have already thrown down the gauntlet to both Chelsea and Manchester United in the title race. Van Gaal and Mourinho face one of the most important seasons of their respective managerial careers – one that will not only shape their future employment prospects, but also their hard-earned reputations.
Chelsea
Jose Mourinho
Louis Van Gaal
Manchester United
Premier League