US Senate Minority Leader Chuck Schumer has joined in the call for federal-level regulation of sports betting in the wake of this spring's US Supreme Court ruling that nullified the quarter-century old law that banned such wagering across almost the entire United States. The push by Senator Schumer, a New York State Democrat, joins an earlier call by Republican Senator Orrin Hatch to advance such legislation in the wake of the old PASPA law being ruled unconstitutional.
However, the plans announced by Schumer and other US federal politicians flies in the face of the several US states that have already enacted legalized sports betting. Single-event wagering was available only in Nevada for decades, but US states New Jersey, Mississippi and Delaware are already taking wagers, Pennsylvania and West Virginia have passed legalization measures, and more states are expected to follow.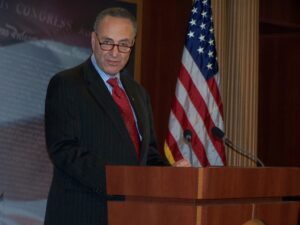 Sen. Schumer (right) announced his plans in a memo first sent to US-based sports broadcasting giant ESPN. Schumer wrote, "As a New York sports fan — especially my Yankees and Giants — and a senator, my priority in the wake of the Murphy v. NCAA decision is making sure the integrity of the games we love is preserved, that young people and those suffering from gambling addiction are not taken advantage of, and that consumers that choose to engage in sports betting are appropriately protected," Schumer said in a statement. "With the Supreme Court's ruling, it's incumbent on the federal government to take a leadership role and provide the necessary guidance to prevent uncertainty and confusion for the leagues, state governments, consumers and fans alike."
Schumer added, "The stakes are too high — legal sports betting laws must be crafted and executed in a careful and thoughtful way. As state legislatures develop new legislation in the weeks and months ahead, I hope they will take these principles under consideration. I also support the efforts in the Congress to debate and develop bipartisan federal legislation that would adhere to these principles. The integrity of sports is too precious to not protect as best we can."
Schumer's pre-planned announcement quickly drew coordinated responses from several of the US's major sports organizations, largely the same group that sued — but eventually failed — to stop New Jersey's sports-betting legalization plans. One such comment came from the National Basketball Association (NBA), Major League Baseball (MLB), and the Professional Golf Association (PGA), which offered this: "As legalized sports betting spreads across the states, there is a need for consistent, nationwide integrity standards to safeguard the sports millions of fans love. We strongly support the legislative framework outlined by Senator Schumer and we encourage Congress to adopt it."
The National Football League (NFL) and National Collegiate Athletic Association (NCAA) jointly offered another statement of support: "Protecting the integrity of our sports is of paramount importance to the NFL and NCAA. We applaud the leadership demonstrated by Senators Hatch and Schumer in support and federal legislation to protect the integrity of our games following the Supreme Court decision. Core federal standards are critical to safeguarding the sports we love, the millions of athletes across the country who play these games at all levels and our fans."
Despite the unified front, state-level politicians and the US's gambling industry generally turned up their noses at Schumer's federal-level plans. Perhaps the most salient comment came from the American Gaming Association, which represents much of the US's casino industry. The AGA welcomed the call for preserving sporting integrity and protecting consumers, but openly wondered how the 26 years PASPA was in effect promoted those goals.
Wrote the AGA, "The casino gaming industry shares Senator Schumer's goal in preserving the integrity of sporting events and providing consumer protections. Federal oversight of sports betting was an abject failure for 26 years, only contributing to a thriving illegal market with no consumer protections and safeguards. New federal mandates are a nonstarter.
"The casino industry is working with stakeholders to ensure the proper protections for consumers, and the integrity of bets and sporting contests are included in state policy, universally implemented by all operators in those states, and overseen by effective state and tribal gaming regulators."
Not mentioned in any of these statements but an underlying theme nonetheless is the US sports leagues' strong desire to make money in some form from legalized sports wagering. The leagues' initial calls for "integrity fees" have generally been laughed at, so those same financial demands have been recast as "data rights fees". Such fees are likely to appear in any federal bill, overriding the majority of state-level legalization measures where the leagues have generally failed with their financial demands.
bill
Chuck Schumer
legislation
Schumer
Senator
sports betting
United States