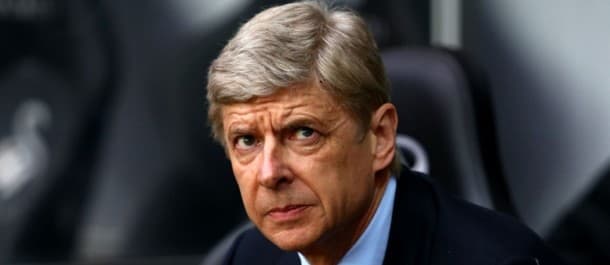 Arsene Wenger has spent several years shirking his critics, hiding behind everything from a positive footballing philosophy to lack of funds and past credentials. This week saw a new surge in their condemnation of the Frenchman as he failed to see off an out-of-sorts Manchester United, losing 2-1 at the Emirates in spite of dominating for large portions of the game.
One of the recurring arguments for those that see Wenger as a spent force is his seeming inability to learn from past mistakes. Saturday was a classic example of what Manchester United have been doing to Arsenal for years now; classic counter-attacking football, and it works every time. Arsenal have managed just one win against the Red Devils in their last 15 encounters, including a 3-1 defeat in the Champions League (again at the Emirates) and a humiliating 8-2 demolition at Old Trafford. Even David Moyes, in his doomed single season as United's boss that saw them finish 7th, picked up four points from two games against the Gunners.
Unfortunately for Mr Wenger this bad run is not exclusive to United. The North Londoners have a proven inability to see off the top teams, being outplayed and outfought by the likes of Chelsea and City with alarming regularity. Their last victory against United came in May 2011 and it has been nearly as long since they beat current league leaders Chelsea, clocking in at 1,123 days so far. Recall that Chelsea have not always been the complete package they are now, with eight managers attempting to fill the chasm left in Mourinho's six-year hiatus, and it makes Arsenal's floundering attempts to beat the big boys even more perplexing.
At any other club, it is likely Wenger would have already been given his marching orders. It is true that his illustrious history with the club is not to be sniffed at having guided the team to three Premier League trophies alongside five FA Cups. However, with the exception of last season's FA Cup triumph, the Gunners have struggled to claim any silverware since the 'Invincibles' season back in 2003/04. That undefeated campaign cemented Wenger's legacy and undoubtedly contributed to the seemingly unwavering faith placed in Wenger by the Arsenal board.
Indeed, a strong relationship between Wenger and influential former Vice-Chairman David Dein has played a key role in the ex-Monaco manager's extended tenure in charge. Speaking in 2013 – quite notably before the FA cup victory – Dein had nothing but fond words for the man he signed from Japanese outfit Grampus Eight in 1996.
"I thought it would be nice if I kept in touch with Arsene, so I used to send him the old video tapes after each match and he would send me a fax back," said Dein, referring to the period just before Wenger joined Arsenal. "I was always interested to get his reaction because he is so analytical. He was living at the same house Gary Linekar stayed in and the fax had on the top – and I've still got them somewhere – the name 'Linekar,' which was sweet.
"We would always talk about how Arsenal were playing, what he thought of the team and, above all else, what was going on in world football. He was my personal pundit."
The fact that Dein still keeps the faxes and speaks so kindly about Wenger speaks volumes about how highly he rates him, and as he goes on it becomes clear that Wenger's previous achievements still account for his current reputation.
"Think of what Arsene has changed, not just for Arsenal but for English football generally: training methods, dietary controls, tactics, and style of play. In the 80s and early 90s, there was a big drinking culture in English football and certainly Arsenal. We had a Premier League team of drinkers.
"Arsene had to clear all that out. He got the boys to understand their bodies, to respect them, to do the right thing, to train properly, to come in on time. It was a revelation.
"There was a culture shock. I was on the team coach coming back from Aston Villa. After their meals there was a sudden outbreak, a chorus from all the boys, saying: 'We want our Mars Bars back! We want our Mars bars back!' He turned round and said, while wagging finger, 'Oh no'. It was light-hearted but they realised things had to change for the better."
Whilst it may indeed have been revolutionary at the time, aspects such as cutting out sugary foods and stopping players from consuming too much alcohol are no longer forward-thinking ideals. Admirable as it may be, it appears that such confidence may be misplaced, comparable to the outdated idea that English managers know the league and therefore prove a better choice than foreign ones based purely on nationality.
Naturally, Wenger has not had the smoothest of rides in his time with the Gunners. The restructuring of finances to accommodate the £390 million creation of the Emirates stadium meant that for large portions of time Wenger was reliant upon unknown players and bargain buys whilst trying to mount title challenges. Looking at the impact of key players departing other major English clubs – Cristiano Ronaldo at Manchester United, Luis Suarez at Liverpool, Gareth Bale at Tottenham Hotspur and Didier Drogba at Chelsea to name just a few – it is clear that big money is required to replace such inspirational figures. Thierry Henry certainly qualifies within that bracket at Arsenal's all-time leading goalscorer, yet Arsenal's inability to spend big has meant that they have never been able to return to the glory years that Henry afforded them.
Pressure on Wenger is nothing new and it would come as no surprise to see the Arsenal board continue to back him in spite of poor results as has been the case for the last decade. However, if he fails to learn from his mistakes and implement strong changes in the team, Arsenal will continue to struggle against the top teams and their trophy cabinet will remain sparse.
Arsenal
Arsene Wenger
David Dein. Pressure
Invincibles