Will casual sports bettors have interest in wagering on sporting events where a traditional bet also includes a lottery-style multiplier that, triggered at random, can increase the payout returned to winning bettors? That's the major corporate bet launched this week by Amaya Gaming, which owns BetStars, sister brand to Amaya's market-saturating online-poker brand, PokerStars.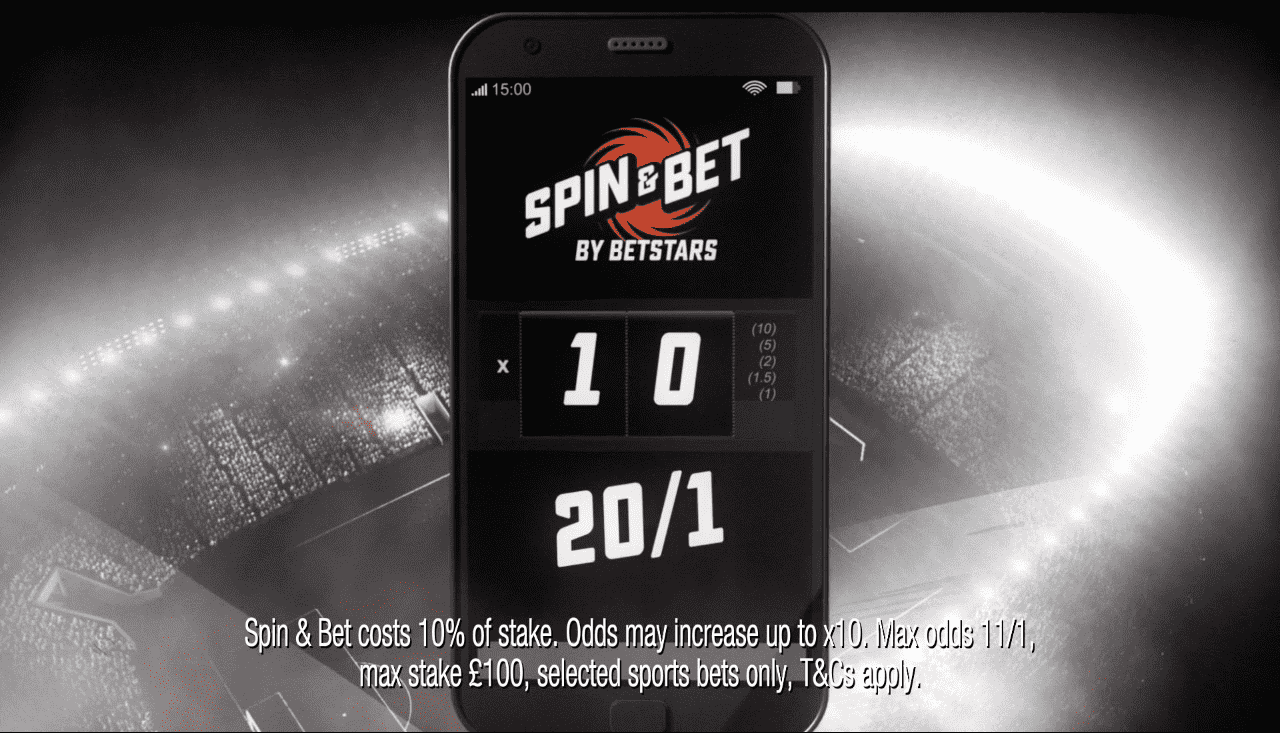 First, let's share the meaty portion of the brief presser issued by Amaya this week about the introduction of this new "Spin & Bet" format. Then, we'll add in some background information which should more fully explain how this particular market wrinkle came to be. It's an interesting little tale.
Here's the heart of the press release:
BetStars has launched a unique new sports betting product that gives bettors the chance to win up to 10 times as much when placing a bet. BetStars is the new sports betting brand from PokerStars, an Amaya Inc. company.

Spin & Bet, which takes its name and inspiration from the extremely popular Spin & Go poker format that launched just over a year ago on PokerStars, gives sports bettors the chance to see their potential winnings multiplied by up to 10 times the original amount.

"We're really excited by the launch of Spin & Bet, which we believe is set to be the game-changing innovation in sports betting this year," said Guy Templer, Director of Group Business Development and Strategy. "We're convinced our customers will love the new product as it brings a new and exciting dimension to betting for sports fans around the world. This is only the first in a number of exciting, unique products that we expect to introduce in 2016 to distinguish the BetStars brand from its competitiors."

HOW DOES SPIN & BET WORK?
Spin & Bet can be found on the home page of the BetStars websites and iOS and Android apps. To use the new Spin & Bet feature, bettors simply choose their bet from the available markets, enter their stake, and click 'Spin & Bet'. The bet will be placed and an animation will display the potentially enhanced winnings, with the result being one of five multiples: 1x, 1.5x, 2x, 5x or 10x. When playing Spin & Bet, 10% of the bettor's stake goes towards enhanced winnings jackpot.
The deeper story involves how Amaya and BetStars have positioned thsi new product to appeal to casual punters. The essential tradeoff, referenced only indirectly in the announcement, is that BetStars will be charging quite a bit higher vig per wager than for traditional sports bet. All that extra juice is what pays for the multipliers… and then some.
The idea is to randomize the payouts so that an average bettor might receive an unusually large payday now and then, but as these things often go, it's actually even less than a normal zero-sum tradeoff. Should the format succeed, the BetStars and parent company Amaya will garner a higher revenue share per bet, when all Spin & Bet wagering is accumulated into a single whole. Meaning, that for experienced, professional sports bettors, this new format would be a bad bet. But for casual types, who care less about managing variance and more about the excitement of the action, it offers a chance to get a little extra gamble on.
The larger question… will it work? That's where it gets really interesting. As the press announcement notes, the concept is designed to mirror (to a certain extent), the wildly successful "Spin & Go" format found on PokerStars. That format was introduced only about 15 months ago, and yet it already accounts for something like a third of all of PokerStars "single table tournament" or "sit 'n go" (SNG) action. When you consider that PokerStars itself is roughly ten times the size of any other poker site on the web, that's a lot of new action for the lottery-style concept.
Yet there are differences. In the poker version, the multiplier can go as high as 10,000x, meaning that someone could plunk down a couple of twenties and walk away a millionaire. In Spin & Bet, the sports-based version, the highest multiplier is only 10x, enough to offer a neat little bankroll boost, but certainly not a life-changing score.
Then there's the difference in opponents. In poker, the site (PokerStars, in this instance), offers a service through the provider site. The poker site charges a fee (rake), and the amount paid to the payers ia always known as a sum once the random multiplier is determined.
In Spin & Bet, however, the games on which the wagers' outcomes will occur and are subjective to additional variance, from unusual outcomes to lines that are moved by the books to equalize the action. Sports bettors are betting against other bettors in a sense, but it's done through the house, and not directly against each other, as in poker. And sometimes teh house can take a big hit when the betting action is one-sided, a risk that simply doesn't exist in the poker version of this product or in gambling as a whole.
So, despite Spin & Bet being modeled after Spin & Go, it's actually a significantly different beast. There's no guarantee the product will be successful or received enthusiastically by a large number of bettors, both of which need to happen for the product to take off. And Amaya desperately desires that, as the company fights a steep uphill battle to capture market share from many of sports betting's more established brand names.
Amaya
BetStars
Lottery
PokerStars
Spin & Bet
sports betting