The strange case of American celebrity sports tout Adam Meyer, accused last December by authorities of extorting $25 million from a wealthy Wisconsin investor, took yet another turn toward the bizarre in recent court filings. According to court documents recently obtained by the Milwaukee Journal-Sentinel, Meyer and his defense counsel have introduced not one, but two highly suspect legal defenses for Meyer's behavior and for the crimes he allegedly committed.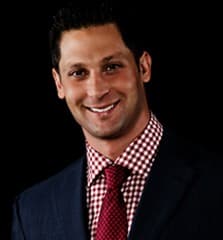 First, Meyer and his defense attorneys have now made claims that Meyer worked on behalf of unspecified US authorities during the period during which his alleged extortion against wealthy Wisconsin liquor distributor Gary Sadoff occurred.
According to statements allegedly made by Meyer, he broke various laws at the direction of law enforcement authorities. Exactly how authorities might have advised Meyer to threaten the safety of Sadoff and his family members, and wave a gun in Sadoff's face while allegedly extorting roughly $25 million from the wealthy sports bettor over the span of several years, does not seem to be explained.
Nonetheless, Meyer's vague claims in this area of operating under the direction of law enforcement agencies fall under the "public authority" defense, a rarely used — and usually unsuccessful — gambit, in which a citizen's illegal action can be excused if done under direct order of law enforcement.
As the Journal-Sentinel reported:
"Meyer has claimed that he cooperated in investigations conducted by numerous federal, state and local law enforcement agencies," states the filing by Greg Haanstad, first assistant U.S. attorney, adding that Meyer has claimed "that he also cooperated in gambling investigations conducted by Major League Baseball, the National Basketball Association and a Division I college football team."
The Journal-Sentinel followed up by mentioning that Meyer, famed for his appearances in several high-profile US-based TV, radio and print outlets, may have been invited to share knowledge of an investigation into a Pittsburgh Pirates baseball pitcher who was accused of throwing games. That separate investigation was deemed without merit, and the pitcher being accused was cleared of involvement.
Meyer and his defense attorney have also separately filed an insanity defense regarding Meyer's actions. That might technically be closer to the truth, if one examines all the revelations in the case to date, though insanity defenses are difficult to sustain. Given Meyer's outsized ego and cravings for the public spotlight, plus ongoing substance-abuse problems that have endangered his pre-trial bond arrangements, many of his alleged illegal actions seem willful, if not exactly wise.
One curiosity in the case is that many of the documents associated with Meyer's December arrest and indictment remain under court seal — an indication to some that there may indeed be elements of the case, such as Meyer possibly serving as a government informant, that have yet to become public knowledge. There is, of course, a wide gulf between serving as a government informant in one or more match-fixing investigations to claiming that the US government may have abetted (or even ordered) certain acts that led to the $25 million extorted from Sadoff.
No documents in the case have been made publicly available since filings directly associated with Meyer's December arrest and arraignment. The Journal-Sentinel's latest report declared that much of its recent information came from a filing recently made by federal prosecutors, but did not declare the exact source for its information, which is otherwise publicly unavailable.
Meyer, whose AdamWins.com tout site has fallen into inactivity since his arrest, has had other scrapes with known sports-betting and match-fixing cases. The Florida-based Meyer was long associated with indicted Ponzi schemer and disgraced U. of Miami booster Nevin Shapiro. The full extent of Meyer's relationship to Shapiro remains clouded, though Meyer reportedly invested $675,000 in a "front" operation run by Shapiro, and later took steps to protect himself against clawback lawsuits associated with Shapiro's other illegal activities.
Shapiro was convicted in 2011 of operating a Ponzi scheme and was sentenced to 20 years in prison. Shapiro allegedly defrauded his victims of millions and eventually filed bankruptcy. Meyer paid $900,000 to Shapiro's attorneys to resolve his own possible liabilities in the case, a settlement that occurred, coincidentally, in the same approximate timeframe as the beginning of his own alleged extortion activities against Sadoff.
Adam Meyer
extortion
fraud
Gary Sadoff
Nevin Shapiro
sports betting
sports tout