Match-fixing: the beautiful game's biggest curse. This new infographic reveals illegal betting to be a £306 billion industry that has led to at least 380 European football matches being fixed.
Match-fixing appears to be widespread across the continent. In December, Italian World Cup winner Gennaro Gattuso became the most high-profile name to be investigated. Meanwhile in England, a newspaper sting revealed former Portsmouth and Charlton defender Sam Sodje accepted £70,000 to punch Oldham's Jose Baxter and receive a red card. He is one of six players arrested in the country for match-fixing.
Despite the commercial success of its top division, the Bundesliga, German football has been blemished by criminals wagering £13.8 million on rigged matches and raking in £6.9 million in profits. £1.73 million in bribes are thought to have been issued to corrupt players and officials.
The infographic, developed by SBO, shows how illegal betting begins with the head of an Asian crime syndicate. He funds a global network of fixers, who bribe corrupt players, executives and officials. Fixers use accomplices to place telephone bets with predominately Asian bookmakers, and the profits are shared throughout the syndicate.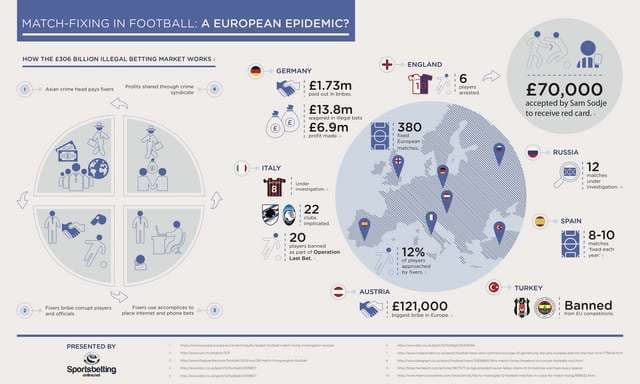 Share this infographic on your site! Just copy and paste the embed code below: