Masters Football was great fun. For a decade from the year 2000, it was a staple of the summer schedule on Sky Sports. Effectively it was just over-35s indoor 6-a-side football, but it played to packed houses. It helped that these over-35s were usually household names, retired players from the likes of Arsenal, Liverpool and Chelsea.
In many ways, it was an unexpected success. It was barely even football, with no offsides and side-walls and backboards in play. It took place in run-down ice-hockey arenas. But as well as the big-name players it had other positives.
It had a good healthy mix of being competitive with some added jollity. For every player who took it super seriously, others treated it as a day out. For every player who'd kept in tip-top shape, countless others could barely rise above walking pace. Players were accessible, mingling with the crowd, signing autographs and high-fiving.
Masters Football Format
There seemed to be a never-ending series of regional heats every week throughout the summer, all leading to a final's night. The same teams cropped up time after time. Glasgow Rangers took it mega seriously and were a shoo-in as the Scottish regional champions. They won the whole thing a few times, perhaps to prove a point to their EPL colleagues.
Liverpool always looked strong whilst Everton were poor (some things never change). Tranmere Rovers took great joy in occasionally spoiling the party and winning the North-West heat. Arsenal and Tottenham often renewed rivalry in the London heat but the victor never tried too hard on finals night.
Masters Football – The Key to Success?
We love nostalgia, and it was fantastic to see our heroes from the 80s and 90s strutting their stuff one last time. So, a few thousand fans were eager to pay to see these former greats. Sadly, a lot of the players needed the appearance money as during the prime of their careers there was not big money available.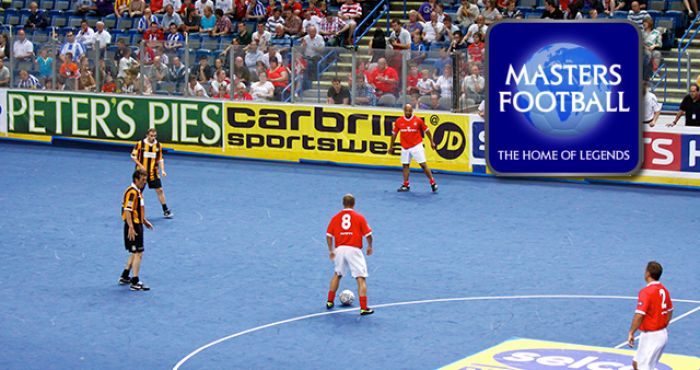 The End of the Line
By 2010 the novelty of seeing these football masters had worn off and attendance at the arenas had visibly dropped. Viewing figures plummeted in tandem. With wall-to-wall footy on Sky, this event no longer had a purpose. 2011 was the last edition, watched by almost no one. Fittingly, the dominant Glasgow Rangers were the last winners.
Could Masters Football Come Back?
It's difficult to see how it could return in the old regional format. Even the worst EPL footballers now retire with a 10-bedroom mock-Tudor mansion and £2 million in the bank. Playing a couple of hours 6-a-side for pocket money in the Milton Keynes Ice Dome is no longer a necessity.
Perhaps a once-a-decade mega tournament could be organised, but it would have to be on a large scale to attract the likes of David Beckham or Steven Gerrard. It's doubtful if there would be a place in it this time for the likes of Tranmere or Birmingham City, both former winners.
There will always be a market for nostalgia though. Once-off 'Legends' matches can attract 50K+ attendances like a recent charity match between Liverpool and Bayern Munich.
It doesn't seem Masters Football is likely to return in its original format, so we'll have to be happy with some old videos and promos. It was great while it lasted.
EPL
Masters Football
Masters Football Format