Brand-name consolidation is about to remove one of the older names from the United Kingdom, Ireland, and Euro gambling scenes, as Kindred Group, owner of more than a dozen popular European brands, has announced its plan to close StanJames.com and migrate that brand's customers over to Kindred Group sister brand Unibet.
The news was first included in a sponsorship-deal update at Racing Post a few days back, and has since been confirmed by several outlets, including here at SBO. The move likely spell the end of StanJames' 44-year run, which began in 1973 with the opening of a single betting shop in Oxfordshire. Interesting trivia on Stan James' founding: According to Wiki, the name was a derivation of the names of its two founders, Steve Fisher and James Holder. The "Stan" came from the "ST" of Steve plus the "AN" of Steve's wife, Anne, which was then added to the "James" to produce what eventually became one of the betting world's most recognized brand names.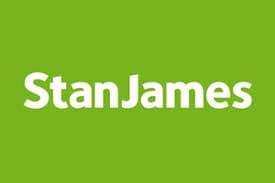 These days, though, a generic, multilingual branding such as Unibet is usually judged to be better than something that all but drips the Queen's heritage, as in Stan James. Amid the consolidation and globalization movements that have overtaken the gambling industry in recent years, it's not surprising to see Kindred Group moving in this direction.
The transition to Unibet may also see Kindred Group shutter or repurpose its Gibraltar-based corporate office for StanJames, which is run under the "SJU Limited" name, since a similar and larger operation for the Unibet brand operates from Malta, which is in the process of supplanting Gibraltar as Europe's online-gambling hub. Unibet also has a Gibraltar office, in addition to six other locations scattered around the globe.
Kindred has not offered specific comment on that corporate aspect, or if any jobs might be lost or consolidated elsewhere. Nor has the company commented on whether the 90 or so existing Stan James betting shops in the UK will be rebranded under the Unibet or 32Red name, though that seems to be the chalk at the moment.
Henrik Tjarnstrom, Kindred Group's chief executive, first broached the topic of the pending StanJames.com closure in announcing that several racing sponsorship deals would be moving over to Kindred's Unibet and 32Red brands. Said Tjarnstrom, "Kindred is among the biggest supporters of races in the online gambling sector in the UK and Ireland in terms of number of races and prize-money.
"We feel that, unlike any other territory, the UK has a cultural connection to racing, and to betting on racing. As the UK is a key market in our long-term strategy we feel it's important to support and to be seen sponsoring some of the biggest races in the UK and Ireland."
Racing Post also contacted Kindred's head of racing communications and sponsorship Ed Nicholson, whose quotes were subsequently made available to other outlets. Nicholson said: "Given our long-term growth plan it's important that Unibet and 32Red are visible on the racecourse when our customers, and potential new customers, are also highly engaged with the sport.
"This means associating our brands with the biggest races in the calendar and through mass media channels."
No timetable has been established as yet for the transition. As of now, it's business as usual under the Stan James name for customers of its online site and live betting shops.
32Red
brand
closure
Kindred Group
migration
Stan James
StanJames.com
UK
Unibet