On Saturday, Bournemouth supporters will embark on the longest trip in this seasons EPL. Many fans love the camaraderie of the long away trip. Beer, songs and a game of cards on a coach or train. Perhaps even an overnight stay in a faraway city. But how does their long journey compare with fans in Spain, Italy and Germany?
England – Newcastle United v AFC Bournemouth – 560 Kilometres
Popular club AFC Bournemouth have a dedicated travelling support. This fixture is their biggest challenge each season. The choices include a mammoth 7-hour drive or a complicated 6-hour train journey via interchanges in London. Returning on the same day would be very arduous, so many fans stay overnight and enjoy an evening of Newcastle's famous nightlife.
Spare a thought for the Newcastle travelling fans. They face the return journey to the South coast later in the season, but as it happens all their away trips are quite tricky this season.
Other clubs all have at least some short hop games. But as the only North East side in the division, their shortest journey this season is the still hefty 190 km visit to Burnley.
Germany – Freiburg v Hertha Berlin – 800 Kilometres
Away support is massive in German football with many clubs regularly bringing 5000 fans to games. Journey times are usually manageable thanks to the network of autobahns and the efficient train system. But there are still some nightmare trips, and Freiburg fans bear the brunt.
Slightly cut adrift in the deep south-west of the country, they face many long trips throughout the season. The trips to the two Berlin clubs come in at a nice 800 km, a journey of around 10 hours by road or rail.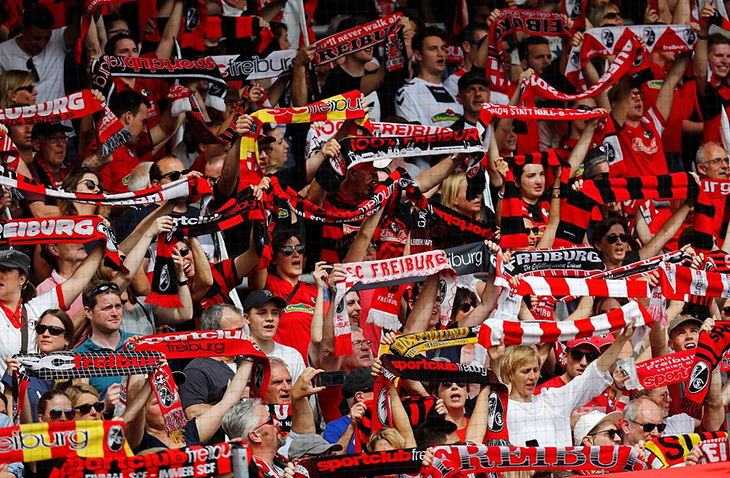 La Liga – Barcelona v Celta Vigo – 1150 Kilometres
The Spanish league has a much smaller amount of travelling fans than Germany or England. Usually, the away support is limited to fans who already live near the venue.
But, some hardcore fans make trips, and this season the big one on the mainland is Celta Vigo's cross-country journey to Barcelona. It's an epic 13-hour road trip from west to east. Make sure you have your match ticket because there'll be no turning back for it!
But there is also a trip that can take even longer for Spanish fans. With the welcome return of RCD Mallorca to the top flight, the fans of the other 19 clubs have a trip that can only be made by aeroplane or ferry.
It can get even more extreme in La Liga, as Deportivo Tenerife often reach the top flight. This small tourist island off the southern coast of Moroccois 2000 kilometres from mainland Spain.
Serie A – Juventus v Lecce – 1170 Kilometres
There's a strong tradition of travelling support in Italy, though mainly between the many clubs condensed in the rich North. The teams in the South are much more isolated. The extreme example this season is little Lecce in the 'heel' of Italy.
Their 'local derby' is the 430-kilometre trip to Naples. On other weekends the fans will face many 1000+ km trips, with the two trips to Turin coming in at 1170 km. Any Lecce fan who drives/trains to all their away games this season deserves a medal from the club.
Sardinian side Cagliari also have a difficult time, with long flights required for all their away games this season.
Overall, while we can say that the fans of Bournemouth have it tough this weekend, there are other fans in Europe's top leagues who have it even tougher.
AFC Bournemouth
Barcelona
Celta Vigo
England
Freiburg
Germany
Hertha Berlin
Juventus
La Liga
Lecce
newcastle united
Serie A