Floyd Mayweather's unanimous decision over Manny Pacquaio before a packed MGM Grand house on Saturday capped a busy US betting day with a favorable result for many major books. The houses' strong showing came despite late money coming in on Mayweather that reversed lines that had steadily moved toward underdog Pacquaio in the days preceding the fight.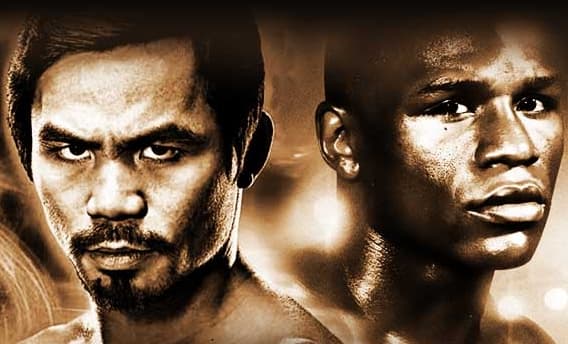 While Mayweather opened in the +230 to +240 range, the line moved as low as +180 in Las Vegas and +170 online by late Saturday morning, indicative of Pacquaio's huge fan base supporting their fave. But many Mayweather bettors had held back from early betting, according to several reports, picking up more favorable odds in the hours before the fight.
Mayweather's unanimous decision was also the single outcome most likely to produce a comfortable win for the books. Among other possible scenarios, increased weekend betting on the possibility of a draw offered one way for some books to lose on the fight, but by the later rounds, it was clear to most observers that Pacquaio could only win via knockout. (Pacquaio's post-fight disclosure of a hand injury during training might have affected his ability to press the action, and it certainly couldn't have been pleasing for those who dropped big money, chasing the upset.)
Few post-fight estimates of a total global betting handle have emerged, though it may have stretched over a billion dollars, combining with Saturday afternoon's Kentucky Derby to make it likely the US's second-busiest betting day of 2015, after the Super Bowl. In Nevada alone, the handle came in at $70 to $100 million, despite the lack of million-dollar bets that some major books had expected.
At host venue MGM Grand in Vegas, for example, the largest bet on the fight was for $500,000 (on Pacquaio) per a Las Vegas Review-Journal summary. MGM Resorts' various books accounted for at least a third of all Nevada-booked action on the fight. According to MGM Resorts sports book director Jay Rood, as relayed via the LVRJ, MGM Resorts alone wrote more than 50,000 tickets on the fight.
Most amazingly, at least 10% of those tickets (more than 5,000) were for the fight to end in a draw, driving the line for that bet from a 22:1 open to 5:1 or 9:2 at various outlets. It also begs the question of why, as a draw was, simply put, an unlikely outcome.
Perhaps the heavy action on draw was part of a misplaced belief that such an outcome would produce a repeat payday for the two boxers and their camps, both of which collectively garnered nine-digit paydays for what amounted to a 46-minute dance. But the possibility of a rematch existed regardless, and has been hyped virtually since the closing bell. Mayweather, at 48-0, has two more bouts to fight to fulfill his current contract, and while #49 is widely expected to be an old soup can, #50 could be shaping up as another heavily-orchestrated mega-payday.
Mayweather's unanimous decision on Saturday, of course, was the sure way to bet. Mayweather's not much of a knockout threat these days, and while Pacquaio still is, there were three unchanged factors that held up:
Mayweather's superior defense — non-crowd pleasing, but effective. Mayweather is probably the best defensive fighter of this generation.
Mayweather's huge reach advantage over Pacquaio — 72″ to 67″ (or, in metric terms, nearly 13 cm).
Mayweather's "home court" advantage, fighting in the US, in Las Vegas, and at the MGM. Mayweather is a Michigan native, but through his pro boxing career, he's been a Vegas regular. Pacquaio is a big draw, too, but in the US at least, not on Mayweather's scale. Saturday's decision also represents Pacquaio's fourth loss at the MGM Grand, out of six career losses.
Take these three elements together, and it's easy to understand why expected form held. The surprise, however, is just how many people expected something different to occur. And that's why the books won, again.
Boxing
Floyd Mayweather
handle
Manny Pacquaio
MGM Grand
sports betting