Dan Fitch has his abacus out and is even ready to take his shoes and socks off in order to crunch the numbers ahead of the weekend's Premier League action.
Check out his 6 surprising Premier League stats below.
1. Manchester City v Aston Villa
If you want evidence of what a tactical tweak can add to a team, Dean Smith's redeployment of Jack Grealish is a case in point.
Starting the season as part of a three-man midfield, Grealish produced one assist and created ten chances in his first five games. Since being shifted to a more attacking role on the left of Aston Villa's attack, Grealish has scored twice, assisted two goals and created 15 chances in four games.
2. Southampton v Leicester
With Leicester playing so well, Southampton would be wise to not make things easier for them when the two teams meet on Friday night.
The trouble is that the Saints have a worrying habit of turning into sinners when they play Leicester. Southampton have received five red cards against Leicester in the Premier League, which is their most against any side, with players sent off in both games last season.
3. West Ham v Sheffield United
There are only two teams in the Premier League that remain unbeaten away from home. The first is rather predictably Liverpool. The second – rather less predictably – is Sheffield United (W1 D3).
If the Blades can avoid defeat at West Ham they will become the first promoted team to go unbeaten in the opening five away games of a Premier League season since Hull, way back in the 2008-09 season.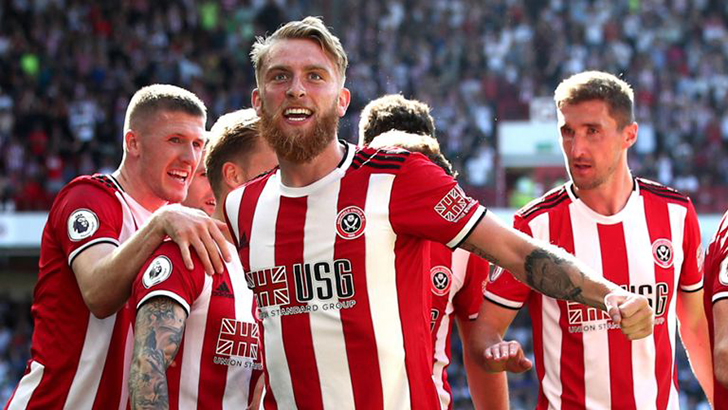 4. Arsenal v Crystal Palace
Arsenal play Crystal Palace on Sunday and the scheduling of that match might have more significance than you'd think.
Pierre-Emerick Aubameyang really, really loves Sundays (and not for the normal reason of having lots of time to sleep off Saturday's hangover). Since joining Arsenal, the striker has scored 26 Premier League goals on a Sunday, with no other player scoring more on an individual day over the same period.
5. Liverpool v Tottenham
If Manchester City fans are hoping that Tottenham can do them a favour in Sunday's match, then a quick look at the away record of the Londoners against teams that are top of the table will inject a healthy dose of realism.
This will be the 25th match that Spurs have played on the road against a Premier League leader and they've only even won once (D3 L20).
6. Norwich v Manchester United
You might have hated Manchester United in the glory days of Alex Ferguson, but at least they could be relied upon to produce entertaining football. The current side are more likely to send you to sleep than towards a state of excitement.
Here's hoping that Norwich City's involvement will ensure that this modern trend is bucked. Norwich have played four home matches this season, which have produced 20 goals (nine for, 20 against). That's two more than any other club have mustered in Premier League home matches this season.
Arsenal
aston villa
Crystal Palace
leicester
liverpool
manchester city
Manchester United
Norwich
Premier League
Sheffield United
southampton
tottenham
West Ham