Everybody loves an acca. The lure of upping the odds by betting on the outcomes of multiple matches is sometimes impossible to resist, but there's always one team that lets you down. Now and then, however, one of these beauties comes in. We've searched far and wide to bring you our top 5 crazy football accumulators that actually came through.
No.5 – The Christmas Miracle
Amount Won: £17,000
Everybody loves a merry Christmas, and it doesn't get much merrier than walking out of the bookies with a whopping 17 grand bulging out of your pockets. A modest £3.30 was all that it took for the massive return at odds of 5268/1. Among the 7 teams backed were three away wins and two draws, making this a truly bold accumulator. Merry Christmas to the lucky punter, wherever he may be.
No.4 –The Perfect Storm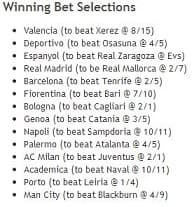 Amount Won: £117,000

In January 2010 severe weather conditions resulted in a large number of English games being cancelled. So when the games are postponed you wait until the next weekend to bet, right? Wrong! One shrewd punter took his gambling across Europe, racking up an ambitious 14-team accumulator that involved the Spanish, Italian and Portuguese leagues. It came in, and his £40 returned a startling £117,000. Don't you just love the English weather?
No.3 – 9 Lives
Amount Won: £272,000
Any respectable acca has a dark horse or two on it, but in the case of this punter, there were just 2 favourites out of 9. Incredibly the £2.50 bet came in and returned well over a quarter of a million. The gifted gambler had Blackburn to beat Liverpool, Wolves to beat Chelsea and Athletic Bilbao to beat Barcelona among his daring decision. Whether he's a genius or a lunatic, we salute him.
No.2 – A Long Old Year
Amount won: £500,000

Some gamblers are deterred from season long bets as the wait for a return can make things less exciting. The solution is simple: don't just bet on one league, bet on 14! Correctly predicting the winners of all 5 top English leagues and 3 Scottish leagues among others, the patient punter was finally rewarded when Bayern Munich lifted the Champions League to complete his year-long investment. The patient punter wagered just 30p yet picked up a life-changing half a million in return. Every penny counts.
No.1 – The Big One
Amount won: £585,000
What could be better than the previous entry, winning £500,000 in one year? How about winning it in one weekend. Again taking place over the Christmas period, jolly old St Nick smiled upon this lucky punter as all 19 of his selections came in to leave him laughing all the way to the bank. Bookies will regret taking the mere 85p stake that led to him receiving over half a million, but we fully support the underdog in this amazing tale. What a coup.
And finally…
Amount win: £0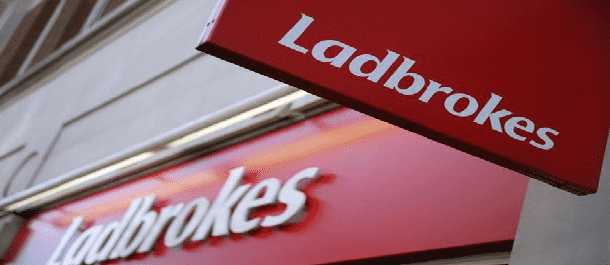 We couldn't finish our top 5 list without an honourable mention to one of the nearest misses in football accumulator history.
Barman Jordan Donnellan thought he'd become a millionaire in 2014. Watching the final match of his 14-team accumulator in the local boozer, his friends and family erupted as the ticket clutched in his hand was suddenly worth £1 million – or so he thought.
Confidently strutting into his local bookies eager to start his new life as a bonafide millionaire, he was dismayed to learn that whilst every selection had indeed come in, he had filled out the wrong form and was entitled to precisely nothing. Next time he should bring his glasses.
accumulator
Ladbrokes
PaddyPower
stakes
Tips
wins