Blaming part of a lower-than-expected return on "unfavourable football and horseracing results" in December, stodgy old sports betting giant William Hill has announced that the company's operating profit for the 2016 calendar year will fall at the bottom end of the company's forecasts.
Call it unlucky, if you wish. That punters were a bit more sharp than typical last year might be good news to those sharps, but from the Hills' standpoint, ehhh, not quite as much. Back in November, William Hill's executive number-crunchers issued a statement to the effect that the company should post a 2016 full-year operating profit of £260-280 million. The bad December is expected to bring the company's final 2016 gross-profit tallies in at the bottom end of that, around £260 million. The to-the-pound numbers for the company won't be finalized until sometime next month.
In the obligatory executive comment, Philip Bowcock, Interim CEO, commented: "Importantly, the improvements we saw in wagering in Online and Australia in the second half have continued in recent weeks. However, all four divisions saw customer-friendly results at the back end of the year, which translated into profits being [circa] £20m below our prior expectations. With key underlying trends continuing to be positive, the recent run of sporting results have not changed our confidence in a better performance in 2017."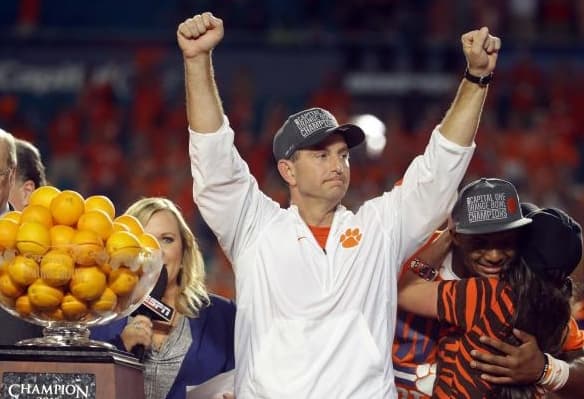 Oh? Well, not if the "unlucky" continues, which is of course every bookmaker's greatest fear. 2017 got off to a most inauspicious start for a company hoping for a better run of results. In last week's American college-football championship – that's American-style football, not the global game. In that NCAA College Football Championship, underdog Clemson scored 21 points in the fourth quarter to upset mighty Alabama, the heavy favorite, 35-31.
The result was a bloodbath for many major American books based in Nevada, the only US state where single-event sports betting is legal. The books who took said bath include William Hill, which is licensed to do business there and which operates kiosks within casinos throughout the state.
According to a report by ESPN's sports-betting beat writer David Payne Purdum, it was a bad night and bad game for the bookmakers – none more so than ol' Bill Hill. According to Purdum, who regularly monitors several of the state's major bookmakers, "It cost William Hill a seven-figure loss and was the 'single worst loss on any game ever' for the company. "
"It was as bad as a result as humanly possible," William Hill's director of trading, Nick Bogdanovich, told Purdum last week.
The sharp money had been pouring in on Clemson since that school's lopsided win in a semifinal game against Ohio State a week prior. Undefeated and number-one-ranked 'Bama went off as a strong favorite, even though the line was trimmed throughout the week as more and more money came in on Clemson. Compounding the problem, from the bookmaker's point of view, was that the over/under on the game bounced around 51, even as the spread narrowed. The final combined score of 66 was an easy cover, and as with the sharps being heavy on Clemson, they were also heavy on the over.
Understanding how lopsided the wagering was is evidenced by the fact that dozens of the Nevada books took hits of varying degree, even if William Hill might have had the worst day. Purdum also wrote, "Bookmakers estimated $15 million to $20 million was bet statewide on the game in Nevada." If that's true, and is in fact not a sizable understatement, then the degree to which the betting was lopsided on Clemson was indeed extreme.
For "unlucky" William Hill, that's not an auspicious way to start the new calendar year, after having such a disappointing close to 2016. In just a few weeks, the NFL's Super Bowl looms, and should anything close to a similar bookmaker's disaster occur, then 2017 will be a year of scrapping to get to even, even before it's well underway. Which just goes to show: Even with the odds in your favor, sometimes it can be tough to make book.
2016
Alabama
Clemson
operating
profit
unlucky
William Hill