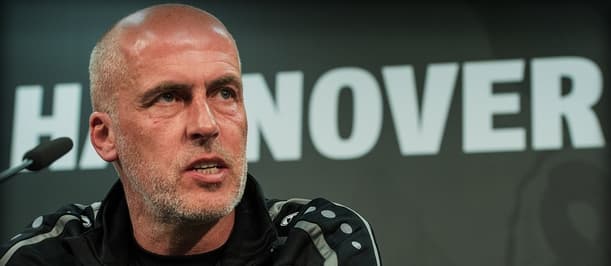 Sister bookmakers 888Sport and Unibet are betting on the German Bundesliga sack race and one thinks that the value bet is Hannover to be the first team to change its coach, an option that is trading at odds of 7.00Bet €100 to win €7006/1Bet £100 to win £700+600Bet $100 to win $7006.00Bet HK$100 to win HK$7006.00Bet Rp100 to win Rp700-0.1667Bet RM100 to win RM700.
The German Bundesliga sack race favourite is Hamburg and one can understand why bookmakers are not offering massive odds about the Red Shorts parting company with Bruno Labbadia in double-quick time. Hamburg has changed coaches with great regularity in recent years but surely there are a couple of reasons why the Red Shorts are German Bundesliga sack race false favourites. First, Labbadia has history with Hamburg as a player and a manager, plus he answered its call near the end of last season to help keep the Red Shorts in the German Bundesliga. Second, Hamburg has not prospered through changing its coach frequently so there has to be a decent chance that the Red Shorts will persevere with Labbadia.
Hannover is the German Bundesliga sack race second favourite and one thinks that is a stronger argument for backing the Reds than the Red Shorts, primarily because one thinks that Michael Frontzeck was a poor appointment in the first place.
Frontzeck played 19 times for Germany/West Germany and he represented, among others, Manchester City, Monchengladbach and Stuttgart in his career as a left-sided defender. But it would be fair to say that Frontzeck's managerial record is nowhere near as good as his playing record, with him having posted negative numbers in each of his five coaching jobs.
After serving his managerial apprenticeship as an assistant coach at Monchengladbach and Hannover, Frontzeck got his first gig at Aachen in 2006. Aachen suffered relegation from the German Bundesliga at the end of Frontzeck's one and only term as its manager. Bielefeld was the next side to recruit Frontzeck and their relationship ended in tears with Arminia being relegated from the German Bundesliga. Then it was the turn of Monchengladbach to hire Frontzeck. Monchengladbach did not go down on Frontzeck's watch but it did not soar high, either – the Foals won 16 of their 61 games. St Pauli went nowhere during Frontzeck's 13-month tenure – it won 15 of its 41 matches – and then he spent 18 months out of the spotlight before Hannover put him in charge of its affairs towards the end of the last German Bundesliga competition.
One cannot understand why so many teams keep hiring bosses with records as unimpressive as that of Frontzeck – it would not happen in, say, the business world but it happens all the time in the football world. Frontzeck failed – no, that is not too harsh – in each of his four managerial positions prior to linking up with Hannover and the odds are that he will fail with the Reds. It is simply a matter of time.
Hannover president Martin Kind has huge ambitions for the Reds – he is on the record as saying that UEFA Champions League qualification is what he wants – and he has shown that he is not afraid to fire coaches quickly. Peter Neururer lasted three rounds of the 2006-2007 German Bundesliga season and Dieter Hecking was the first boss to lose his job in the 2009-2010 German Bundesliga season.
One thinks that the outlook is bleak for Hannover – last term's Reds captain Lars Stindl has joined Monchengladbach and Frontzeck presided over what even he would have to admit was a disappointing pre-season program in which his side drew 1-1 with Hull and lost 0-1 to Sunderland. One would be surprised if Frontzeck picked Hannover's team for the final match of the German Bundesliga competition so odds of 7.00Bet €100 to win €7006/1Bet £100 to win £700+600Bet $100 to win $7006.00Bet HK$100 to win HK$7006.00Bet Rp100 to win Rp700-0.1667Bet RM100 to win RM700 about him being the first manager replaced are attractive.
Tips Summary
Michael Frontzeck to be first manager sacked
Odds: 7.00Bet €100 to win €7006/1Bet £100 to win £700+600Bet $100 to win $7006.00Bet HK$100 to win HK$7006.00Bet Rp100 to win Rp700-0.1667Bet RM100 to win RM700
Where to Bet: 888Sport, Unibet
Bruno Labbadia
German Bundesliga
Hannover
Michael Frontzeck
Monchengladbach
UEFA Champions League