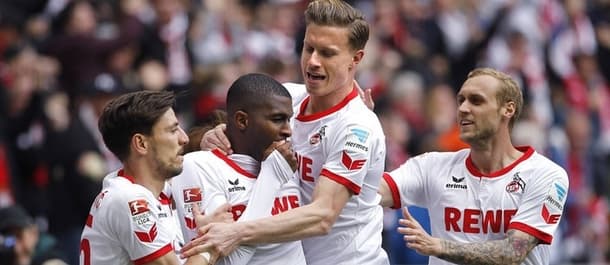 Koln is the best bet on the German Bundesliga card to register a home victory over the division's winless cellar dweller, Hamburg, on Sunday.
Peter Stoger was not too downcast after Koln's 1-2 German Bundesliga loss at Hertha last weekend because the Billy Goats gave as good as they received and, on the balance of play, they deserved a draw. It was Koln's first German Bundesliga defeat in 13 games dating back to April.
One's enthusiasm for Koln is based on how it matches up against a poor Hamburg team that could make history by being the first Red Shorts side to be relegated from the German Bundesliga. The German Bundesliga season is getting close to the point where collateral form analysis becomes worth its weight in gold, identifying teams that are falsely ranked compared to their opponents because of schedule bias. Koln and Hamburg have had four common German Bundesliga foes and, according to one's collateral form analysis, the Billy Goats hold a 4-0 advantage over the Red Shorts. Koln is fifth in the German Bundesliga, Hamburg is 18th and, for once, the ladder tells the truth, the whole truth and noting but the truth – the Billy Goats are superior to the Red Shorts.
Koln beat Hamburg 2-1 in last term's corresponding German Bundesliga fixture and the Billy Goats are 2-2-0 versus the Red Shorts over the last two seasons so the head-to-head data supports siding with Stoger's high-flying outfit at odds of 1.63Bet €100 to win €16363/100Bet £100 to win £163-159Bet $100 to win $1630.63Bet HK$100 to win HK$163-1.59Bet Rp100 to win Rp1630.6300Bet RM100 to win RM163 with Marathonbet.
Opposing Ingolstadt is something that one wants to do with great regularity and the Schanzer are worth betting against when they visit Mainz in the German Bundesliga on Saturday.
Like Hamburg, Ingolstadt has only two German Bundesliga points to its credit and the Schanzer earned one of them versus the Red Shorts. Mainz has accrued 11 points from its eight German Bundesliga matches and the O-Fives would be undefeated at home if they had not conceded an injury-time Leverkusen goal last month. Mainz and Ingolstadt have run into two of the same German Bundesliga opponents and, according to one's collateral form analysis, the O-Fives boast a 1-1-0 lead over the Schanzer. At odds of 2.16Bet €100 to win €21629/25Bet £100 to win £216+116Bet $100 to win $2161.16Bet HK$100 to win HK$2161.16Bet Rp100 to win Rp216-0.8621Bet RM100 to win RM216 with Marathonbet, Mainz is overpriced to beat Ingolstadt.
Mainz lost 0-1 to Ingolstadt home and away in the German Bundesliga last term but times have changed, particularly for the Schanzer and certainly not for the better.
Finally, there is a value argument for supporting Frankfurt at odds of 4.50Bet €100 to win €4507/2Bet £100 to win £450+350Bet $100 to win $4503.50Bet HK$100 to win HK$4503.50Bet Rp100 to win Rp450-0.2857Bet RM100 to win RM450 with several bookmakers, including Bet365, Betfair and Ladbrokes, to get the better of Monchengladbach in Friday's German Bundesliga game.
Frankfurt and Monchengladbach have had six common German Bundesliga foes and, according to one's collateral form analysis, the Eagles enjoy a 5-1-0 edge over the Foals. Leipzig holds a 5-1-0 German Bundesliga collateral form advantage over Darmstadt and the Red Bull-backed side is odds on across the board to defeat a team that is yet to lose in front of its own fans. Frankfurt's statistics are similar to those of Leipzig but its odds are different.
Last season's German Bundesliga clashes between Frankfurt and Monchengladbach resulted in emphatic losses for the Eagles but the odds on offer more than make up for the negative head-to-head data concerning one's third pick.
Tips Summary
FC Koln to beat Hamburg
Sunday 30th October, 16:30 GMT
Odds: 1.63Bet €100 to win €16363/100Bet £100 to win £163-159Bet $100 to win $1630.63Bet HK$100 to win HK$163-1.59Bet Rp100 to win Rp1630.6300Bet RM100 to win RM163
Mainz to beat Ingodstadt
Saturday 29th October, 14:30 GMT
Odds: 2.16Bet €100 to win €21629/25Bet £100 to win £216+116Bet $100 to win $2161.16Bet HK$100 to win HK$2161.16Bet Rp100 to win Rp216-0.8621Bet RM100 to win RM216
Frankfurt to beat Monchengaldbach
Friday 28th October, 19:30 GMT
Odds: 4.50Bet €100 to win €4507/2Bet £100 to win £450+350Bet $100 to win $4503.50Bet HK$100 to win HK$4503.50Bet Rp100 to win Rp450-0.2857Bet RM100 to win RM450
Bundesliga
FC Koln
Frankfurt
Mainz