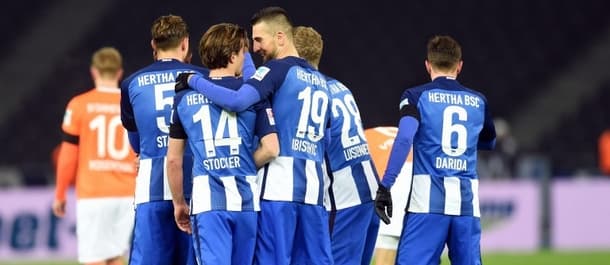 Hertha is luxuriously priced to win its German Bundesliga home match against Ingolstadt in light of the respective ladder positions of the teams and other statistics.
That Hertha is sixth on the German Bundesliga ladder, just two points outside the top three, does not say much for the quality of Germany's top division because the Old Lady are a flawed side which did not make it as far as the group stage of the UEFA Europa League, exiting to Brondby. But Hertha is more superior to Ingolstadt than bookmakers are admitting heading into Saturday's German Bundesliga game. William Hill are wrong to offer odds of 2.15 about Hertha completing a German Bundesliga double over Ingolstadt.
Hertha visited Ingolstadt in the second round of German Bundesliga matches and the game resulted in a 2-0 away victory for the Old Lady in which they scored both early and late goals. According to one's German Bundesliga collateral form analysis, Hertha enjoys an authoritative 12-1-4 lead over Ingolstadt and the Old Lady's home numbers of 7-0-1 are second only to Leipzig's 8-1-0 in terms of points per match. Hertha has dropped four of its last five German Bundesliga games but the Old Lady's overall form is much better than that of Ingolstadt and, therefore, the odds are incorrect.
There have been three German Bundesliga meetings between Hertha and Ingolstadt and each of them has resulted in a triumph for the Old Lady, including last season's corresponding fixture in Berlin which they won 2-1.
One is keen to jump back aboard the Hoffenheim train when it runs into Mainz in German Bundesliga action on Saturday.
There was no shame in Hoffenheim losing 1-2 at Leipzig last time out and relinquishing its unbeaten German Bundesliga record. Hoffenheim has earned its German Bundesliga fifth ranking and, according to one's divisional collateral form analysis, Hoffe boasts a 9-4-4 advantage over a Mainz team that has got the better of just one higher ranked opponent and that was eighth-placed Freiburg. Mainz has won only one of its last seven German Bundesliga matches and its recent victory was a 3-1 home success over 17th-ranked Hamburg.
Marathonbet is listing odds of 1.92 about Hoffenheim beating Mainz in the 19th round of the German Bundesliga season and Hoffe have won each of their last two divisional home clashes with the 0-Fives for head-to-head data fans.
Finally, Koln is attractive at odds of 2.20 with 888Sport to defeat Wolfsburg in another German Bundesliga battle programmed for Saturday. Koln drew 0-0 at Wolfsburg in September and one thinks that the Billy Goats are well over their true odds to go one better in their German Bundesliga home fixture versus the lowly ranked Wolves.
According to one's German Bundesliga collateral form analysis, Koln holds a 11-2-4 lead over Wolfsburg and that more than backs up the raw ladder on which the Billy Goats are seventh and the Wolves are 14th. Each of the last four German Bundesliga meetings between Koln and Wolfsburg has ended all square but there is no way in the world that the Billy Goats should be available at odds of 2.20 to break that sequence with a home victory over the Wolves.
Tips Summary
Hertha Berlin to beat Ingoldstadt
Saturday 4th February, 14:30 GMT
Odds: 2.15
Hoffenheim to beat Mainz
Saturday 4th February, 14:30 GMT
Odds: 1.92
Koln to beat Wolfsburg
Saturday 4th February, 14:30 GMT
Odds: 2.2
Bundsliga
Hertha Berlin
Hoffenheim
Koln