So, you thought that the only strange sports-betting tale coming out of this year's Kentucky Derby was the disqualification of the initial winner, Maximum Security, and the lawsuit that has since followed? No, not a chance. Matter of fact, that disqualification led directly to a second bizarre story, that of an amateur horse bettor in Nevada who thought he'd hit the parlay (or accumulator, as it's known in Europe) bet of a lifetime due to Maximum Security's DQ, only to discover that the Reno (NV) book he'd placed his bets at deems itself a sportsbook and not a parimutuel outlet, meaning he was denied more than 90% of what he thought he'd won.
The man, a Reno-area ophthalmologist named Steve Friedlander, made a hurried Kentucky Derby box wager at the William Hill book located inside Tamarack Junction, a smallish Reno casino. Though it's most known as a UK book, William Hill won approval from Nevada regulators a few years back, and since then over a 100 small William Hill books and automated kiosks have popped up in casinos across US's most avid sports-betting state.
Ah, but there's a big wrinkle to that: Of something like 105 Nevada outlets that William Hill operates in Nevada, only about 15 of the largest are licensed as pari-mutuel outlets. All the rest are operated as sportsbooks only, sans the pari-mutuel licensing, which allows each individual book to cap its payouts and limit its exposure in case a large wager such as a parlay/accumulator that includes long-odds horses comes through.
That's exactly what happened with Friedlander, who bet USD $40 multiple times across a four-horse box on trifecta and exacta wagers. Once the Kentucky Derby heavy favorite Maximum Security was disqualified, the top three official finishers were Country House (65/1), Code of Honor (14/1), and Tacitus (10/1). Friedlander's ticket showed that trifecta winning at 11,500/1 for a $460,000 win, and he also hit a Country House / Code of Honor exacta for another $149,000.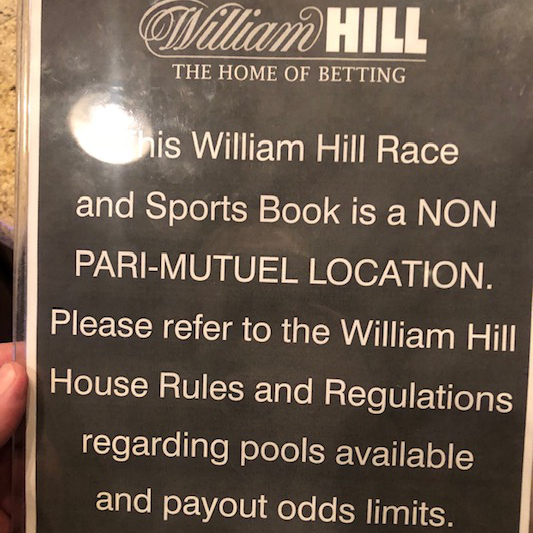 Except not. When Friedlander later showed up to collect what he thought was a life-changing win, he was instead pointed to the shop's disclaimer placard (picture at right) which declared the shop to be a "non pari-mutuel location", and thus under many jurisdictions' laws on both sides of the Atlantic, able to cap the payouts on certain wagers.
It turned out that the Hills' books not licensed as pari-mutuel outlets cap all such payouts at 300/1, meaning that instead of $609,000, Friedlander was offered a relatively measly $35,000. That 300/1 payout cap was mentioned on the back side of the placard, but not on the side generally facing the betting public, and that may turn out to be a problem for William Hill as the Nevada Gaming Control Board examines Friedlander's formal complaint.
Another issue being watched is why Friedlander was allowed to place the wager in the first place, given that the expected odds exceeded the book's claimed 300/1 payout cap. There's a catch to that, of course: Even though these William Hill outlets are licensed as sportsbooks and not as pari-mutuel outlets, the slips they sell still offer floating odds, based on what the pari-mutuel totals finally turn out to be. In that sense, William Hill's non pari-mutuel books are trying to have the best of it both ways, and that's in addition to parlay/accumulator wagers offering the worst overall returns of any wager being offered. Still, it's all technically "legal" and a long-standing industry standard created to minimize house exposure.
Whether or not Friedlander wins his dispute won't be known for another couple of months, but there's a lesson for every casual sports bettor here. Caps of this nature exist everywhere, and it's up the the betting public to know that a secret limit might whisk away that dreamed-of, life-changing win. Had Friedlander made his wagers at one of Reno's larger casinos, he'd already have the $609,000 in his pocket. Nor is his claim without problems; he's already admitted publicly that he rushed to place his Kentucky Derby wagers at the nearby Tamarack Junction casino so he could make it to his son's sporting event that day.
It's a messy situation for both Friedlander and William Hill, yet it ca be an important reminder about such things for the rest of us.
caapped
complaint
floating odds
Friedlander
Kentucky Derby
Nevada
pari-mutuel
payout
Pool
sportsbook
William Hill