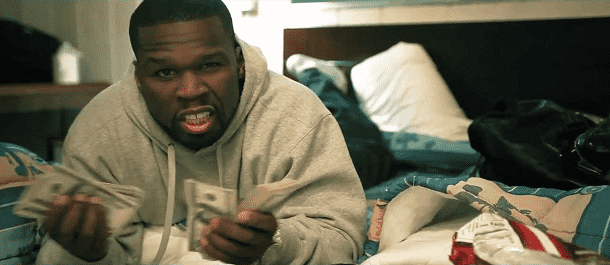 The hip-hop world is one of extravagance, where success is measured by the size of the chains around your neck and the amount of exotic dancers in your music videos. If some of the lyrics in modern hip-hop are to be believed, rappers are becoming richer than ever before.
The saying "ballers wanna be rappers, rappers wanna be ballers" that has been around since the 1990s shows a clear synergy between hip-hop music and top American athletes and so it is inevitable that some of the music industry's top earners occasionally indulge in some eye-wateringly large bets.
When it comes to rapper 50 Cent, he's thrown so much money about – on sports and elsewhere – that we felt he warranted his very own list. Here are five of his most extreme bets Fiddy has been involved in.
A Giant Bet
Hailing from the Big Apple himself, it's only natural that 50 Cent is a fan of New York's very own Giants. In a no-nonsense bet Fiddy stumped up enough money to turn a $500,000 profit when the Giants beat the San Francisco 49ers to reach the Super Bowl.
He wasted no time in taking to social media to show off on the big win, posting a picture of himself wearing the bundles of cash like a scarf. He put the bet down to "voices in [his] head" and claimed he would give all of the money to his grandmother, predicting she would probably "faint". How sweet.
Double or Nothing
So you've won $500,000 betting on the Giants and promised the winnings to grandma. What do you do next? Renegade on the deal and bet it on the Giants all over again, of course.
Following his luck gambling on the Giants en route to Super Bowl XLVI it appears he splashed a full million on them winning the showpiece game. They duly obliged with a 21-17 victory, leaving Fifty laughing "straight to the bank" to quote his own song.
Birthday Suit
It's not uncommon for 50 Cent to wax lyrical about undressing women, but it is rare for him to lay it all on the line himself.
As the G-Unit frontman roamed around the Twittersphere boasting about his recent wins on the Giants, a user by the handle of @mybestassets laid down an unusual wager. She tweeted "Lets bet. If the Giants lose the Superbowl, u must post ur d**k on the twitter. If they win, I'll post my boobs & face. Bet?" to which Fiddy simply replied "ok". Once again, the Giants came through.
Mysteriously – or some would argue rather predictably – the Twitter user in question quickly disappeared, and the world was left wondering whether 50 would have followed through if things had panned out differently. Our prediction: obviously not.
Punch Drunk
Given 50's erratic and extravagant background, we don't know who to believe in this one. Webster Gradney Jr., better known by his stage name Webbie, walked to the ring for the boxing matchup between Terence Crawford and Yuriorkis Gamboa, and bumped into 50 Cent.
He claims that he issued a $1 million wager whilst in the ring – but that he never received his winnings after Crawford won the bout. When 50 Cent's sports management team SMS Promotions were contacted for comment, they claimed to have heard nothing of the sort.
Whilst there is no questioning 50's allegiance – he was there managing Gamboa – we're not too sure we believe Webbie on this one. Whilst Fiddy definitely loves a gamble we're not sure he'd spontaneously slap down a full million in the spur of the moment. We'll chalk this one up to a misunderstanding in noisy surroundings.
Will Read for Cash
If most people got offered $750,000 to read one page of a Harry Potter book they wouldn't believe their luck. In the case of Floyd Mayweather, it may have been more of an insult that an actual bet.
The undefeated five-division world champion is rumoured by some to be illiterate. 50 Cent decided to test the rumour by challenging Money to read a full page of a Harry Potter book without stuttering and in exchange he would donate $750,000 to a charity of Floyd's choosing.
Rather than accept or reject the challenge outright, Mayweather responded by simply posting a photo showing a couple of 8-figure cheques, indicating that money is no object. Watch t his space.
50 Cent
Mayweather
New York Giants
wagers