The Supreme Court of the United States (SCOTUS) on Monday reversed a lower-court decision in a case involving the US's federal PASPA (Professional and Amateur Sports Protection Act) law, which has barred sports wagering across most of the US for more than 25 years.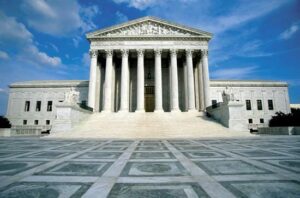 In announcing the reversal, the Supreme Court also declared that the provisions contained within 1992's PASPA were not severable from the intent of the law as a whole. Therefore, the court's ruling in favor of New Jersey and the state's Thoroughbred Horseman's Association (otherwise known as Monmouth Park Racetrack) means that PASPA is unconstitutional under the US's "anti-commandeering" principle, which means that the federal government cannot usurp so-called "states rights" in many areas of common law.
The SCOTUS vote was 6-3 in favor of nullifying PASPA, thus clearing the way for a probable majority of US states to address the sports-betting topic in the near future. At the moment, only Nevada offers traditional single-event sports wagering, with the state's preexisting activity grandfathered in when PASPA was enacted 26 years ago. Three other US states — Delaware, Oregon, and Montana — were also able to continue a limited form of parlay wagering in conjunction with those states' lottery offerings.
Four other US states in addition to New Jersey have already passed conditional approval of authorized sports betting operations in the event of a New Jersey victory in its Supreme Court appeal. Like New Jersey, though, those four states — Pennsylvania, Mississippi, West Virginia, and Connecticut — are expected to quickly consider more specific legislation that defines the exact parameters of legalized sports betting there. The three parlay-legal states of Delaware, Montana, and Oregon have yet to signal their plans, though Delaware is expected to quickly add sports wagering to both its live and online authorized gambling services.
At least 15 other US states are considering or have recently considered some form of sports-betting legalization bill, and more are expected to follow in the coming months. A clean swep of US states authorizing such wagering will not occur in the foreseeable future, however. States such as Hawaii (on tourism grounds) and Utah (on religious conservative grounds) currently ban all forms of gambling, and that is unlikely to be changed by the PASPA ruling.
Ban dead, but not quite finished
Despite the seminal legal victory and the potential opening of much of the US to authorized sports betting, the ruling does not quite promise clear sailing. Instead, the majority SCOTUS opinion penned by Justice Samuel J. Alito notes that there may be another way that the federal government can pursue its aims, whether to restrict sports betting in the US or again seek to ban the activity in its entirety.
PASPA's fatal error, according to Justice Alito, was in dictating to the US states the ban that the states must then themselves enforce, without regard to what the states themselves might desire or how the states would pay for said enforcement. According to Alito:
The PASPA provision at issue here—prohibiting state authorization of sports gambling—violates the anticommandeering rule. That provision unequivocally dictates what a state legislature may and may not do. And this is true under either our interpretation or that advocated by respondents and the United States. In either event, state legislatures are put under the direct control of Congress. It is as if federal officers were installed in state legislative chambers and were armed with the authority to stop legislators from voting on any offending proposals. A more direct affront to state sovereignty is not easy to imagine.
However, Alito inferred that while ordering the states to take certain actions was out of bounds, the underlying activity (the sports betting) could be banned or restricted in other ways by invoking another principle of US law, the Commerce Clause, which helps govern interstate trade. While the Commerce Clause may not apply to intrastate (within an individual state) gambling offerings, nor did Alito invoke it specifically, his summary offered a nod in that direction.
As Alito wrote:
The legalization of sports gambling is a controversial subject. Supporters argue that legalization will produce revenue for the States and critically weaken illegal sports betting operations, which are often run by organized crime. Opponents contend that legalizing sports gambling will hook the young on gambling, encourage people of modest means to squander their savings and earnings, and corrupt professional and college sports. The legalization of sports gambling requires an important policy choice, but the choice is not ours to make.

Congress can regulate sports gambling directly, but if it elects not to do so, each State is free to act on its own. Our job is to interpret the law Congress has enacted and decide whether it is consistent with the Constitution. PASPA is not. PASPA "regulate[s] state governments' regulation" of their citizens… . The Constitution gives Congress no such power.
New Jersey
PASPA
ruling
sports betting
Supreme Court
United States