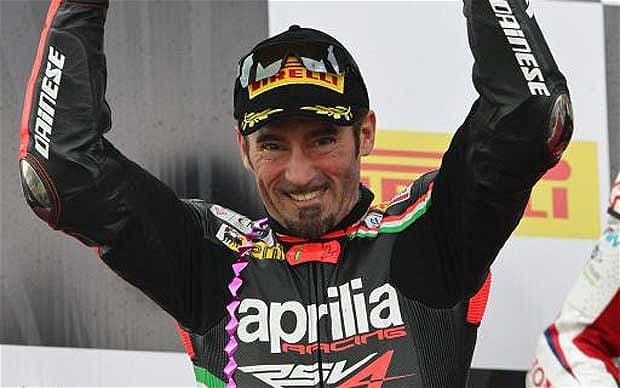 Two time Superbike World Champion, the Italian Max Biaggi has retired from the sport leaving no defending champion in this years event.
The 2013 Superbike World Championship will be the 26th edition of the hugely popular motor cycling competition, with 15 rounds and, therefore, 30 points-scoring races scheduled to occur between 24 February and 17 November.
Two-time Superbike World Championship winner Max Biaggi has retired after moving than 20 years as a professional motor cyclist so the 2013 competition will not feature the 2012 champion. Indeed, Carlos Checa is the only former Superbike World Championship winner among this year's participants.
The Superbike World Championship differs from MotoGP in a number of ways, the most significant of which is that the motor cycles that Superbike World Championship competitors ride are tuned versions of machines that are available for purchase by members of the public. MotoGP participants ride purpose-built motor cycles that are not for sale. So think about it like this: MotoGP is similar to Formula One and the Superbike World Championship is similar to F V8 Supercars.
Carl Fogarty is the most successful rider in Superbike World Championship history, with the British motor cyclist winning the title four times – 1994, 1995, 1998 and 1999. Checa won the 2011 Superbike World Championship on a score of 505 points, 110 more than Marco Melandri. Checa won 15 of the 26 races two years ago, only missing the podium five times.
Most Competitive Market In Years
Checa is not the 2013 Superbike World Championship favourite going into the first race that will take place in Australia at Philip Island off the coast of Melbourne. Bookmakers are offering odds of around 15-2 that the Spaniard rider becomes the ninth man to win multiple Superbike World Championships.
In the absence of Biaggi, bookmakers are expecting a battle featuring not only the two motor cyclists who went so close to beating the Italian last season – Melandri and Tom Sykes – but also Checa, Eugene Laverty, Jonathan Rea, Sylvain Guintoli and Leon Camier. They think that the 2013 Superbike World Championship could be the most competitive ever.
Melandri is the 2013 Superbike World Championship market leader at odds of around 9-4, with Sykes (around 11-4), Checa (around 15-2), Laverty (around 8-1), Rea (around 9-1), Guintoli (around 14-1) and Camier (around 16-1) rounding out what bookmakers think are the most magnificent seven.
Melandri And Sykes Too Short In Betting
One can understand how bookmakers have decided that Melandri is the 2013 Superbike World Championship favourite. The Italian scored more points per completed race than any participant in last year's competition. Melandri racked up 328.5 points in 20 completed races for an average of 16.43, which was superior to that of Biaggi (14.92), Sykes (14.90), Checa (13.69) and everyone else who lined up on the grid.
However, Melandri is something of a nearly man. The Italian has been racing in major competitions since 1997 but he has only one title to his credit – what is now known as Moto2 in 2002 – so he does not make all that much appeal at odds of around 9-4. That Melandri managed to snatch defeat from the jaws of victory in the 2012 Superbike World Championship has to be a concern to anyone considering backing him in 2013.
Sykes won only four of the 27 races contested during the 2012 Superbike World Championship – two fewer than Melandri, one fewer than Biaggi and the same number as Checa. Last year was the one in which the Englishman made a big name for himself after finishing no higher than ninth in the previous four seasons. Sykes could go one better in 2013 than he did in 2012 but, at the prices, he is not the pick of the bunch.
Former Champion The Early Value
Checa is the value 2013 Superbike World Championship betting option before the competition gets under way in Australia. The Spaniard has been there, seen it and done it, which is going to count for a lot in this year's field. Pre-season testing times suggest that Checa and his new Ducati are flying and, significantly given that the series starts at Philip Island, the Spaniard loves the Australian circuit.
Over the last three years, Checa has won four of the five Philip Island races that he has completed so, if his new machine does not let him down, the Spaniard is the most likely early 2013 Superbike World Championship leader.
Odds of around 15-2 about Checa winning his second Superbike World Championship are sufficient big to warrant a bet with a view to laying off down the track, if one will pardon the pun. The Spaniard will shorten dramatically if he does what he usually does in Australia and some of his rivals flop.
Here is something to get you in the mood for this years event: