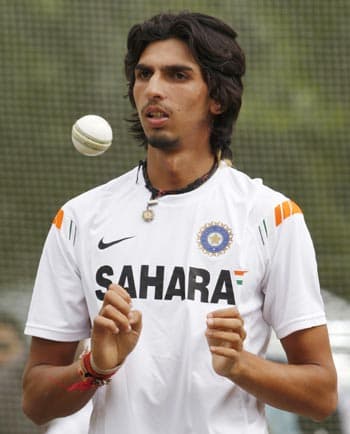 It is hard to tell which group of people is displaying more stubbornness regarding the One Day International series between India and Australia: selectors or bookmakers.
India's selectors have chosen not to make any changes to their team's squad for its four One Day Internationals remaining against Australia, with all the talk centring on the decision to retain Ishant Sharma. The fast bowler gave up 30 runs in a critical death over in the Third One Day International, six balls that enabled Australia to haul itself back from the dead to snatch an amazing victory. Sharma is the face of India's bowling problems but the reality is that home side's issues go beyond him. None of India's pacemen has impressed during the series so far and Australia has scored more than 300 runs in every game.
Once again, bookmakers are favouring India to win its next One Day International versus Australia. India is trading at odds of 1.67, while Australia is available at odds of 2.25. Backing Australia to extend its series advantage to 3-1 is the value play, with the bookmakers quoting it at odds of 2.25 including Betfred, Stan James and Sky Bet. Australia has every right to be the marginal favourite so offers of odds against about George Bailey's team are very tasty.
Incredibly, bookmakers have increased their odds about Australia hitting more sixes than India from the Third One Day International to the Fourth One Day International. The away side is trading at odds of 2.00 with Bet365, having been a shade of odds on in the previous match between the teams. Australia has defeated India 9-2, 12-11 and 8-5 in this exotic market in the first three games of the One Day International series, with man of the match James Faulkner beating the Indian batsmen all on his own last time out.
Sticking with the sixes theme, Ladbrokes is betting on the number of sixes that Australia hits in its Fourth One Day International knock. Ladbrokes has set the line at six and a half sixes and the Magic Sign is offering odds of 2.00 that Australia goes over it. However, one should not get sucked in to placing this particular bet because of the venue.
The JSCA International Cricket Stadium in Ranchi is a new ground that has staged only a handful of major limited-overs games, including a solitary One Day International and two Indian Premier League matches last season. All three of those games were low-scoring affairs. India beat England by seven wickets with 131 balls remaining after reaching its target of 156 fairly comfortably. No England batsman hit a six or got past 40 runs. And the batting scores in the two Indian Premier League matches at the recently built venue were 115 runs for nine wickets, 116 runs for five wickets, 163 runs for seven wickets and 170 runs for four wickets.
The reputation of the JSCA International Cricket Stadium as a more difficult than average place on which to score runs serves only to strengthen the case for backing Australia to win the Fourth One Day International. Australia's bowling attack is a few notches superior to that of India and the away team is the more likely of the two sides to skittle its opponents for a cheap score. Heaven knows what frame of mind Sharma is in but, even if he lifts his game several levels, it is not the end of India's problems with the ball. India really does not have anyone who can bowl consistently well at the death, plus the skill of its spinners is negated in limited-overs games because the pitches are nowhere near as conducive to turn. Also, Australia's heavy hitters such as Aaron Finch, Glenn Maxwell and Faulkner are targeting the likes of Ravichandran Ashwin and Ravindra Jadeja whenever India captain MS Dhoni throws the ball to the twirlers.