St. Louis Cardinals -109 (Lohse R) at Washington Nationals -101 (Detwiler L) Total: OvUn 8.0
Game 4, Cardinals Lead Series 2-1 First Pitch: Thursday, October 11, 2012 4:07 EST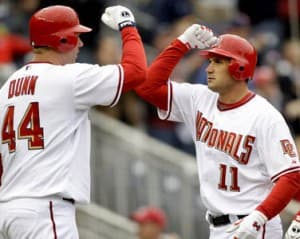 On the back of our winning pick last night we are looking forward to tonight's game. The Cardinals are again taking the baseball world by storm, and could deal a final blow to the Nationals this Thursday. The Cardinals were the second wild-card entering the postseason – as they were last season, one in which they became World Series Champions. They won a one game playoff against Atlanta last week, and are now threatening to eliminate the team with the best regular season record.
After losing the opening game of the series in St. Louis, the Cardinals bounced back in a big way in Game 2 and 3, outscoring the Nationals 20-4 in the two games. The Cardinals have pounded Nationals pitching the past two games, leaving the staff that led the NL in ERA at 3.33, shell shocked.
The Nationals will give Ross Detwiler his first postseason start against the Cards. He has had a strong year, going 10-8 with an ERA of 3.40.
St. Louis counters with right hander Kyle Lohse, a 16 game winner Lohse has had an excellent season. His 16 wins go with an ERA of 2.86 and a 1.09 WHIP.
Detwiler vs. Cardinals
The Cardinals have not seen a ton of Detwiler, but he did face them in late September and did not fare well. He gave up three earned runs – seven in total and five walks over 2 1-3 innings in a loss. Even though, the Cardinals haven't gotten an extended look at him, Detwiler will likely be fighting off nerves as he makes his first postseason start against one of the NL's best offenses.
Detwiler has gone 7-2 in 14 starts at home with a 2.72 ERA.
Lohse vs. Nationals
Lohse while impressive on the season has not fared all too well against the Nationals. In two September starts, Lohse had an ERA just below 7.00 against Washington. A number of Nationals have great numbers against Lohse. Jayson Werth is hitting .381 over 21 at bats against Lohse, with three home runs and an OPS of 1.361. Michael Morse is hitting 467 over 15 at bats against Lohse, with three doubles, a home run and an OPS of 1.333. Zimmerman and LaRoche are also hitting .308 over 26 at bats, and .276 over 29 at bats, respectively.
Our Play
While the Nationals bats have been dormant for much of this series, we think they'll wake up today against Lohse. The batter vs. pitcher numbers the Nats have against Lohse are staggering, and they've pounded him in his two previous starts. The Nationals can score runs – they've just been in a funk. Their backs are also against the wall, but we can see they have the numbers to have a legitimate shot against one of the better pitchers in the NL. Detwiler, who has fared well against St. Louis in the past is still unfamiliar to the Cards, and may catch Cardinal hitters off guard that are not familiar with him.
Nationals -101
Get the Nationals -101 at www.topbet.eu