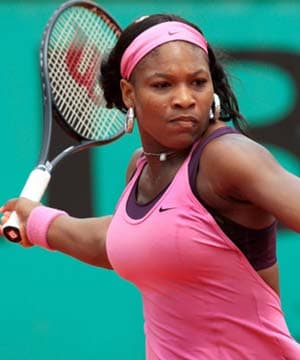 Serena Williams is a legitimate odds-on favourite for this year's WTA Tour Championships in Istanbul, the end-of-season tournament featuring the top eight women's singles players.
Do not be put off by the fact that Williams has won only the WTA Tour Championships title only three times. The American superstar has rocked up at the end-of-term affair eight times – winning the event in 2001, 2009 and last year when she smashed Maria Sharapova 6-4 6-3 in the final. But Williams did not drop a set en route to winning the 2012 WTA Tour Championships, beating Victoria Azarenka 6-4 6-4, Angelique Kerber 6-4 6-1 and Na Li 7-6 6-3 in the Red Group before defeating Agnieszka Radwanska 6-2 6-1 and Sharapova in the knockout phase. Williams was impressive all week.
Williams has pocketed the winner's cheque at no fewer than 10 WTA Tour events this season – no-one else in the WTA Tour Championships field has deposited three into their gigantic bank accounts. Williams has a 2013 record of 73-4, including going 6-0 in the northern hemisphere autumn to date, and she has received a peach of a WTA Tour Championships draw if one takes into account all the various head-to-head statistics.
Drawn with Williams in the WTA Tour Championships Red Group are Petra Kvitova, Kerber and Radwanska. Williams leads Kvitova 4-0, Kerber 2-1 and Radwanska 7-0. Qualifying for the semi-finals should be a breeze for Williams and that is not the end of the good news for her. If everything goes according to the scripts in the Red Group and the White Group, Williams will get favourable sudden-death matches.
Head-to-head records combined with current form data point to Kvitova finishing second behind Williams in the WTA Tour Championships Red Group. Kvitova enjoys a 4-1 advantage over Radwanska and, while the Czech is all square at 2-2 versus Kerber, she did win their only meeting this year 6-2 0-6 6-3 on a Tokyo hard court last month. Also, Kvitova has strong WTA Tour Championships history having won the 2011 edition.
With regards to the WTA Tour Championships White Group that comprises Sara Errani, Jelena Jankovic, Azarenka and Li, it favours Azarenka and Li. Azarenka leads Errani 6-1, Jankovic 5-3 and Li 6-4, with the Belarusian winning each of her last five matches against the Chinese and four of those victories occurring on a hard court. Li boasts a perfect 5-0 record in clashes versus Errani and the Chinese has a 5-4 edge over Jankovic. So the form book says that Azarenka and Li ought to finish first and second respectively in their section, which means that the most likely WTA Tour Championships semi-finals are Williams against Li and Azarenka versus Kvitova. They would be advantage Williams and Kvitova. Williams leads Li 9-1 and Kvitova is up 4-2 against Azarenka having won each of the last four matches between the east Europeans across the full spectrum of surfaces.
Bookmakers are betting on the outcomes of the two WTA Tour Championships round-robin groups and, of course, the title winner. Williams is not worth backing to win the WTA Tour Championships Red Group and Azarenka is unappealing at odds on to win the WTA Tour Championships White Group given that she has a 0-2 record this autumn. The best play is to back Williams to win the WTA Tour Championships at odds of 1.80 with Paddy Power. If one does not like betting odds on then either back Kvitova each-way at odds of 9.00 with Youwin or leave the tournament alone. One does not have to bet.
The 2013 WTA Tour Championships get under way on Tuesday 22 October and conclude on Sunday 27 October. Kerber is only participating because Sharapova, who qualified as the third seed, pulled out because she has a busted right shoulder.