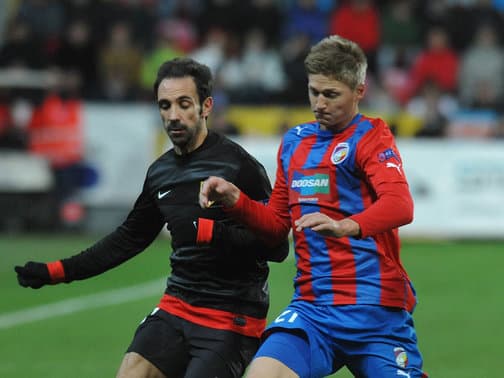 Easy does it; despite looking like a pair of cold grannys above, Viktoria Plzen have been been impressive in recent Europa League games defeating Atletico Madrid and Napoli.
Viktoria Plzen has not received sufficient credit for its performances against two of Europe's top teams, Atletico Madrid and Napoli, and that means smart punters can back Pavel Vrba's underrated side at generous odds to beat Fenerbahce in the Czech Republic and over two legs.
Bookmakers have installed Viktoria Plzen as the outsider in its UEFA Europa League last-16 tie versus Fenerbahce and chalked up attractive odds of around 5-4 about the Czech Liga leader winning the first leg on its home pitch.
Viktoria Plzen has won its last four competitive matches in a row, including home wins over Atletico Madrid and Napoli and a remarkable 3-0 away defeat of the Italian Serie A title contender. And its home form is a thing of beauty.
Vrba's team has won 12 and drawn two of its 15 home games in all competitions this term, while it has won its last seven UEFA Europa League home matches by an aggregate 18-1 score.
Viktoria Plzen has had a relatively light program in recent weeks and, although it will get the same number of days rest between games as Fenerbahce will ahead of Thursday's match, it does not have to contend with the distraction of a local derby on enemy territory before travelling across Europe.
Turkish Super Lig games do not come a great deal bigger than Besiktas versus Fenerbahce so Aykut Kocaman and Fenerbahce's players will not have much chance to focus on their UEFA Europa League assignment until they have run the gauntlet away from home in one of Istanbul's premier derbies.
Fenerbahce has performed very well on the road in the UEFA Europa League this season, beating AEL Limassol, Marseille and Borussia Monchengladbach, albeit when the latter was midway through an horrific run of results, as well as drawing 0-0 with BATE in spite of an early red card.
But the combination of Viktoria Plzen's home numbers and the unfairly low reputation of the Czech Liga frontrunner make for a value bet. Vrba's side would not look out of place at evens to beat Fenerbahce in the Czech Republic, while the tie should be much more of a toss-of-a-coin job than bookmakers think. Back the tie outsider at odds of around 6-5, a price that could look very big this time next week.
Another value play is Lazio to eliminate Stuttgart and make this season's UEFA Europa League quarter-finals. Bookmakers are having trouble splitting the Italian Serie A and German Bundesliga teams when, really, it is relatively simple to work out which of the sides should be the clear favourite.
Lazio is bang in contention for one of Italy Serie A's three berths in next term's UEFA Champions League tournament, whereas Stuttgart is almost equidistant from the Germany Bundesliga's relegation zone and its European qualification area having lost three more matches than it has won and accrued a negative goal difference worse than all except drop favourites Greuther Firth and Hoffenheim.
The Italian Serie A has fallen on hard times in recent years but it is Europe's third strongest domestic competition and a side in its top six should be a warm favourite over two legs against a mid-table German Bundesliga team. Lazio is trading at odds of around 4-5 to knock out Stuttgart and, while the Biancocelesti's away statistics are something of a worry given that the first leg will take place in Germany, the odds on offer more than make up for any concerns.
The shock eliminations of Atletico Madrid and Napoli have resulted in major changes to this season's UEFA Europa League winner market, with bookmakers slashing their odds about Chelsea to a general mark of 7-2. The Blues have the quality to walk away with the trophy but everyone knows that there are serious problems behind the scenes at Stamford Bridge and Rafa Benitez is no certainty to stay in the interim manager's position until the end of the campaign.
Laying Chelsea on a betting exchange does not have a great deal of appeal, at least in the short term given that it should ease past Steaua Bucuresti in the last 16, so one should look to back one or more of the other UEFA Europa League contenders. At the prices, supporting Benfica makes considerably more sense than backing Benitez's Blues.
Benfica accounted for Leverkusen in the last round of this term's UEFA Europa League, beating the German Bundesliga heavyweight home and away. The Portuguese Primeira Liga giant should have too much quality for Bordeaux, the French Ligue Un side that struggles to score goals, particularly versus teams that have a touch of class about them.
Bookmakers are offerings odds of around 10-1 about Benfica makes amends for its UEFA Champions League flop by winning the UEFA Europa League. The Jorge Jesus-managed side has handled the disappointment of missing out on the knockout phase of the UEFA Champions League well and it seems to be taking the secondary tournament extremely seriously.