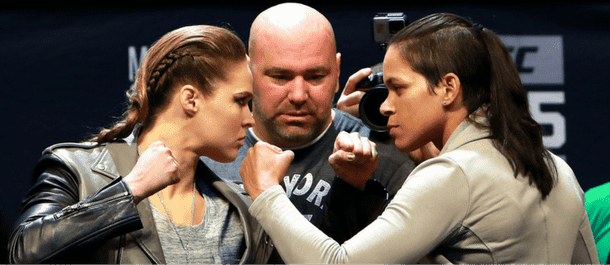 Ronda Rousey vs. Amanda Nunes
Whether you like it or not, the UFC have been jamming the story of Ronda Rousey down our throats. It makes complete sense too, she is one of the biggest 'cash cows' in the modern era of combat sports. The total dominance by one female athlete was the construct of one of the most captivating stories to both the hardcore and casual fans alike. Now, thirteen months later, the story revolves around the return of an athlete, one who was once believed to be far superior to all. A reign that crumbled into 56,000+ faces of disbelief in the Melbourne arena as Holly Holm drove her shin into the head of Ronda Rousey destroying Ronda's rockstar world in one swift moment. The intrigue is no longer 'how fast can Ronda finish her opponent?', it's now, is she mentally prepared for what's to come, and has she got what it takes to defeated the champion standing in front of her – Amanda Nunes.
Amanda Nunes could very well be the least promoted champion in the history of the sport. Nunes rose to the top of the Women's Bantamweight division on one of the biggest stages ever seen in combat sports, the main event of UFC 200. She took down another of the UFC's female stars, Miesha Tate with ease. The complete domination probably amplified Miesha Tate's intention to retire from the sport. Unfortunately, many who are tuning into UFC 207 won't have seen Amanda Nunes fight before, as she doesn't force her own way into the media spotlight and the UFC don't offer up much marketing for her, either. Those who are yet to see her in action may be in for a massive awakening, as Nunes possesses more than enough ability to recommence Ronda's nightmare.
The Breakdown
When it comes to how these two fighters match up against each other, there's plenty to consider. Firstly, we are completely unaware as to Ronda's mentality and how this may affect her approach to the fight. Will she choose to rush Nunes after what happened against Holm? Or will she opt for a patient approach? I have close to zero faith in Ronda's Head Coach, Edmond Tarverdyan, and his ability to construct a winning game plan for Rousey. This is the same Edmond that instructed Ronda to march in against Holly Holm and try to 'outbox' her and, worse, informing Ronda that she was doing well at the end of the first round instead of formulating a Plan B.
If Ronda chooses to rush forward, similarly to her older approach, she could fall into trouble as Nunes' has some excellent footwork and heavy punches. A few hard combinations to the chin and Rousey might start doubting herself within just minutes. However, the advantage lies with Ronda as this fight progresses, as Nunes has shown signs of fading through the fight, especially when it comes to grappling. Nunes' clinch game weakens significantly, and this could allow Rousey to conquer.
I think Nunes has an excellent skill set and that this fight should be a pick em', at least. Nunes has excellent jiu-jitsu, heavy punches and enough footwork to keep Ronda at bay. While I wouldn't be confident taking Nunes if she was the favourite in this, there is plenty of value to be had when she is coming in at 2.20Bet €100 to win €2206/5Bet £100 to win £220+120Bet $100 to win $2201.20Bet HK$100 to win HK$2201.20Bet Rp100 to win Rp220-0.8333Bet RM100 to win RM220.
---
Tips Summary
Amanda Nunes vs. Ronda Rousey
Amanda Nunes to Win
Saturday 31st December, 05:00 GMT
Odds: 2.20Bet €100 to win €2206/5Bet £100 to win £220+120Bet $100 to win $2201.20Bet HK$100 to win HK$2201.20Bet Rp100 to win Rp220-0.8333Bet RM100 to win RM220 – Bet365
Amanda Nunes
MMA
Ronda Rousey
UFC
UFC 207