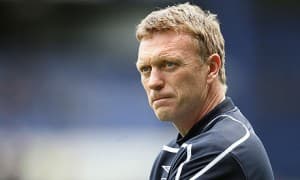 David Moyes has signed a six-year contract to succeed Alex Ferguson as Manchester United, a hiring decision that even by the standards of football clubs appears somewhat crazy for, if Moyes was a thoroughbred racehorse, Timeform may have awarded him its squiggle reserved for non winners. We always thought it would be Jose or Pep and when Pep went to Bayern, we were sure Jose would get the nod.
One minor trophy – the English third-tier title during his tenure as Preston boss in the late 1990s and early 2000s – is the only prize that Moyes has won since starting his managerial career leading the Lancashire team with which the former lower-league defender finished his playing days.
Even allowing for the fact that Ferguson and Moyes are good friends whose personal and professional lives have a lot of common ground, it is remarkable that Manchester United has chosen the long-time Everton manager to take over from the hardest act to follow in English football since Matt Busby.
Manchester United would have had the pick of the football world – Pep Guardiola and Jose Mourinho are just two of the highly awarded bosses who would have walked on broken glass to succeed Ferguson at Old Trafford – and yet they have opted for Moyes, a good manager but not a great one.
Given the plaudits that Moyes attracted during his 11 seasons in charge of Everton one would think that the Toffees carried all before them. The truth is far from that. Domestically, Everton's average English Premier League finishing position under Moyes was eighth. Only three times did the Toffees end a campaign higher up the ladder than Liverpool and their Merseyside Derby record read a pitiful three wins, nine draws and 13 losses, with no victories at Anfield. Furthermore, Everton did not progress past the semi-finals of the English League Cup and its best English FA Cup performance came in the 2008-2009 season when it qualified for the final but lost 1-2 to Chelsea. And on the European front, the Toffees were UEFA Champions League, UEFA Cup and UEFA Europa League flops on four separate occasions.
Managing Manchester United is all about handling pressure and winning big matches. Moyes is a prickly character whose media relations skills could do with some work and the data listed above does more than suggest that his teams struggle when the heat is on. Three wins in Everton's biggest 25 games of his tenure does not bode well for the future.
There is no doubt that Ferguson attracted players to Old Trafford because of his international standing. Will Moyes be able to do the same? Unlikely. And then there is the impact that having Ferguson on the Manchester United board will have on the ability of Moyes to run his own ship. Busby moved upstairs when he quit managing the Red Devils in 1969 and none of the next four Red Devils bosses delivered any success. Indeed, the next trophy that Manchester United won was the English second-tier title under Tommy Docherty. Busby's achievements over 22 years, including five English and one European championships, proved impossible for anyone to follow until Ferguson came along and even he went close to being sacked before winning the English FA Cup in 1990.
Bookmakers have framed numerous Manchester United and Moyes markets as the Red Devils prepare for the start of a new era. Perhaps the pick of the odds is Coral's 7-4 about Manchester United not winning a major trophy – English Premier League, English FA Cup, English League Cup, UEFA Champions League or UEFA Europa League – under Moyes in the 2013-2014 season. The Red Devils have won at least one of those competitions in 16 of the 21 years since the English Premier League came into existence but, with a new man at the helm and the likes of Chelsea and Manchester City likely to improve on their 2012-2013 showings, times may be tough.
It is impossible to get away from the fact that Moyes has not won a significant tournament in his managerial career, with his sides having a long history of failing to produce the goods when it matters most. Bobby Charlton is kidding himself when he says that Ferguson will not interfere – he will not be able to help himself if Manchester United goes through a sticky patch – and the domestic challengers to the Red Devils will be much stronger than they were this term. Harsh though it may be, Manchester United did not so much win the English Premier League but its rivals lost it.
Skybet is offering odds of 7-2 that two or more Everton players sign for Manchester United during the 2013 summer transfer window. With Leighton Baines and Marouane Fellaini being tipped to follow Moyes east along the M62 motorway, one should snap up that price before it shrivels away.