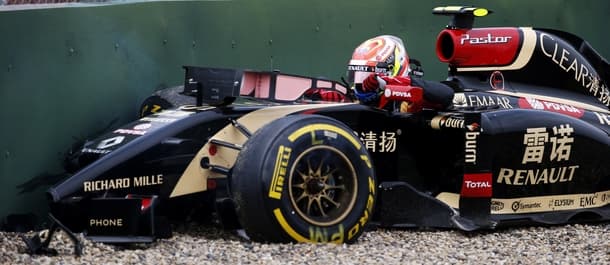 Crisis team Lotus has had more retirements from Formula One races this year than any other outfit yet Unibet is listing odds of 1.90 that its error-prone driver, Pastor Maldonado, is not classified in Sunday's Singapore Grand Prix.
Maldonado is not so much an accident waiting to happen but an accident that has happened far too often for most of his peers on the Formula One grid. Former Red Bull driver Mark Webber singled out Maldonado for criticism on BBC Radio earlier this week, using the Venezuelan as the best of several examples of below-par competitors this year. For those of you who do not know, Maldonado brings millions of dollars of sponsorship from the Venezuelan government to Lotus via the state-owned PDVSA oil company. Maldonado's critics argue that is the major reason that he has a seat.
Lotus is averaging one retirement per Formula One race this season, with its tally of 12 being three more than that of Toro Rosso. Maldonado has retired from eight of this year's 12 Formula One races, which is two more than the next worst performer, former champion Fernando Alonso. However, Alonso is driving a truly terrible McLaren car, whereas the Lotus vehicle is of sufficient quality to have claimed one podium place – Romain Grosjean was third in the Belgian Grand Prix.
Maldonado's eight retirements from this season's 12 Formula One races entitles him to be well into odds-on territory to not be classified in Sunday's Singapore Grand Prix, which has been one of the most demanding events on the calendar since its championship bow in 2008. The Marina Bay Street Circuit asks a lot of both drivers and cars and it is a night race, which poses all sorts of challenges for teams used to competing in daylight. The safety car is a regular feature of the Singapore Grand Prix and, if any driver is likely to steer his expensive vehicle into one of the many Marina Bay Street Circuit walls, that driver is Maldonado.
With regards to the Singapore Grand Prix winner market, it is hard to argue against Lewis Hamilton being a worthy hot favourite, not least because he steered his Mercedes to a comfortable 13-plus-second victory in last year's race.
The biggest issue that one has about steaming into Hamilton at Singapore Grand Prix odds of 1.57 with Coral is that the Marina Bay Street Circuit has a strong bias to pole sitters and it is not as if Nico Rosberg has been a long way behind his Silver Arrows teammate on Saturdays. Five of the seven Singapore Grand Prix races have been won by the fastest qualifier and there were extenuating circumstances in the two editions that did not go that way. In 2008, Alonso's strategic decision to pit before the deployment of the safety car was the primary reason that he managed to win from 15th place on the grid. And in 2012, Sebastian Vettel won after starting in third position because the front-row duo, Hamilton and Maldonado, did not take the chequered flag because they experienced serious mid-race mechanical issues.
There are unconfirmed media reports that Rosberg will use the new-specification Mercedes engine that was removed from his car ahead of the Italian Grand Prix qualifying session. Those rumours are sufficient for one to steer clear of the Singapore Grand Prix winner market – Rosberg had no chance given the disparity in equipment between the Mercedes men during the Italian Grand Prix – and focus on Maldonado, who should be shorter odds than 1.90 not to be classified.
Tips Summary
Pastor Maldonado unclassified in Singapore Grand Prix
20th September 13:00
Odds: 1.90
BBC Radio
Formula One
Mark Webber
Pastor Maldonado
Singapore Grand Prix
Toro Rosso