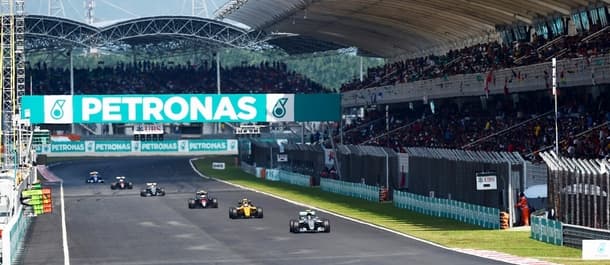 The Singapore Grand Prix and some elements of the Belgian Grand Prix are the most accurate performance indicators for the Malaysian Grand Prix, the last edition of which will take place at the Sepang International Circuit on Sunday.
Malaysia's government has decided to stop supporting the Malaysian Grand Prix financially so the race will drop off the Formula One calendar and the odds are that it will not return any time soon. It is a shame because the Malaysian Grand Prix's Sepang International Circuit home is one of Hermann Tilke's best designs, with the track having more than its fair share of overtaking opportunities and the climate lending itself to incident-packed afternoons.
Lewis Hamilton is the driver to beat in the Malaysian Grand Prix but the state of the championship and the likelihood of the race being rain affected means that he may prioritise finishing over winning – the title is the Briton's to lose and he is almost certain to wear the crown if he sees the chequered flag in each of the six remaining races.
Consequently, one is going to focus on Malaysian Grand Prix head to heads instead of betting on the outcome of the race for 25 championship points. And one's idea of the best Malaysian Grand Prix bet is Nico Hulkenberg to get the better of Felipe Massa at odds of 1.55Bet €100 to win €15511/20Bet £100 to win £155-182Bet $100 to win $1550.55Bet HK$100 to win HK$155-1.82Bet Rp100 to win Rp1550.5500Bet RM100 to win RM155 with Bwin.
Hulkenberg's Renault has the package to be the Malaysian Grand Prix's fourth strongest team behind Mercedes, Ferrari and Red Bull. Hulkenberg qualified seventh fastest for the Singapore Grand Prix two weeks ago but an oil leak forced him out of the race in which his widely criticised Renault colleague, Jolyon Palmer, finished sixth ahead of not only Massa but also his Williams teammate, Lance Stroll. In the nine races that both Hulkenberg and Massa have completed, the German has beaten the Brazilian five times and the gap between their respective cars appears to be widening. For example, Massa has not finished higher than eighth in any of the last 11 races and he is under increasing intrateam pressure from young Formula One rookie Stroll.
Max Verstappen is overdue some good fortune and one thinks that a wet Malaysian Grand Prix, which is more likely than not, could enable him to win his head-to-head against his wise-cracking Red Bull colleague, Daniel Ricciardo. Bwin cannot split Verstappen and Ricciardo so back the former at odds of 1.85Bet €100 to win €18517/20Bet £100 to win £185-118Bet $100 to win $1850.85Bet HK$100 to win HK$185-1.18Bet Rp100 to win Rp1850.8500Bet RM100 to win RM185 . Verstappen was faster than Ricciardo in all three Singapore Grand Prix qualifying sessions and he may have marked his final race as a teenager with a victory if he had not been the filling in a Ferrari sandwich on the approach to the first turn of that event two weeks ago.
Completing one's Malaysian Grand Prix punting portfolio is Sergio Perez to defeat his Force India teammate Esteban Ocon. Perez and Ocon have got to the end of 13 races and the Mexican has finished ahead of the Frenchman in nine of those events. Perez performed much better than Ocon in the recent Singapore Grand Prix, qualifying two places ahead of his Force India colleague and earning considerably more points by virtue of his fourth placing compared to his teammate's 10th. Perez beat his then Force India colleague Hulkenberg in each of the last two Malaysian Grand Prix renewals. Bwin is quoting odds of 1.70Bet €100 to win €1707/10Bet £100 to win £170-143Bet $100 to win $1700.70Bet HK$100 to win HK$170-1.43Bet Rp100 to win Rp1700.7000Bet RM100 to win RM170 about Perez defeating Ocon.
Tips Summary
Nico Hulkenberg to beat Felipe Massa
Sunday 1st October, 08:00 GMT
Odds: 1.55Bet €100 to win €15511/20Bet £100 to win £155-182Bet $100 to win $1550.55Bet HK$100 to win HK$155-1.82Bet Rp100 to win Rp1550.5500Bet RM100 to win RM155
Max Verstappen to beat Daniel Ricciardo
Sunday 1st October, 08:00 GMT
Odds: 1.85Bet €100 to win €18517/20Bet £100 to win £185-118Bet $100 to win $1850.85Bet HK$100 to win HK$185-1.18Bet Rp100 to win Rp1850.8500Bet RM100 to win RM185
Sergio Perez to beat Esteban Ocon
Sunday 1st October, 08:00 GMT
Odds: 1.70Bet €100 to win €1707/10Bet £100 to win £170-143Bet $100 to win $1700.70Bet HK$100 to win HK$170-1.43Bet Rp100 to win Rp1700.7000Bet RM100 to win RM170
Malaysian Grand Prix
Max Verstappen
Nico Hulkenberg
Sergio Perez