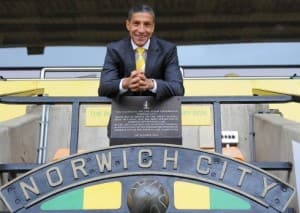 There is an excellent value bet in the market on the first English Premier League manager to be fired – colloquially known as the Sack Race – and it is not the hot favourite.
Southampton boss Nigel Adkins has been all the rage since the start of the season and, even though his Saints side registered their first top-flight triumph last weekend, beating Aston Villa 4-1 at St Mary's Stadium, the man responsible for the Hampshire club's rise from the third tier to the first remains the frontrunner at around 7-2.
Adkins is a classic false favourite. His short odds are based on two things – Southampton's three points from its opening five English Premier League matches and the employment status of a bloke named Harry Redknapp.
First, the Saints were always going to struggle in August and September once the evil fixture computer decided to send them to Manchester City for their first game and included a trip to Arsenal and a home visit by Manchester United in their next three outings. They have three points out of a possible 15 but most Saints fans would have been delighted with, say, four points at this stage. So three is not a disaster and easier matches are just around the corner, including St Mary's Stadium showdowns with Fulham, Tottenham, Swansea, Newcastle, Norwich, Reading and Sunderland – in that order – before the end of 2012.
And second, is Southampton really going to turn to Redknapp after he walked out on the club in 2005? Yes, he lives in the area but surely the two-time Portsmouth manager is persona non grata at St Mary's Stadium these days.
Football is a funny old game and strange things do happen but Adkins, who enjoys a good relationship with Saints chairman Nicola Cortese, should not be the Sack Race favourite. But it does mean there is value elsewhere.
Norwich boss Chris Hughton is available at a whopping 25-1 currently and that is far too big. The Canaries have yet to win an English Premier League game and their next four top-flight assignments are Liverpool (home), Chelsea (away), Arsenal (home) and Aston Villa (away). At the time of the final whistle in the grudge match between them and former Carrow Road supremo Paul Lambert's Villa, there is a good chance that they will be winless and bottom of the ladder.
The Norfolk club does not have a reputation for chopping and changing its managers but it does have a history of making swift decisions once it has decided that it has made an error. For example, Norwich legend Bryan Gunn was sacked after only 21 games at the helm. So Hughton, even though he is in his first season at Carrow Road, is far from safe.
The word on the street is that Hughton is an excellent coach and an even better person. But he does not possess the same outgoing personality of Lambert, under whom many of the Canaries players performed above themselves. It seemed like a strange appointment back in the summer and nothing has happened in the first couple of months of the season to alter that view. Hughton appears to be a square peg trying to fit into a round hole. It will not work.
Of course, someone such as Mark Hughes, Brendan Rodgers or Andre Villas-Boas could get the chop before Hughton does, but the betting odds reflect that. Those three men and several others are trading at much short prices than the popular Irishman. Snap up the 25-1 about Hughton because it will not last once more punters look at the fixture list.
Get 25/1 on Chris Hughton to be the first manager sacked in the EPL at www.betvictor.com