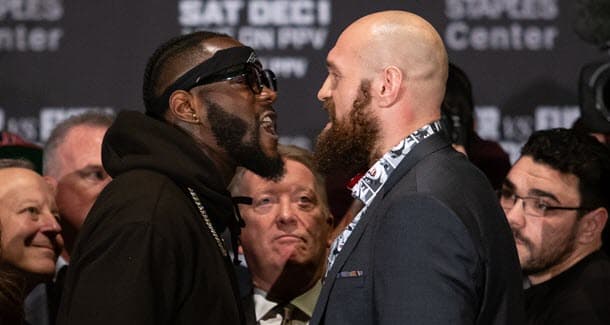 WBC Championship Fight – 1st December – 9:00PM ET
After a three-year absence, Tyson Fury arrives back in the big time in his LA showdown with the fearsome Deontay Wilder. His route there has been torturous and after much-fabled break from action in the ring, now is the time for Fury to finally deliver with actions rather than words.
After two low-key and uninspiring warm-up fights, Fury was arguably offered the fight with Wilder long before he was ready for it, but such is his character, once that carrot was dangled there was no way on Earth he was going to turn down the opportunity.
The bookies have the current WDC champion as odds-on favourite but in a two-horse race, for Wilder to be no shorter than 3/5 for the win shows there's an awful lot of respect out there for the unpredictable Fury.
And it's because those who know, look back to what Fury achieved on the night of 28 November 2015 – the night when he shocked the boxing world by beating the seemingly unbeatable Wladimir Klitschko. Three years on, and with an awful lot of water having gone under the proverbial bridge since then, that win for Fury still resonates and is why no-one in boxing circles are prepared to write off the self-titled 'Gypsy king'.
TOP TIP! – Fury to beat Wilder @ 3.10Bet €100 to win €31021/10Bet £100 to win £310+210Bet $100 to win $3102.10Bet HK$100 to win HK$3102.10Bet Rp100 to win Rp310-0.4762Bet RM100 to win RM310
Get the best odds for Fury v Wilder with our selected bookmakers below.
For a few months following the Klitschko fight, Fury was literally top of the world, but it didn't last long and bit-by-bit, for a whole host of reasons, it all started to disintegrate – almost before our very eyes. His behaviour became erratic, he failed some drug tests, he openly talked of a battle with depression and he put on an amount of weight unbecoming of a World Heavyweight champion. One by one, his titles were taken from him.
Now, all that stands between him and a return to the summit of world heavyweight scene is one Deontay Wildler – a man talked about in the same reverential terms that were once reserved for Mike Tyson. Wilder, on his meteoric rise to the top, has earned himself a reputation as a punching machine and, like Fury, is unbeaten.
The build-up to the fight has been ongoing for months and what started off as jibes and light-hearted insults has now built up to crescendo levels of hype accompanied by pushing, shoving and the occasional flailing arm. But, make no mistake, Fury has got under Wilder's skin. It's no facade, Fury has done as he intended – he's angered Wilder.
Whether of course this will be sufficient for the American to lose his cool in the ring will only be revealed as the action unfolds in the Staples Center, but either way it's fairly certain that Wilder will be looking to end this one early. The longer it goes on, the more the obdurate Fury will fancy it.
It will be dramatic, that much we do know and any fight involving Fury, however scrappy, will have a story. And we have an inkling that if the new, super-fit Fury can overcome the ring rustiness in those frantic opening exchanges, he could spring a surprise. Three years is a long time to be absent but his sparring partners tell of someone who is getting back to his best.
So, we're going for Fury to weather the early storm, make it bitty and scrappy and to somehow see it through on points 3.10Bet €100 to win €31021/10Bet £100 to win £310+210Bet $100 to win $3102.10Bet HK$100 to win HK$3102.10Bet Rp100 to win Rp310-0.4762Bet RM100 to win RM310 with Bet365.
Feel free to us know what you think of our tips. Click the button below and Share on Facebook or Twitter and tell us if you agree or disagree with our selections!
Deontay Wilder
Tyson Fury
World Championship Heavyweight Boxing