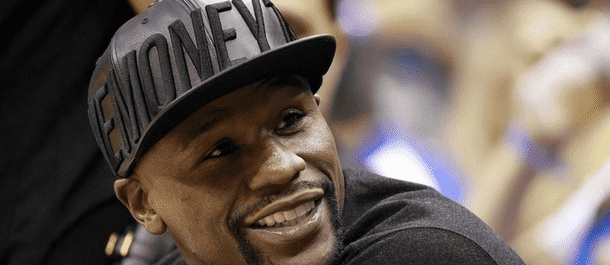 Has rational thinking ever been this overlooked heading into a combat sports event?
Everybody is starting to believe in Conor McGregor, not only because of his contagious self-belief but because promoters and media are selling the idea that "The Notorious" is the man who can defeat Floyd Mayweather.
While all of this is happening, one man is sitting back counting his money – Floyd Mayweather. Yes, strangely enough, Mayweather is a driving force behind the public belief in Conor McGregor and it's a genius strategy from the 49-0 boxing legend.
Firstly, if the fight is perceived as being truly competitive, it will undoubtedly sell better than if it was recognized as otherwise. There's also an ulterior motive; one that we will get to later.
Uncertainties
Let's begin with the seemingly endless list of uncertainties heading into 'The Money Fight'. I'm sure that you have heard these all throughout the lead up to the fight:
How has Floyd aged?
Will Floyd have an answer for Conor's unusual style?
Will 8oz gloves improve Conor's knockout ability?
Is Floyd taking Conor McGregor seriously?
Can Floyd take the power from Conor's left hand?
To anyone who has followed Floyd Mayweather closely over the years, this isn't unusual; it's completely normal. Floyd adds more fuel to the fire with moments such as appearing on Embedded eating Burger King just one week out from the fight. To the casual fan, you'd easily believe that Floyd Mayweather isn't taking this fight seriously. Boxing fans know the truth, though. Floyd Mayweather works harder than anybody in the sport; he just does it all behind closed doors.
Fueling the fire
Floyd is actually one adding to all of these uncertainties and playing them up to be greater than they really are. At every press conference, and every interview, Floyd is praising Conor's chances while also creating doubt about his own abilities.
Why?
Well, if he were taking a 'hard' approach to the fight and acting as if Conor McGregor had no chance, the fight would be a much more challenging sell. Now, with all of the uncertainties and all of the doubt, Mayweather has turned this contest into one of the most anticipated boxing events of all time.
You better believe Floyd is 100% confident that he will win the fight. He's the smartest businessman in combat sports. He set the blueprint on how to maximise the return from low-risk situations.
Floyd's "Money" play
There's another reason that Floyd is actively up selling Conor's chances; Floyd is renowned for betting on himself before fights.
If Floyd is putting down millions on himself against "The Notorious", even the slightest of movements from bookmakers will allow Floyd to maximise his return. All of the bets are coming in on Conor McGregor, and the lines are adjusting as a result. When the fight was announced, Floyd opened as a massive betting favorite at 1.04Bet €100 to win €1041/25Bet £100 to win £104-2500Bet $100 to win $1040.04Bet HK$100 to win HK$104-25.00Bet Rp100 to win Rp1040.0400Bet RM100 to win RM104 . This seems crazy now that Floyd has moved into 1.30Bet €100 to win €1303/10Bet £100 to win £130-333Bet $100 to win $1300.30Bet HK$100 to win HK$130-3.33Bet Rp100 to win Rp1300.3000Bet RM100 to win RM130 , but odds of that extreme nature weren't really out of place at the time. Mayweather closed at 1.03Bet €100 to win €1033/100Bet £100 to win £103-3333Bet $100 to win $1030.03Bet HK$100 to win HK$103-33.33Bet Rp100 to win Rp1030.0300Bet RM100 to win RM103 against Andre Berto, 1.14Bet €100 to win €1147/50Bet £100 to win £114-714Bet $100 to win $1140.14Bet HK$100 to win HK$114-7.14Bet Rp100 to win Rp1140.1400Bet RM100 to win RM114 against Miguel Cotto and 1.33Bet €100 to win €13333/100Bet £100 to win £133-303Bet $100 to win $1330.33Bet HK$100 to win HK$133-3.03Bet Rp100 to win Rp1330.3300Bet RM100 to win RM133 against Canelo Alvarez – three extremely talented boxers.
Floyd's tremendous payday
Floyd is playing us all.
If (when) he defeats Conor McGregor on August 26 at Madison Square Garden, not only will he have reached 50-0 and raked in millions of dollars from gate sales, pay-per-view buys and endorsements, he will have also made an unbelievable amount of money by betting on himself.
Boxing
Conor McGregor
Floyd Mayweather