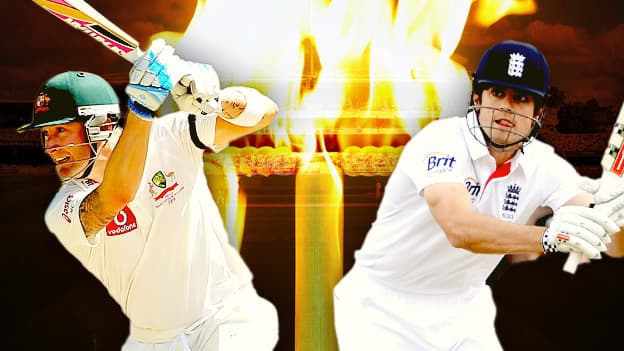 Sometimes one has to scour through dozens of markets to find a value bet on a marquee event. Sometimes they appear on the front page. The Third Test between Ashes rivals England and Australia is an example of the latter occurring.
Of the hundreds of Third Test offers the pick is England to win the Old Trafford match and thereby retain the Ashes with a series victory. Bookmakers are quoting the Poms at odds of around 1.85 and, given the emphatic manner of their Second Test triumph and the likelihood that the Manchester pitch will suit them more than their opponents, it would appear that the satchel swingers are being far too generous.
England won the Second Test at Lord's by 347 runs and it is worth noting that Australia did not even bowl out its host twice, with the Poms declaring their second dig at 349-7 once Joe Root had fallen short of a double century. The Australians slumped to 235 all out, with their top order failing yet again. One knows one is in trouble when one labels David Warner as a saviour. Australia has recalled the slugger and, according to some of the commentary, one would think that Warner is Donald Bradman back from the dead. His Test average of 39.46 suggests somewhat differently.
Darren Lehmann has come in and put a smile on some of the Australia team's faces but do not be fooled: there remains deep divisions between some of the senior players – Michael Clarke and Shane Watson do not see eye to eye on anything – and few of the Australians would make it into the England side. The Poms would take Clarke and that may be about it even though some of the Aussies bowlers have potential.
Clarke has been Australia's talisman for several years now but, troubled by chronic back pain, he is averaging 25.50 this series. That bowlers James Pattinson (highest average) and Ashton Agar (highest tally) top the Australian batting charts says everything about their run-scoring problems. And the bowlers are struggling as well, with Agar's incredible debut with the bat masquerading his shortcomings with the ball. Like Nathan Lyon, he is a spinner who does not turn the ball. No amount of Shane Warne mentoring – Warnie is helping out Lehmann at Old Trafford – will change that.
Australia has lost its last six Tests away from its great southern land and the reports are that England has prepared an Old Trafford pitch that will play to its strengths and its opponent's weaknesses. England has good spinners in its ranks, whereas Australia really does not. The Manchester deck may turn sideways on days four and five, which is why Monty Panesar may get a run. Panesar has been man of the match in two of the last three Tests at Old Trafford.
The medium-term weather forecast for Manchester is bright enough to think that England will have more than sufficient time to take one step further to its first Ashes whitewash since the late 1880s. To put that into context, English football was in its infancy back in those days. Old Trafford has been a result venue in Tests recently. Seven of the last eight matches have produced a winning team, with the Poms victorious six times and Pakistan once. Everything points towards England going up 3-0 in the five-Test series.
Of the Third Test exotics the offer that appeals most is the odds of around 13.00 about Graeme Swann being named man of the match. There have been several low innings in County Championship Division Two games at Old Trafford this year, with the bowlers being on top of the batsmen. Swann has a Test bowling average of 23.07 but his Manchester mean is just 18.33. If the Old Trafford pitch turns then Swann, whose series record reads a co-leading 13 wickets at an average cost of 22.07, looks sure to be among the main contenders for the game's individual honour. Only Root's superb 180 prevented Swann winning the Lord's prize and he seems to have the number of most of Australia's batsmen.
Bookmakers are being slow to frame markets on Australia's first innings score. The Australians have yet to pass 300 runs in any innings during the series so getting short of their total will appeal if the primary over/under line goes up anywhere around between 300 and 350. That is even if the tourists win the toss and elect to bat first in favourable conditions. They just do not have the talent right now.
For the record, an England whitewash is the second favourite outcome in updated series score betting behind only 4-0 to the Poms. There are zeroes missing off the odds available about Australia regaining the Ashes with a 3-2 away win.