England have secured a small semblance of revenge on Australia for their Ashes defeat by winning the ODI series.
Eoin Morgan's men notched their third victory on the bounce down under to defeat their rivals, clinching a comfortable win in Sydney by 16 runs.
For the first time of the series, the Three Lions' batsmen were put on the back foot. Mitchell Starc, Josh Hazlewood and Pat Cummins combined to put them under pressure.
England appeared to be on their way to setting a below-par score after being reduced to 189-6.
However, Jos Buttler scored a brilliant century, timing his surge to perfection in the final 10 overs to guide his team over the 300-run mark. Chris Woakes played extremely well to notch a half-century, displaying strokes that his partner at the other end would have been proud of.
In reply other than Aaron Finch, Australia struggled to find the rate of scoring to match England's pace. Finch scored 63 to continue his fine form, but when he was out lbw to Adil Rashid the innings was not able to recover.
Steve Smith continued his struggled in the shortened format. Although he notched 45 runs, his strike rate was down in the 60s, putting huge pressure on the rest of the line-up. Mitchell Marsh and Marcus Stoinis scored half-centuries in a desperate bid to keep up with the rate.
England's bowlers were able to keep the clamps on the Aussies, despite losing Liam Plunkett to injury after sending down just eight deliveries of his allotted 10 overs.
The Three Lions will be looking to secure a series' whitewash, beginning with a four match of the series at the Adelaide Oval on Friday.
Australia's Top Batsman
Finch continued his excellent form at Sydney by scoring a half-century. The 31-year-old has now scored two hundreds and a fifty in the three matches against the Three Lions. However, Finch has not played the match-winning innings that Australia have needed from him at the top of the order.
With Warner struggling alongside him opening the innings and Smith's issues with his strike rate, Australia need their other senior player to dominate. He has performed well, but has not taken the Aussies into an imperious position.
The opener has now improved his average against England to 55.11 and is just eight runs short of having scored 1,000 runs in his contests with the Three Lions. Finch has a shocking average at the Adelaide Oval in his three matches, scoring just 13 runs at an average of 4.33.
As a result, Stoinis could be a solid option down the order to lead the way for Smith's men. He has scored two half-centuries in the three matches and has carried his form from the Big Bash into the 50-over arena, therefore back Stoinis at odds of 8.00Bet €100 to win €8007/1Bet £100 to win £800+700Bet $100 to win $8007.00Bet HK$100 to win HK$8007.00Bet Rp100 to win Rp800-0.1429Bet RM100 to win RM800 with Betway.
England's Top Batsman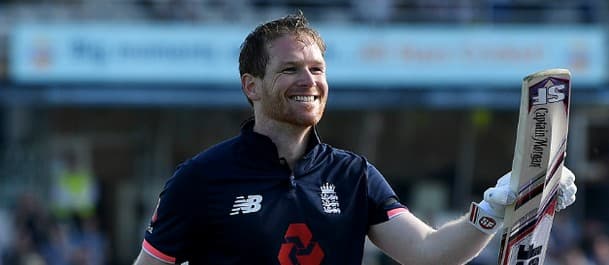 Buttler rose to the occasion for England in Sydney, scoring his fifth ODI century. The wicket-keeper is arguably the best finisher in the game due to his unique style of play in the last 10 overs.
Buttler has the power to strike over the boundary and also the ingenuity to manoeuvre the ball into acute spaces to put pressure on opposing bowlers. He displayed all of those skills to take the game away from Australia at the SCG. The Three Lions are fortunate to have a player of his calibre batting at number six in the order.
One player that has not quite thrived during the series is Morgan, who was dismissed nine short of his half-century in Sydney.
He tends to go through peaks and troughs in his form and at the moment he's struggling in the latter phase. Morgan has a good record against the Aussies, but has not thrived at the Adelaide Oval. The 30-year-old has had an impressive series as captain and it's time for him to reap the rewards with his batting. Back him to top score at odds of 7.50Bet €100 to win €75013/2Bet £100 to win £750+650Bet $100 to win $7506.50Bet HK$100 to win HK$7506.50Bet Rp100 to win Rp750-0.1538Bet RM100 to win RM750 with Betway.
Australia's Top Bowler
Hazlewood returned to the fold in Sydney and struck twice to remove Joe Root and Morgan. Both strikes were crucial in stifling England's momentum before the onslaught from Buttler and Woakes took the game away from the Aussies. Hazlewood offered the control that Cummins and Starc lacked late in the game.
Cummins was victimised by Buttler, while Starc has not been on form since suffering a heel injury during the Ashes. To avoid a whitewash defeat Hazlewood has to come to the fore for the Aussies to ease the pressure on Starc. He has the ability to tear through the England top order and Smith needs a performance from one of the leading bowlers in world cricket.
The 27-year-old has an average of 24.01 in ODI cricket, but his record against England differs at 30.42. Hazlewood had a poor outing against Pakistan last time out at Adelaine, but did take four wickets in 2015. Back him at odds of 4.00Bet €100 to win €4003/1Bet £100 to win £400+300Bet $100 to win $4003.00Bet HK$100 to win HK$4003.00Bet Rp100 to win Rp400-0.3333Bet RM100 to win RM400 at 888Sport to lead the wicket column for the Aussies.
England's Top Bowler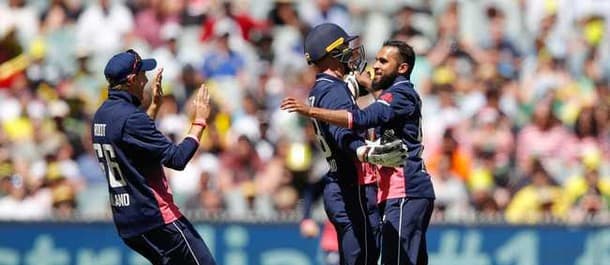 Rashid has been a model of consistency for England since his recall to the side after the 2015 World Cup. The leg-spinner has established himself as one of the leading spinners in ODI cricket due to his ability to strike with regularity in the middle overs. He has taken six wickets in three matches in Australia, including two in the decisive win at the SCG.
Rashid took the vital scalp of Finch before the opener could properly open his shoulders in his innings. The 29-year-old has developed a habit of taking important wickets for Morgan's men. He has not played at Adelaide before, but has adapted to conditions in Australia.
Therefore he's certainly worth backing at odds of 4.00Bet €100 to win €4003/1Bet £100 to win £400+300Bet $100 to win $4003.00Bet HK$100 to win HK$4003.00Bet Rp100 to win Rp400-0.3333Bet RM100 to win RM400 with BetVictor to lead the wicket column in the fourth ODI, especially if Plunkett is missing due to injury.
Winner
England are on a roll at the moment and have the Aussies on the rack. The home side's batting unit has not been in sync in the series, with Smith's struggles highlighting their troubles. Morgan's men have the edge in the batting department, while their bowlers have been solid enough to restrict Australia's firepower. Back the Three Lions to notch their fourth win on the bounce at odds of 2.05Bet €100 to win €20521/20Bet £100 to win £205+105Bet $100 to win $2051.05Bet HK$100 to win HK$2051.05Bet Rp100 to win Rp205-0.9524Bet RM100 to win RM205 with 888Sport.
Tips Summary
England To Beat Australia 4th ODI
Friday 26th January 2018 13:50 ACDT (03:20 GMT)
Odds: 2.05Bet €100 to win €20521/20Bet £100 to win £205+105Bet $100 to win $2051.05Bet HK$100 to win HK$2051.05Bet Rp100 to win Rp205-0.9524Bet RM100 to win RM205
Marcus Stoinis To Be Australia's Top Batsman
Friday 26th January 2018 13:50 ACDT (03:20 GMT)
Odds: 8.00Bet €100 to win €8007/1Bet £100 to win £800+700Bet $100 to win $8007.00Bet HK$100 to win HK$8007.00Bet Rp100 to win Rp800-0.1429Bet RM100 to win RM800
Eoin Morgan To Be England's Top Batsman
Friday 26th January 2018 13:50 ACDT (03:20 GMT)
Odds: 7.50Bet €100 to win €75013/2Bet £100 to win £750+650Bet $100 to win $7506.50Bet HK$100 to win HK$7506.50Bet Rp100 to win Rp750-0.1538Bet RM100 to win RM750
Josh Hazlewood To Be Australia's Top Bowler
Friday 26th January 2018 13:50 ACDT (03:20 GMT)
Odds: 4.00Bet €100 to win €4003/1Bet £100 to win £400+300Bet $100 to win $4003.00Bet HK$100 to win HK$4003.00Bet Rp100 to win Rp400-0.3333Bet RM100 to win RM400
Adil Rashid To Be England's Top Bowler
Friday 26th January 2018 13:50 ACDT (03:20 GMT)
Odds: 4.00Bet €100 to win €4003/1Bet £100 to win £400+300Bet $100 to win $4003.00Bet HK$100 to win HK$4003.00Bet Rp100 to win Rp400-0.3333Bet RM100 to win RM400
Australia
cricket
England
Eoin Morgan
Steve Smith