All eyes during the British MotoGP will be on Marc Marquez as the rookie championship leader attempts to win his fifth race in a row but the best bet concerns a motor cyclist who has won only one of his 99 career starts in the category.
Because the British MotoGP is one of the most high profile events on the motor cycling calendar, bookmakers have gone above and beyond their usual betting options. For example, Bwin has framed several match bets and it is one of those markets on which value-conscious punters should focus.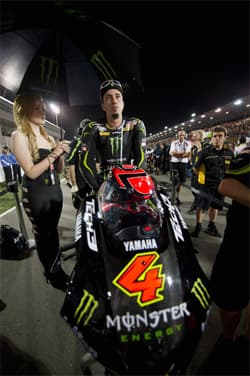 Andrea Dovizioso is 1.85 with Bwin to register a higher British MotoGP finish than Nicky Hayden. One can understand why Bwin has chosen to couple Dovizioso and Hayden – they are Ducati teammates – but the odds should favour the Italian quite strongly instead of being all square.
Dovizioso has happy memories of the United Kingdom as it was the scene of his one and only MotoGP victory when he won the 2009 British MotoGP. Dovizioso qualified fifth fastest and passed Valentino Rossi, Dani Pedrosa, Jorge Lorenzo and Casey Stoner to break his top-class duck. The 2009 British MotoGP was the last staged at Donington before the switch to Silverstone so it is not track form but it does suggest that Dovizioso will race in the United Kingdom in a good mood.
And it is not as if Dovizioso's Silverstone results are bad anyway. Dovizioso finished second in the 2010 British MotoGP and was the runner-up in the 2011 edition as well. Last year Dovizioso was fighting with Stoner for second place on the circuit when he pushed a bit too hard and fell. Dovizioso remounted to complete the race but he ended up 19th after having to pit for minor repairs to his motor cycle.
Dovizioso's British MotoGP record is far superior to that of Hayden and the Italian has beaten his American colleague more often than not during the 2013 MotoGP season. Dovizioso has scored more championship points than Hayden in eight of the 11 races, with the Italian never finishing more than one point behind the American. Quite how Bwin has come up with odds of 1.85 about both Dovizioso and Hayden is a mystery because the Italian should be the clear match favourite.
Turning one's attention to the headline outcome of the British MotoGP, Lorenzo shapes as the motor cyclist who is most likely to stop Marquez extending his winning run to five races. Lorenzo has won both of the British MotoGPs at Silverstone that he has completed and his record is miles ahead of that of Pedrosa, whom bookmakers view as the only other serious threat to young phenomenon Marquez. Pedrosa has placed third and eighth in the British MotoGPs at Silverstone in which he has taken the chequered flag.
Is Marquez opposable in the British MotoGP? Does Marquez represent a good or bad bet at Betfred's quote of 2.38? Well, with Lorenzo saying that he feels like a sitting duck on his Yamaha when Marquez looms up behind him on his Honda, it would appear that Marquez is, at worst, a fair bet at 2.38. Marquez admits that he has up and downs in races at Silverstone but his track record is pretty good. Marquez won the 2010 British 125cc race – now known as Moto3 – from pole position and qualified fastest for the 2011 British Moto2 contest before having to retire on the seventh lap. Marquez was third in last year's British Moto2 but the Spaniard has said that he did not get the right set-up throughout the event and that caused him to struggle on the track.
Marquez represents an okay investment at odds of 2.38 to win the British MotoGP but Dovizioso is the pick of the event from a betting perspective at 1.85 to beat Hayden. Make Bwin pay for pairing Dovizioso and Hayden and not going something like 1.60 about the Italian beating the American home.