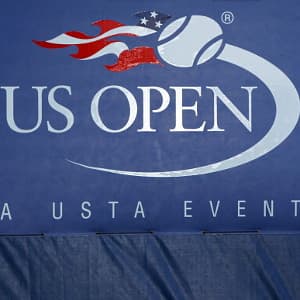 Novak Djokovic has drifted to odds that make him the obvious US Open men's singles pick, with the hard court-loving world number one available at 3.25 with a range of bookmakers, including Coral & Ladbrokes to name two.
Rafael Nadal usurped Djokovic as the US Open men's singles title favourite following last week's tournament draw that put the Spaniard in the bottom half, away from both the Serb and the defending champion, third seed Andy Murray. Nadal has been the form player in the last month and has a peach of a draw even allowing for the fact that he could face Roger Federer in the quarter-finals at Flushing Meadows.
But Djokovic is the world number one for a reason and his record on hard courts is second to none. Djokovic has made the final of the last six major men's singles championships on hard courts, winning three consecutive Australian Open crowns and one US Open title. Nadal has made the final of three of his last six appearances in hard-court majors and the same goes for Murray. One can see that Djokovic is head and shoulders above his main rivals in this critical area.
Admittedly, Djokovic has won a men's singles event since April 2013 but he has performed to a high level in the subsequent months and he has been tremendous in the big tournaments. Murray required five sets to beat Djokovic in the Australian Open final, Djokovic lost a brutal battle against Nadal in the French Open semi-finals and Djokovic came unstuck versus Murray in the Wimbledon final when he could not received from spending five gruelling hours beating Juan Martin Del Potro in the previous round.
Nadal will have his backers because of his 15-0 pre-US Open men's singles record on hard courts but will the Spaniard be able to win seven best-of-five-set matches over the next two weeks in New York? There is a big difference between winning one-week events in which matches are played over three sets and staying the distance in a major championship. Djokovic and Murray are in the better condition than Nadal, whose knees must remain a serious concern for his supporters.
No-one outside of the top three US Open men's singles seeds appeals even though it is 17.00 bar Nadal, Djokovic and Murray. But there are a couple of exotic markets worth a look, with Milos Raonic featuring prominently in both.
The US Open men's singles third quarter is the most wide open because it features David Ferrer, the Spaniard who is good but not great. Ferrer is seeded to make the last four but his recent form is ordinary to say the least and he is vulnerable against players with weapons. There are several of that type of player in his section, with his potential pre-semi-final opponents including Ernests Gulbis, Jerzy Janowicz and Raonic, not to forget Richard Gasquet and Janko Tipsarevic who are seeded eighth and 18th respectively.
Raonic reached the final of the recent Masters 1000 event in Montreal and his huge serve could be a massive factor in the US Open men's singles given that there are reports that the Flushing Meadows hard courts are playing faster than they have in previous years. Raonic has reached the fourth round in his last two major appearances on hard courts and he is worth a bet at 5.50 with Youwin to reach his first Grand Slam semi-final. If the seedings work out, the top-32 players that he will have to beat to make the last four would be Feliciano Lopez, Gasquet and Ferrer.
Lopez lead Raonic 1-0 but their only meeting was on a clay court. Gasquet trails Raonic 0-1 and that match was on a hard court. Ferrer leads Raonic 4-0, including two clashes on hard courts, but the Spaniard's form is shocking and he will not get the quarter-finals unless it picks up a lot.
Raonic is the favourite at 3.75 with Sky Bet to hit the most US Open men's singles aces. That is a fair price but surely there is a better value in backing Raonic at 5.50 to make the semi-finals because he will probably need a very deep run in the tournament to be the top server of aces anyway.
For our 2013 US Open Women's Single's betting guide follow this link.